By Greg Hernandez
Soon after Lorri L. Jean accepted the job of executive director of the Los Angeles Gay and Lesbian Community Services Center in 1993, she asked her close friend and fellow Washington D.C. activist Darrel Cummings to come for a visit.
He knew darn-well she was trying to recruit him, and he was determined to resist.
"I'm an East Coaster, and I thought, 'You must be kidding. I'm not coming to California,'" Cummings recalls. "But I thought it would be a nice trip, I'd get to see old friends, have a glass of wine, and hang out."
He certainly didn't expect to have an epiphany as he toured the Center's new headquarters in Hollywood that had formerly housed the Internal Revenue Services—the same IRS that denied the Center tax exempt status in the 1970s. (The Center successfully sued the IRS and later bought the building.)
"Upon seeing the building and realizing what it took to be there, the thought that immediately occurred to me was, 'This is a big pond to play in that has huge potential,'" Cummings recalls.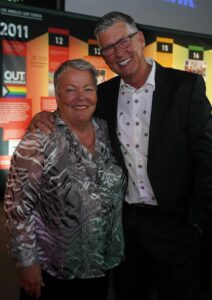 Cummings had seen all he needed to make his decision which was helped by already knowing with absolute certainty that he had an ideological kindred spirit in Jean.
"In a way, Lorri and I are both revolutionaries," he says. "We share something really deep politically, and we feel a bond around the ideas that no one should live in poverty, people should not face discrimination, everybody should be housed. Those kinds of things seem simple to us, but they do seem revolutionary in the times that we've lived in. I think that common set of principles has helped secure our bond."
The First Stint
Cummings agreed to become the Center's deputy executive director to manage all existing programs and develop new and innovative ones. He would also oversee the procurement of millions of dollars annually from all branches of government and provide national advocacy leadership related to the HIV/AIDS and social service needs of the LGBT community.
Among the most significant and long-lasting achievements during those early years was the opening of a youth center in 1996, despite having little money and facing resistance from the community—including landlords who refused to lease even their long-dormant buildings to the Center.
"It was that controversial," Cummings recalls. "It was interesting that we were living in a time when we, as LGBT people, couldn't rent a space to help homeless people get off the street, have a meal and a shower, and get education about HIV. When we finally opened the Youth Center, I felt victorious. It was symbolic of something that we were doing right against lots of opposition for the right reasons, and we won. That set the stage for future growth."
Also especially gratifying was the 1998 opening of The Village at Ed Gould Plaza, a community education and cultural center and the establishment of a Cultural Arts department.
"The Village marked the first time that we opened up a facility that wasn't about taking care of the harm that had been done to people," Cummings points out. "We weren't dealing with wounds physical or otherwise. We were in celebration of who we are, and putting it out there for ourselves to see and for the world to see. We all go to gay Pride which has a celebratory feel to it, but it was the first time I really felt like I was in a space that was designed to celebrate—permanently—and reflect our true natures and our positive contributions in the world."
You Can Go Home Again
Jean and Cummings stepped down from their leadership roles at the Center in 1999 and remained a team when they took the reigns of the National Gay and Lesbian Task Force as executive director and deputy executive director, respectively.
But the Center hit rough times financially in their absence and  in 2003, they returned and began an uninterrupted stint that will reach 19 years by the time of their retirements in July. Their time leading what had become the Los Angeles Gay & Lesbian Center and then finally renamed the Los Angeles LGBT Center will total 25 years.
"Lorri and I are very complimentary human beings with complimentary skill sets," Cummings explains. "That's worked really well for us and we've taught each other the skills the other one didn't have. We also have a deep friendship that has contributed to our being able to work together so well. We've had very few serious arguments but we have been able to tell each other when we're going down the wrong track."
As chief of staff, Cummings has worked closely with senior management to ensure smooth day-to-day operations of the Center. He holds final responsibility for the internal management of the organization which now has nearly 800 employees and 10 locations including the $141 million Anita May Rosenstein Campus that opened in 2019.
Cummings has also played a leading role in directing the organization's external relations efforts, including its work in public policy advocacy, participation in significant coalitions, relationships with other community-based organizations, private fund-raising initiatives, and efforts to obtain government funding.
"When I think of accomplishments, I put big and small together," Cummings says. "It's not necessarily the flashy things that I think are the most important. I like to think I've made an impact in a positive way to our workplace environment, the space in which people come to work and how they feel about what they're doing. That it's not just a job, it's not just a paycheck, but it's something bigger than that—more meaningful than that."
Good Times and Tough Times
Since that day he met Jean in 1993 for a tour of what was later named the McDonald/Wright Building, the Center has become the largest LGBT service organization in the world with more than 50,000 visits per month from youth and adults.
The McDonald/Wright location has grown over the years into a functional health care center and pharmacy, and the Center's growth has also included the addition of the Mi Centro location in Boyle Heights and Center WeHo in West Hollywood. The Trans Wellness Center opened in Koreatown four years ago and Center South in South Los Angeles was launched two months before the pandemic hit in 2020.
"I never really processed it while it was going on," Cummings says of the expansions. "It was, 'Okay, we've imagined doing this, we've done that. What's the next thing?' It wasn't like our accomplishments ended the need. So I didn't really think of us as growing an organization, I thought we were doing what we can to fulfill a mission on behalf of our community."
When it comes to other specific accomplishments, among those Cummings cites is the Center's International Emerging Leaders Program (ELP). Launched in 2008, he describes it as "one of the highlights of my career."
ELP works to counter the influence of anti-LGBT activists in the world's most populous country, China, and to advance freedoms for LGBT people there by identifying the country's best and brightest activists. Pre-COVID pandemic, the Center was hosting the leaders for five-week long internships.
"It started out as an idea brought to us and that birthed a relationship with the entire LGBT community in China that I never could have imagined in the world's most populous country," Cummings says. "I feel a great deal of personal and professional satisfaction as a result of that."
The Center's International Project Manager Geoff Chin shares that since Cummings' first name has a pronunciation similar to "diē róu" in Chinese – translated into a soft and gentle father – that has been the common nickname for Cummings used among the ELP fellows.
"He definitely has cared about each and every one of them, just like a father figure," Chin says. "He has always been willing to lend a helping hand to our fellows, inspiring them through his leadership along with his wisdom and sense of humor.  He has guided them through difficult and challenging times."
Another specific accomplishment came last fall when the Los Angeles County Board of Supervisors allocated $3.6 million to provide direct services and support to LGBTQ foster youth under its care — $1 million of which went to the Center.
Cummings describes the funding as "extraordinarily meaningful" since one in five of the kids in L.A.'s foster system, which is the largest in the nation, are LGBT or questioning.
"It was really a hard-fought battle," he says. "You have the most vulnerable of the most vulnerable in custody of a system that is designed to care for them. What is actually happening is that system is harming young LGBT people in foster care and we're all paying for it."
But Cummings can't help but to focus most on the smaller moments over the years and what they mean.
"Some of the most significant memories for me have taken place one-on-one either with a client or a staff member where somebody told me about the difference the Center has made in their lives," he shares. "These stories are about that particular individual but they're really about the whole community. They remind me of where we come from, the struggles that our community has faced over time, the damage those struggles have potentially done to many of us, and our ability to overcome and to help each other past those things."
Cummings can never forget how the LGBT community and its allies came together in solidarity in June 2016 after a gunman killed 49 people and wounded 53 more in a mass shooting at Pulse, a gay nightclub in Orlando, Florida.
The LA Pride Parade went on as scheduled roughly 12 hours after the deadly shooting but before the West Hollywood event started, it was announced that a heavily-armed man who was believed to have been planning an attack on the parade had been arrested that morning.
The Center's delegation marched in the parade holding signs that spelled out O-R-L-A-N-D-O.
"It was a physical expression of our solidarity of one another and continued commitment to fight against prejudice and injustice and discrimination and the things that were at the root of what happened at Pulse nightclub," he remembers.
A few days later, thousands holding signs and candles gathered at Los Angeles City Hall for a rally and vigil organized by the Center with Lady Gaga among those in attendance.
"That night when we all stood in downtown L.A. in remembrance and horror and commitment as we recognized the victims in Orlando, that to me was Pride," Cummings says, his voice thick with emotion. "You just looked out at that sea of people with candles and everybody was feeling the same way. You really felt the community come together in a meaningful way."
It was less than four years later that the COVID-19 pandemic hit and changed how the Center could offer many of its programs and services. Cummings would call on all of his years of experience and "go on autopilot emotionally" in order to lead "minute by minute" during an unprecedented time and to ensure that vital care and resources stayed in place.
"I felt a sense of responsibility to understand the facts as best as possible, to weed through the misinformation that was out there, and to really take care of the Center and all the people who work here and those who rely on us for services," he reflects. "It was a 24/7 kind of experience and there were many, many sleepless nights. My hope was to not only help calm people, but to help inspire them to meet the moment. And I think that's what happened."
It wasn't until the opening of the Anita May Rosenstein Campus in 2019 and his retirement was beginning to be on the horizon did Cummings even begin to think about what had been accomplished during his years with the Center and what it has meant.
"I started being nostalgic about those things and analyzing them and there is a certain wow factor to it," he admits. "I generally think of myself as a very modest person. But I feel proud of the contributions that I've made, that Lorri's made, that the community has made, that all the staff has made, to realizing some of these visions that we've had. And there will be more. But I won't be part of them, I'll be a witness to them and I'm looking forward to that."
As Cummings prepares to leave behind a "large and complicated organization," he is not feeling any regrets.
"I have the sense that my time at the Center and contribution is appropriately done," he says. "It's time for new eyeballs, new ideas, new energies, to take over."