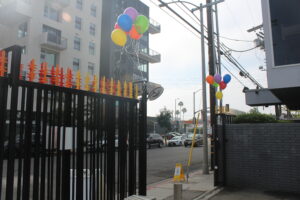 By Greg Hernandez
Rainbow-colored balloons and cheerful volunteers greeted members of the public on Friday as the Los Angeles LGBT Center's bustling Pride Pantry opened its new headquarters.
Bags of fresh produce and boxes of dry goods are now being distributed each week from the Center's building at 1111 Las Palmas Ave., one block east of its initial location on McCadden Place.
Launched in the early days of the Covid-19 pandemic, the pantry had been housed inside of the Pride Hall event space inside of the Center's flagship Anita May Rosenstein Campus.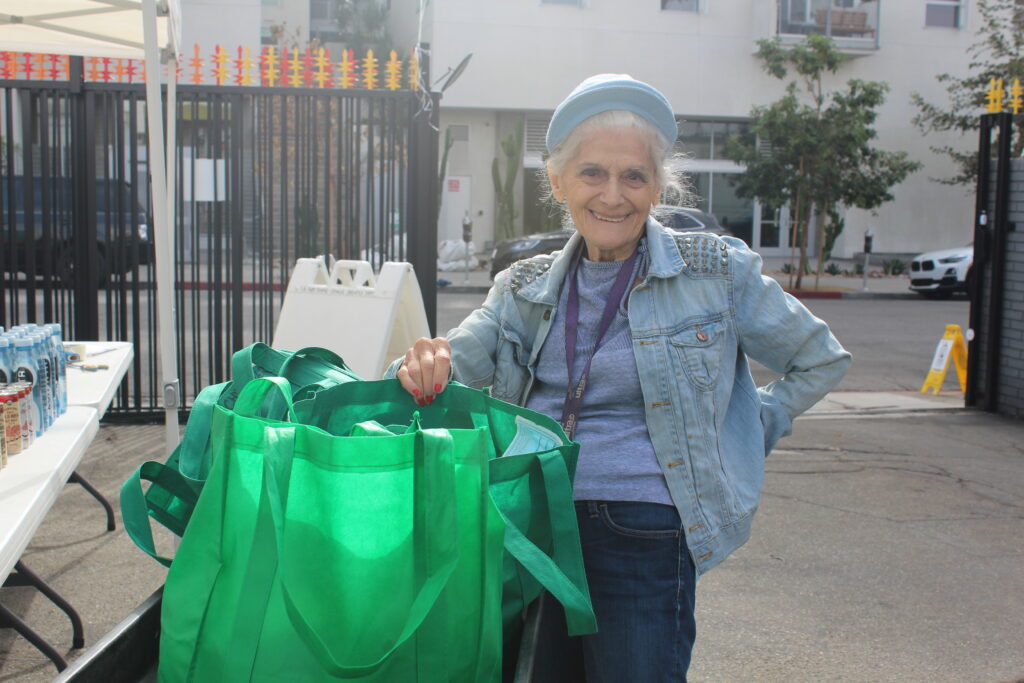 Many of the clients who receive food each week are seniors on a fixed income.
"It's really a godsend," Mimi Schneider, 80, said as she picked up her groceries. "I have no other way of getting enough food and vegetables."
Throughout the pandemic, Schneider has been taking two busses from her Hollywood apartment to the Center to pick up her groceries which this week included cauliflower, romaine lettuce, corn flakes, oatmeal, V8 juice and other beverages, and several canned goods.
"I'm on Social Security so there's very little for me," she said. "This is really terrific, and I can't thank the Center enough for thinking of us elder citizens."
Every Thursday, volunteers and staff members spend the day filling bags and boxes for Friday's distribution when clients drive up to the check-in area. Volunteers then bring the food to their cars, or the clients can pick it up themselves on foot.
Signs were placed in front of Pride Hall informing people of the move to the Campus Annex building on Las Palmas. Last week, fliers were included in each food box.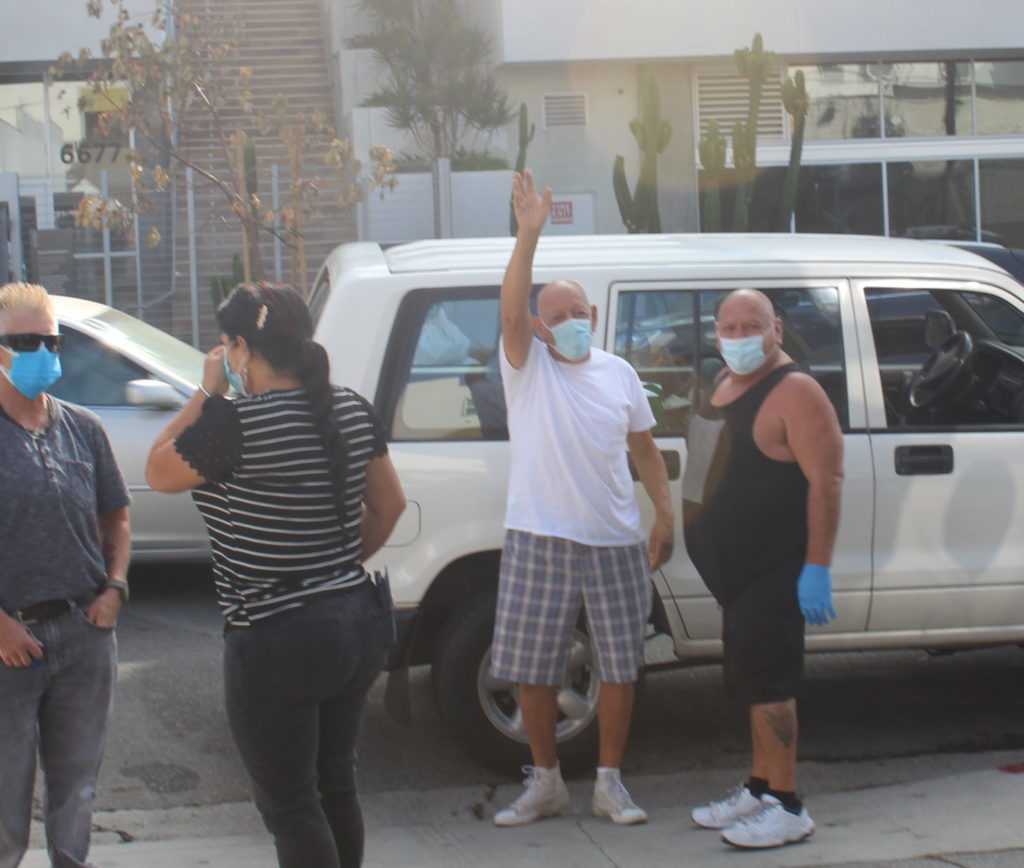 Luis Zapata, 69, was all waves and smiles as he arrived at the new Pride Pantry location.
"It's only a block away from the old place so it's not a big hike," he said with a laugh and a shrug of his shoulders. "It's a good thing what they're doing. I don't always have enough money to eat, but I've got all kinds of fresh vegetables and cans of food."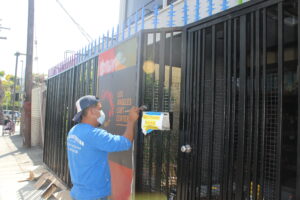 The Center's Associate Director of Facilities Angela Echeverria is excited about some of the sprucing up done in recent days to the Las Palmas building, including a freshly-painted fence with rainbow-colored pickets in front of the property.
"We were very, very busy all week doing this move, but there have been so many volunteers who have been helping us," Echeverria said. "We could not do it without them."
Christina Di Gioia is among the regular volunteers who shows up each Friday unless she's out of town for work.
"I've created lifelong friendships, and I feel great about being able to help in a really tangible way in the community," Di Gioia said. "There's a real need right now for this food and these services. A lot of the people come back every week so I've been able to get to know them, and they talk about their situations and their lives."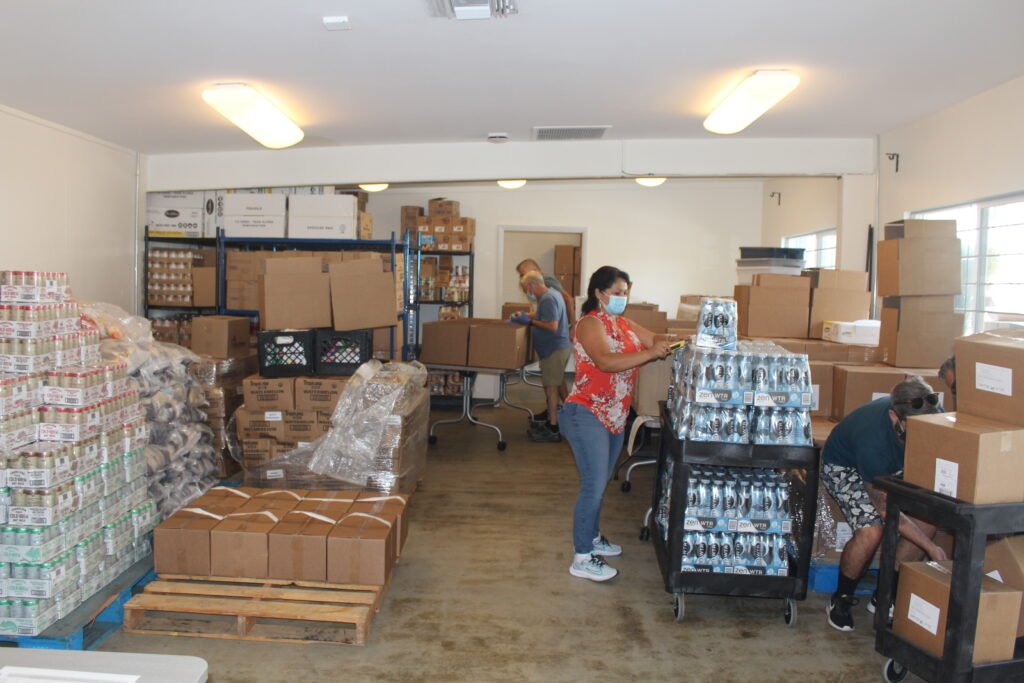 More than 2,000 boxes and bags of food are distributed monthly from the main Hollywood pantry location, which also supplies groceries for two other Center locations for Friday distribution: Mi Centro in Boyle Heights and Center South in South L.A. near Leimert Park. Food is also distributed to residents of Triangle Square, the Center's affordable housing complex for seniors.
"The pantry has been an invaluable resource for seniors during the pandemic not only in terms of food insecurity but also from a safety perspective. They don't have to go out and put themselves at risk in public spaces like a grocery store," said Michael McFadden, associate director of programs for Senior Services. "Folks have really appreciated and relied on it."
If you, or someone you know, may benefit from the Pride Pantry, visit https://lalgbtcenter.org/getfood