By Dan Allen
Some 900 happy guests filled Hollywood Forever on the evening of Sunday, June 26 for the Center's second annual Pride Picnic, which has quickly become one of the Center's hallmark Pride Month events.
"It was definitely super positive vibes all around," says Tui Lyon, the Center's Director of Special Events. "Everywhere I looked, folks were smiling and enjoying the sunshine and the activations."
Lyon came up with the idea for a Pride Picnic last year as the pandemic and its lockdowns were still at their peaks, and many in the LGBTQ+ were feeling especially disconnected and alone. "I started it in response to the isolation—especially of the queer community—over the pandemic," she explains. "I really felt like we just needed to have an opportunity to be together for Pride Month. We'd been so isolated from each other, so I was really just wanting to create an easy, comfortable, accessible space for people to be in community."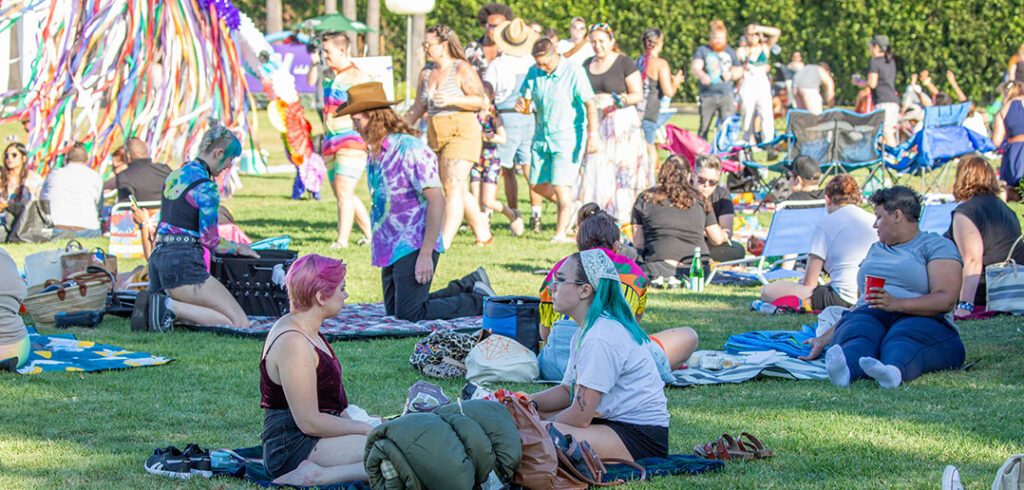 The first Pride Picnic in 2021 was so successful that it has already become an annual Pride celebration for the Center, with proceeds benefiting the Center's many programs and services.
"Obviously we're queer every day of the year at the Center, but I still think it's really important to make sure that you honor Pride Month, and hold an intentional space in that month to celebrate everything that we move through," says Lyon. "I also think it's really important for the Center to have a signature Pride Month event. And I think any opportunity to be in community in comfortable, easy surroundings is really important for wellness and bringing joy, and all those good things."
Some of L.A.'s best food trucks were on hand at Pride Picnic serving delicious fare alongside specialty cocktails from Tito's Handmade Vodka, and attendees were also invited to bring their own meals and libations. The outdoor feast on Hollywood Forever's Fairbanks Lawn was accompanied by DJ Nico Craig, drag performances by Amber Crane and Lauren Banall, vogue performances from Chauncey Dominique, along with a crafting tent and lawn games for the kids.
"One of my favorite things is seeing all the little kids chasing around the drag queens with dollars in their hands, trying to keep up with them and tipping them," says Lyon. "And I think that's really a very important visual right now, especially with the narrative in the media about drag being harmful for kids."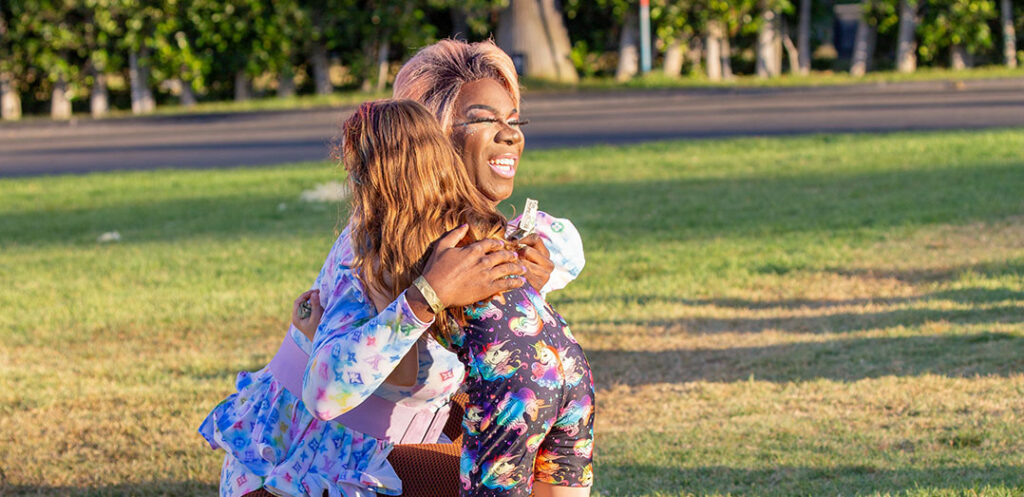 Plenty of other vibrant visuals also graced Pride Picnic, much to the delight of social media creators. "We had a huge 20-foot-wide rainbow archway that was wrapped in the colors of the Progress Pride flag, and it had big gold lettering at the very top that said, 'Cheers Queers,'" says Lyon. "Then we had Pride flag-colored streamers all coming down that folks could run through and take videos." Organizers also provided a free photo booth for attendees to capture themselves at the joyous event.
One of Pride Picnic's biggest successes, Lyon says, is its accessible-to-all feel. "I would say it's mostly young folks, maybe 25 to 35," she explains. "But one of the things that definitely makes me the most happy is just seeing the huge variety of different people there. We had some folks that were more elderly and were from our older community of queers, right down to kids of queer couples, and everyone in between.
Lyon says she believes Pride Picnic fills a much-needed Pride niche as a unique intentional space that's equally for LGBTQ+ families, couples, single folks, and people of all ages. "I think that it's rare that you find a community space that feels comfortable for all those different types of folks," she says.