Seated in the top row of the empty, brightly litDavidson/Valentini Theatre at the Los Angeles LGBT Center on a recent fall afternoon, Fabian Quezada– Malkin settles against the back wall and begins to slowly unfold a tale as dramatic as any that has been depicted on the stage here.
Raised in an impoverished section of Guadalajara, Mexico, Quezada–Malkin realized, as so many LGBT children do at a very young age, that he was different from the other boys around him. He soon became a victim of homophobia and ceaseless bullying.
"It wasn't an easy life," the 34-year-old recalls, his widening eyes emphasizing the understatement.
He notes that it was also a time dearth of positive role models for LGBT people. "I didn't have anyone to look up to, and the only gay person I knew at all was RuPaul. So you might say he was my role model at the time," Quezada–Malkin shares with a laugh.
By the beginning of his teen years, he learned of a gay neighborhood in his city and decided to explore it to hang out with its habitués. His family was so destitute that Quezada–Malkin began to secretly prostitute himself just to a­fford basic essentials, such as shoes. When his deeply religious Catholic mother learned her son was gay, she didn't react well.
"It was very emotionally manipulating—the way she handled it," he says.
Struggling intensely with acceptance of his sexual orientation, Quezada–Malkin made a decision to enter the seminary, having already served as an altar boy for three years. In the church he began to enjoy a camaraderie with other young men for the first time. This relatively happy period would prove to be short–lived as he was expelled for having been seen in a gay bar. Ironically, it was a closeted priest who'd caught sight of him and notified Quezada–Malkin's mother and other church officials while never revealing his own culpability.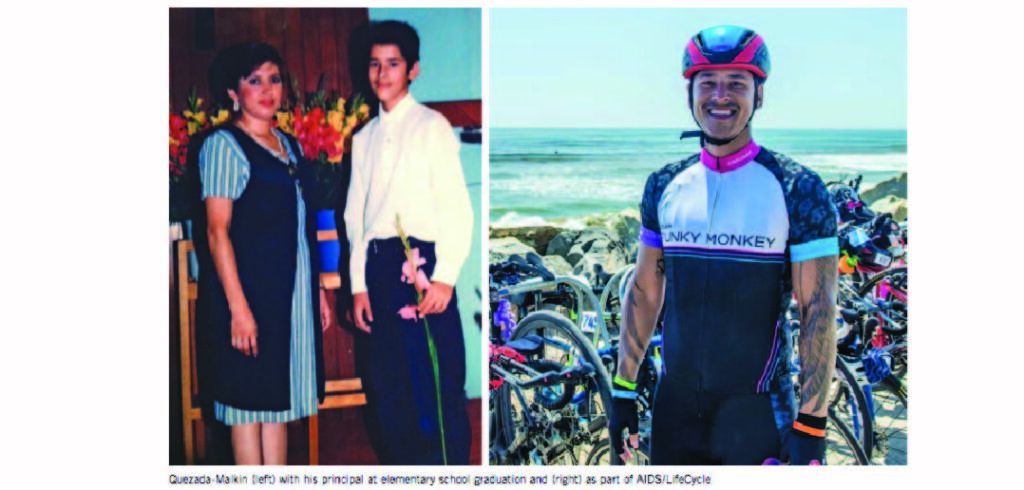 Exhausted by the shame he felt and threatened with conversion therapy, the young man fled to the U.S. instead. He decided to head to Long Beach, Calif., to reconnect with an American man he'd met and became romantically involved with in Guadalajara.
The journey into the States was challenging. On his first attempt to migrate, he was apprehended by immigration and sent to Tijuana. The second time he walked through a rough forest—shoeless—to reach the U.S. border.His then-boyfriend paid a coyote (a smuggler of immigrants) to get him safely into San Diego.
Once he made it to Long Beach, Quezada– Malkin tried to continue his education. But within a short period of time, his relationship ended, he tested HIV-positive, dropped out of school, and soon ended up without a home. He began to use meth and drinking excessively to numb the guilt and pain.
Feeling broken by life on the mean streets and his addictions, he joined a 12-Step program where a friend informed him of the Transitional Living Program (TLP) at what was then the L.A. Gay & Lesbian Center. There he found not only a safe place to sleep and three meals a day but also counseling and employment workshops that helped him ­find a stable job.
For longtime Vanguard readers, much of Quezada–Malkin's story may seem familiar, since he was the focus of the January 2014 cover sharing some of the success stories from the Center's TLP. The fi­rst-person essay was published six years after he left the program and culminated with news that he had found steady employment as a stylist at a hair salon and become seriously involved with entertainment journalist Marc Malkin. And,despite being unable to travel to Mexico, he'd already begun to repair his relationship with his estranged mother, who'd made an effort to be more accepting of her son.
Today, four years later, he's eager to discuss the paramount ways his life has improved in the interim. He's still employed as a stylist at the chic Joseph Martin Salon in Beverly Hills, whose clients include Hillary Clinton and Patricia Arquette. Chief among the new developments, Quezada–Malkin was ­finally, after years of trying, granted a spousal green card following his marriage to Malkin this past January. He is now able to visit his family inGuadalajara without fear of getting detained at the border.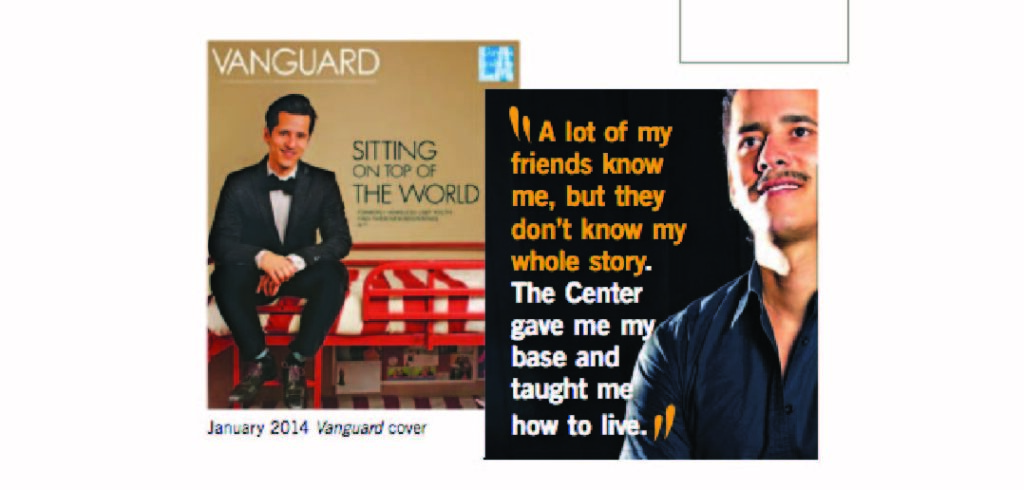 To celebrate this pivotal moment, the two men decided to sponsor a clothing drive for the Center's youth program. "Instead of bringing gifts or flowers or whatever, people who came to the party brought clothes for the youth so I could give it all to the program that helped me."
It was important for him to ask his friends to donate to the Center so they knew where he came from, according to Quezada–Malkin. "A lot of my friends know me, but they don't know my whole story," he explains. "I have friends who actually looked up the Center online after the party to learn what it does for the community."
Quezada–Malkin has returned to his mother country three times since April, after an absence of 14 years. He describes it as an out-of-body experience. "It still feels like a dream," he says. "I was driving next to my baby sister, whom I was so close to before I left. There was a timeI never thought that would—or could—happen. Now that I have the green card, I want to be there as much as I can with her and my family."
With anti-immigration legislation and incendiary headlines about a U.S.-bound caravan of asylum-seeking immigrants dominating the political landscape lately, Quezada–Malkin says immigration still weighs heavily on his mind. "It just reminds me where we all come from," he admits."Asylum is a huge thing because you're basically running for your life. It's hard to not be able to do anything. I understand what they're going through and the struggle that they want to just leave because they're afraid for their lives. It's very painful to see."
Although he met with immigration attorneys at the Center, Quezada–Malkin decided against seeking asylum because he realized he wouldn't be able to return to Los Angeles if he visited his family in Mexico.
"I believe it still works that way because, basically, you're asking for asylum from a country that doesn't want you," he states."You're basically deporting yourself so you de­finitely wouldn't be able to come back. It would have been much harder for me to come back, even being married to Marc."
Quezada–Malkin's eyes begin to twinkle at the mention of his husband. It's obvious the event that he considers perhaps the most profound in his life since his tenure at the Center is his marriage.
Rarely seen without his signature bow tie, Malkin is a well-regarded and popular ­figure at red carpet functions and possesses a knack for getting A-list celebrities to speak candidly on camera. The couple met 14years ago at a party and were instantly attracted to one another, but Malkin,then in his mid-30s, thought the younger man was not ready for a serious relationship. A few years, later they reconnected at a party and have been inseparable ever since. Married in January, the couple now reside in Sherman Oaks with their two dogs.
Signi­ficantly, both men have also come out publicly as living with HIV and, in doing so, have become ambassadors of the HIV-positive community, recently appearing on the cover of Plus magazine. Quezada–Malkin says he's proud of his high-profile husband's decision and reveals that he's received many messages from social media followers, thanking him for inspiring them to come out as people living with HIV.
"It took a lot of work in therapy and a lot of work on myself to not feel shame and guilt around my HIV status and realize that visibility is important," Malkin shares. "I want to reinforce this message because you never know who you're going to touch with it. The next generation that comes along needs role models coming out and making it okay to beHIV-positive, demonstrating that you can continue to live a healthy life."
One activity that helps the two men give back to the Center and maintain a healthy lifestyle is their dual participation on AIDS/LifeCycle. Next year Quezada– Malkin will embark on his ninth ride; the second ride for Malkin.
Finding a way to repay the Center was crucial for Quezada–Malkin. "As soon as I could aff­ord a bike, I decided to register for the ride," he remembers. "It was one way I could give back since I took advantage of many of the Center's services, including housing, health services, and just moral support. People like me traveled a far distance to get help and find some peace."
The two found a way to avoid testing their relationship during the challenging seven-day, 545-mile bike ride from San Francisco to Los Angeles, which raises funds for San Francisco AIDS Foundation and the HIV/AIDS-related services of the Center.
"The first two days, we didn't ride together because I'm much faster than Marc is," he says with a smile. "But, I wanted to experience his first ride with him so I stayed with him for the next five days. It was the most fulfilling experience I could have had—just riding along with someone whois, at times, having difficulty with it— and I could cheer him up and give him the energy he needed."
Quezada-Malkin notes that his husband is excited to ride again in 2019. "Marc actually pressured me to sign up again, even though I was going to do it anyway," he says. "He was really touched by the experience and hearing people's stories along the ride. That's what I mean about being visible: you never know who you're going to inspire."
Helping raise visibility about social issues doesn't stop with the Center for Quezada–Malkin. Following the recent senate judiciary hearings for controversial U.S. Supreme Court Justice Brett Kavanaugh, Quezada–Malkin posted a message on his social media platforms that detailed in remarkably frank terms his own sexual abuse that began in childhood.
"Dr. Christine Blasey Ford's story aff­ected an entire world," he remarks. "She was my inspiration to share my story. Again, for me it was about being an open book now. You never know who you can help with your experience. That was my hope."
Quezada-Malkin insists that he isn't embarrassed about being candid and is no longer afraid to talk to anyone about hot-button issues that he's experienced himself, whether it's sexual abuse or struggles with immigration. He wants others to realize that, regardless of how dire their current situations might be, they should never give up hope.
"In every area of my life, the Center helped me to become who I am today," he says, with genuine gratefulness. "It gave me my base to keep working on myself in every area of my life—taught me how to live."