Singing, tap dancing, lip syncing—and even some sword swallowing—highlighted this year's virtual holiday party for Los Angeles LGBT Center Senior Services clients.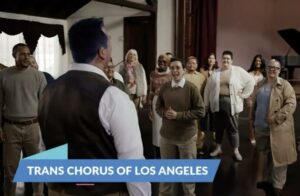 "I hope this got you in the holiday spirit," said drag personality Lil Hot Mess—with eyelashes for days—who hosted the December 14 celebration and treated viewers to three different versions of Jingle Bellschanneling Peggy Lee, Dolly Parton, and Barbra Streisand, respectively. "I hope it got you feeling a little merrier and lighter and brighter."
The Trans Chorus of Los Angeles performed moving renditions of I'll Be Home For Christmas and Don't Give Up; singer-songwriter and rapper Tish Hyman performed the lovely Lucky; and Satin Dollz members Eve and Giselle sang You're a Mean One, Mr. Grinch and What Are You Doing New Year's Eve?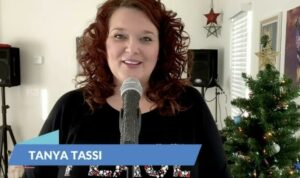 Tanya Tassi, a beloved former Senior Services staff member, treated viewers to a version of the Eartha Kitt classic Santa Baby and drag personality Greasy Bouffanti brought the humor with their delivery of the Hall & Oates song You Make My Dreams (Come True).
Heather Holliday, who describes herself on Instagram as "a former Coney Island freakshow girl turned world-wide freak Showgirl," wowed guests with her show-stopping sword swallowing performance.
Some senior clients themselves were part of the entertainment.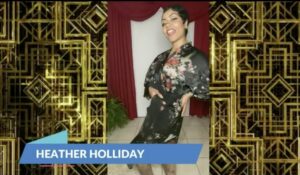 "This is how we do it every Tuesday from 11 a.m. to noon," said R&B Line Dancing instructor E. Talley as they danced to Cupid Shuffle and Bang Bang. During the weekly class, Talley added, they "sweat a little bit, work their hips, shake your shimmies, laugh a little bit, crack jokes, and definitely have a good time."
Beginning Tap Dancing Class instructor Lauren Peterson and student Hermina Ban perform
ed Kermit the Frog's dance to the classic song Rainbow Connection from The Muppet Movie.
"We were able to share some of our joy with other seniors—it was fun! Our classes have kept going virtually during the pandemic so we've been practicing these dances on and off. When they asked us to do this for the holiday party, we were ready," said Ban.
Among the seniors watching the party from home was Phyllis Rose-Child, an active senior who participates in various classes and activities.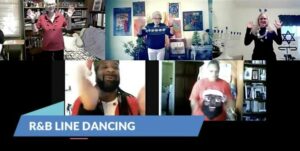 "I enjoyed seeing Little Miss Hot Mess, and I liked The Satin Dollz a lot," she said. "They were very good—I just loved them."
Rose-Child said the virtual holiday party is the latest example of the Center stepping up during the pandemic to try and help seniors feel more connected during such an isolating time.
"They have done a very good job in trying to keep up the spirit," she said. "It makes me feel good to know there are people who care about us and essentially say, 'I'm going to make every effort I can to make this enjoyable for you.' They are doing their best." 
To learn more about the Center's Senior Services, including upcoming activities and workshops, visit lalgbtcenter.org/seniors.