National LGBT Center Awareness Day takes place each year on October 19 to help spotlight the vital services offered by LGBT community centers across the country and the central roles they play in local communities.
As the largest LGBT center in the world, the Los Angeles LGBT Center offers social services, mental health counseling, cultural programs, recreational activities, educational programs, support groups, youth support, senior support, computer access, medical care and treatment, and more.
"It's been 50 years and the Los Angeles LGBT Center is the biggest, most successful, most service-oriented LGBT group in the country—in the world really," longtime supporter Lily Tomlin observed at the Center's 50th anniversary celebration last month.
Tomlin's Grace & Frankie co-star Jane Fonda agreed.
"There's no place like the Center," Fonda said. "They save lives, they provide housing, and all kinds of wrap-around services.  I've lived in cities that don't have a center. We are so lucky and we have to keep it growing and strong and better each year if that's possible."
Tomlin and Fonda were among the celebrities who spoke with LGBT News Now about why they support the Center.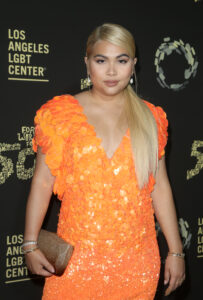 Hailey Kiyoko (singer): "I love the Los Angeles LGBT Center. A lot of times we can lose hope and feel alone. I think it's really important to see the incredible support that we have for our community."
Nico Santos (actor, Superstore): "I love the Center. When I moved to LA 10 years ago and I was broke, I turned to the Center for health care. It was the only place I could get health care. I love the tremendous things the Center does for the community."
Jake Borelli (actor, Grey's Anatomy): "The Center is amazing and we need it and we need 50 more years. There's so much that the Center does that people can imagine. Anything you need as a queer person, you can get from the Center.  It's a lot of things that are hard to find in the world."
Frankie Grande (actor, singer): "I believe in the Los Angeles LGBT Center. I was introduced to the Center through AIDS/LifeCycle. I always want to know where my dollars are going. I sat down with Lorri L. Jean and heard about all the amazing programs and I got to witness them first-hand. I've had friends who have come to me with medical issues, with a need for therapy, with legal aid questions. I send all of them to the Los Angeles LGBT Center. They all get helped."
Alexandra Grey (actress, singer): "The Center is very special to me. They do so much. I was there eight years ago and anything I can do to help support and get the message out there about, I'm happy. There are so many resources the Center provides: education, housing and other things that are so important and that we need."
Brooke Lewis (actress): I love everything that the Center does. So many of my friends have been supported in everything that they do in the LGBTQ community. I've always been someone who has anyone's back who works at the Center. Honestly, how many institutions can sustain for 50 years? It's amazing."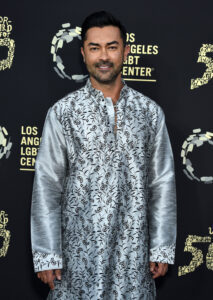 Yawar Charlie (CNBC host): "The Center does such important work and my family and I have been supporting it for about 20 years. They need the help, they need the funding, they need the donations, they need the volunteers. The breadth of work that they do is amazing and a lot of people would really be lost without them.
Jordan Wright (lead singer, City of Sound): "Love the Center, love what it does. Love that it houses homeless youth and what it does for this city. If you don't know anything about the Center, you need to go visit. The facilities are incredible and they are building new housing for the seniors. It puts into perspective of what's happening in this city, the amount of young people who are lost and are homeless in this city and need a place to stay. Go see it and you will be on board."
Lesley Ann Brandt (actress, Lucifer): "I was there for the opening of the Anita May Rosenstein Campus. It's important that people who are allies step up and speak up. The Center is such an incredible resource for LGBT youth. The opening was a real eye-opener for me: there is this place where people can go to and feel safe and accepted."
Arise Wanzer (model): "I love the Center and I'm here for 50 years of us being here. You need to get to know the Center, honey. I just got my hormones there today. If you're in the LGBTQIA community, the Center is a friend to you, they are a wonderful place filled with people who understand what you're going through. There are all kinds of programs and people you can talk to. We're all family at the Center."
Ariadne Getty (philanthropist): "We're lucky enough to have the Center and lucky enough to have (CEO) Lorri L. Jean who is a leader unlike anyone I've ever come across.   I have an endless amount of gratitude for the work that's done. I love the energy of the youth and the seniors, I love that intergenerational coupling. It's vitally important for the seniors to know what's happening in culture today and for them to feel a part of it. It's and important for the youth to know the roots, the hard-fought journey."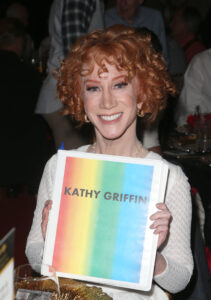 Kathy Griffin (comedienne): "I've been working with the Center for decades. Knowing that it's the premiere Center in the world and really setting the example is so important with this (presidential) administration rolling back the clock in a very bad way. The community has to come together like it always has."
Rufus Wainwright (singer): "I am a gay man of a certain age who has experienced first-hand how important a Center can be for a struggling community. I'm 46 and between the AIDS epidemic and addiction issues and family drama, this institution is so, so important. It's a life and death issue and they're here to bring life and I support that."
Karamo Brown (Queer Eye): "I used to work at the Center. I know directly how important and impactful the Center and the work that is does is for youth, for senior citizens, for anyone who is just trying to be their authentic self.  The Center is saving lives and supporting people. Not just for one day, not just for one month, for years."
Miles McKenna (Youtuber): "I love the Center. It's the place I went to after I came out for hormones for health services, for mental health services, for going through break-ups, for legal services and name changes. It's always been there for me and it's there for everyone. If you don't know about the Center, there's so much for you."