By Greg Hernandez
During the early days of the COVID-19 pandemic, U.S. Navy veteran Wayne D. Robinson was still trying to process what was happening in the world—and how it would impact him—when he received an unexpected phone call.
"That wonderful, soothing, and sincere voice was a lifeline for me. It energized and reassured me that I wasn't all alone, that someone cared," recalls Robinson, (pictured, above). "I was often very afraid and feeling somewhat lost during the pandemic. I was worried and uncertain."
The call came from a volunteer with the Los Angeles LGBT Center's newly-formed Hello Club, a service which had been created to immediately address the needs of LGBTQ older adults suddenly facing a higher level of social isolation and worrying about how to get their groceries and essential supplies safely.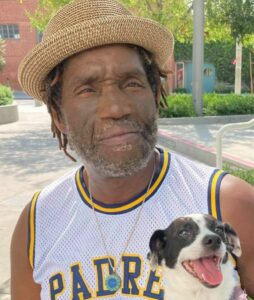 "My words can't express how much I appreciated those calls," says the 67-year-old Robinson, who lives with his beloved Chihuahua, Maya. "After the second one, I began to look forward to them."
Ever since the Hello Club's launch in March 2020 with initial financial support from The Eisner Foundation, more than 8,400 calls have been made to seniors.
"I attribute my ability to stop myself from being consumed by paranoia, hopelessness, and depression to the inspiration which those calls provided me," says Robinson. "I was building a wall around myself with fear. Just having someone who was so caring was the best thing at the most perfect time of need."
Cherishing Chance to Help – and the Stories
Hello Club calls are made by an army of 237 volunteers. They can connect seniors to case management or to the Center's Senior Angels grocery and essential delivery service, when needed.
But a lot of their phone calls simply are spent listening.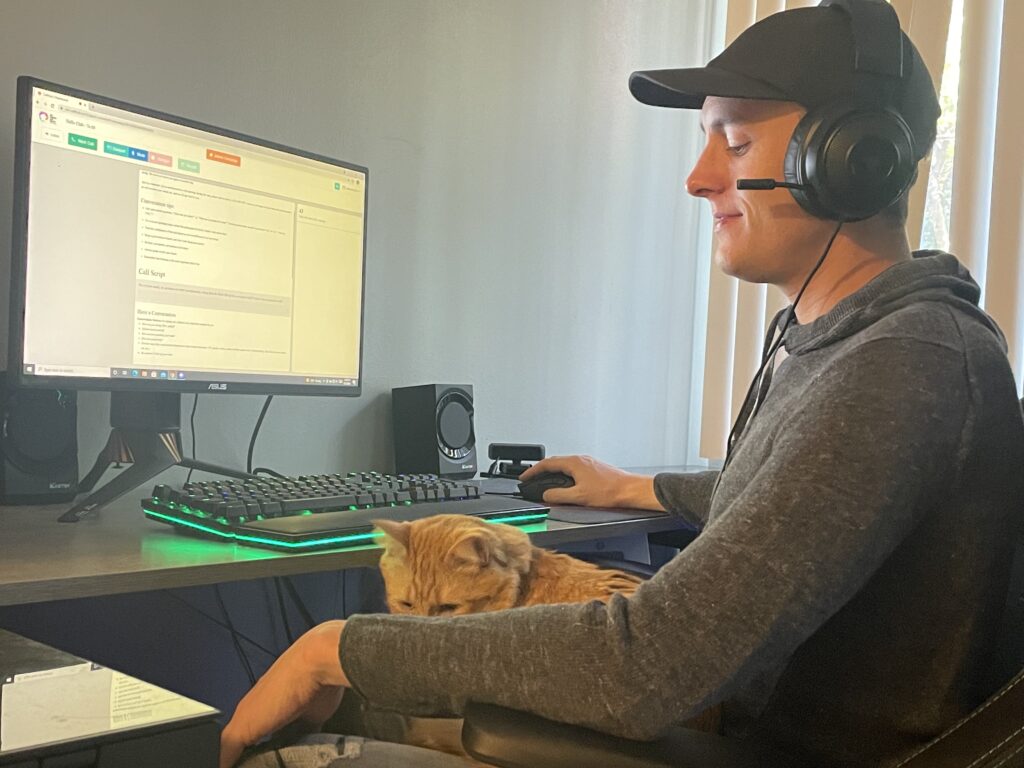 "They want someone to talk to. They can talk and talk and talk. Once they start talking, the whole story comes out," says volunteer Eric Hauptfleisch (pictured, above). "They have someone who is listening, and they feel like they are not alone. I've learned a lot. I've talked to people who were part of Stonewall and the early New York Pride marches and were here for the forming of the LGBT scene in L.A."
A student at Santa Monica College where he is studying psychology, Hauptfleisch has, at times, made more than 30 calls a week depending on his class schedule.
"I love when I hear people who talk about the people they have been with forever," shares the 30-year-old. "One guy's partner was at the first Pride in New York. They met organically when it was frowned upon to be gay yet they found their person—and this is before Grindr!"
But, sometimes, the phone conversations can be difficult. Hauptfleisch has checked in with seniors whose partners have Alzheimer's Disease.
"I became someone to vent to, and I wanted them to know that they were being heard," he says. "I leave the conversations with a sense of fulfillment. Being able to help people when they aren't in position to help themselves, it feels good."
Another volunteer, David, was a high school teacher who is not out at work and had been reluctant to become visibly involved in Center activities. But, the pandemic changed that. He started making calls in the summer of 2020 after volunteering in Pride Pantry and making deliveries through the Senior Angels program.
"It helps me," he says. "I'm out to my family and friends, and my husband and I have been together for 25 years now. But, I work in an environment where I'm not able to be out. All of my classes had gone online, and I was going crazy with cabin fever so I started making calls three times a week. At the beginning I was very nervous—and I'm sure people could tell."
Over time David formed connections with some seniors.
"I have gotten to know several of the folks that I call. It's all about listening but also about asking questions to guarantee we address their needs," says David. "There are amazing stories. I'm grateful I can listen to these wonderful stories—some are heartbreaking. During the worst of the pandemic, people would say, 'I need a hug. I'm lonely.' There was so much loneliness. I also connect with the stories of those who have had their journeys in accepting who they are. Now, I am making inroads  to be more open myself."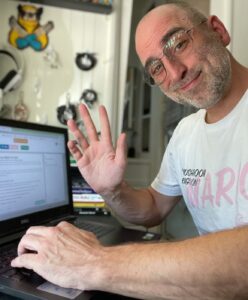 Odin Redd, who works in film and television as a sound mixer, began making Hello Club calls in February and knew immediately that he had found his calling.
"I am freaking loving it," says Redd (pictured, right). "It is definitely more than what I expected. I haven't done a lot of volunteer stuff with older people before, I had taken Trevor Project calls for youth. Having this different experience, you get to see the different problems people might encounter at a different stage of life. Loneliness would be a big part of it. They are always grateful they have someone calling. I am able to connect them with something they might need.  The food assistance delivery is always a really good talking point."
It's About Chosen Family
The Center's Director of Senior Services Kiera Pollock points out that Hello Club is a "chosen family in action": it is the creation of a community of support because many LGBT seniors might not have children, grandchildren, or families to support them.
"The chosen family concept was broadened during crises we faced as a community, including the HIV epidemic," explains Pollock. "The pandemic was an opportunity for our community to reinvent the chosen family idea. Hello Club uses an intergenerational lens where younger community members give back to isolated older adults and create new relationships and connections. We hope to continue the Hello Club–it supports intergenerational exchanges moving and makes our community stronger."
For more information about the Center's Senior Services, visit lalgbtcenter.org/seniors.
Want to volunteer at the Center? Visit lalgbtcenter.org/volunteer.