By Greg Hernandez
It seems 2021 is looking a lot like 2020.
Throughout the ongoing COVID-19 pandemic, demand for the Los Angeles LGBT Center's vital programs and services—health care, mental health counseling, services for seniors and youth experiencing homelessness, affordable housing, and so much more—hasn't let up.
The Love in Action telethon airing live Saturday, August 14, from 7–9 p.m. PT, on KTLA 5 is critical for the Center to continue serving those who need it the most—especially with the highly-contagious Delta variant threatening any return to normalcy.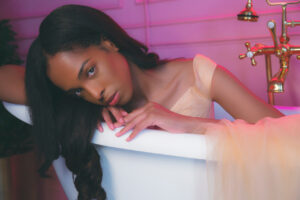 "The Center is really saving lives," said Dear White People cast member Quei Tann (pictured, right), a former Center youth member who will appear on the telethon. "The Center has always been saving lives, but it's work is really important during this time."
Before her big break in Hollywood, the transgender actress was a teenager sleeping in her car. The Center's Youth Services helped her obtain her GED and provided her with a place to live for more than a year through its Transitional Living Program.
"The people at the Center are my family," said Tann, who also appears on BET+ Original Series Tyler Perry's Bruh. "They will always be my family."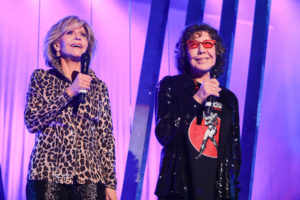 Joining Tann for the two-hour telethon will be an incredible mix of global entertainers and influencers: Adam Lambert, Eva Longoria, Jane Fonda and Lily Tomlin (pictured, left), RuPaul, Gabrielle Union, Don Lemon, Lena Waithe, Jai Rodriguez, Melissa Etheridge, Nikita Dragun, and Manila Luzon.
Lambert (pictured, below) described the Center as "unbelievable" after a recent visit.
"The Center provides so many services for young people, particularly homeless youth," said the former American Idol Season 8 finalist and Grammy nominee. "I'm blown away by all the things I've learned and can't wait to dive in and get more involved."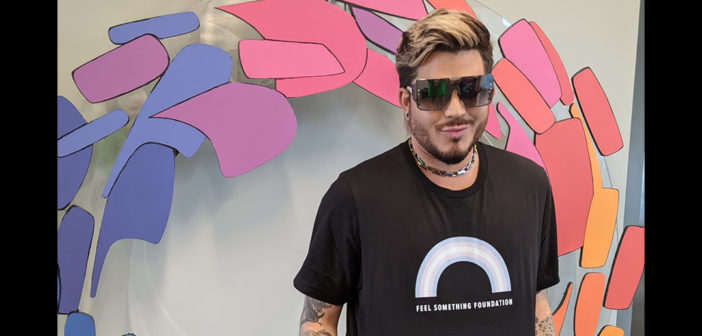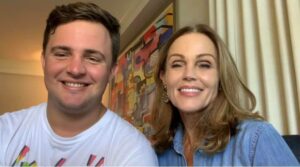 The Go-Go's frontwoman Belinda Carlisle will also appear with her gay son: writer and activist James Duke Mason (pictured, right).
"My mom is a huge fan of the Center—an organization literally providing life and death services at a critical time in someone's life," said Mason. "Not only is this a place for those youth to get the services they need, but it's also a place to learn and to meet like-minded people."
The show will feature musical performances by Rufus Wainwright, Laith Ashley, and the Trans Chorus of Los Angeles.
Ashley (pictured, left) will perform his 2019 anthem Like Me. He was once a Health Services client and still has his prescriptions filled at the Center's pharmacy.
"When I moved to L.A. four years ago, I was so happy as a trans person to be able to access medical care at a place where I felt comfortable and confident," he said. "I just wanted a place that was queer, and the Center has been so helpful with LGBT folks accessing health care."
One-third of the Center's nearly 800 staff members are essential workers who, since the pandemic began, have remained on the frontlines.
"When I look at an organization like the Center, I don't see how it can possibly go away," said Ashley. "I'm very happy to know that the services continue to exist and additional ones have emerged during the pandemic."
During Saturday's telethon, viewers will witness the various ways in which the Center has weathered the pandemic and pivoted to meet the community's needs.
"We've got two hours jam-packed with stories about the Center, the impact of our work, and we'll be hearing from a lot of clients about how the Center has supported them during times of need," explains the Center's Director of Special Events Tui Lyon.
The Center held the first-ever Love in Action telethon in 2020 and raised a much-needed $1.3 million for its programs and services.
"We can't be in community physically so this two-hour telethon is a way for us to come together to celebrate community—and people can show their support for us safely from a virtual and social-distanced setting," explained Lyon.
Love in Action is presented by The Ariadne Getty Foundation and Glamazon L.A. – Amazon's LGBTQ+ Affinity Group. Also scheduled to appear: Heidi N Closet, Alyson Stoner, Nate Berkus & Jeremiah Brent, Jason Collins, Jane Lynch, Brian Michael Smith, and Clea Duvall. Expect some surprise guests!
Support the Center now and be featured during our live event! Visit love.lalgbtcenter.org