Since assuming the role as the Los Angeles LGBT Center's Executive Director in early July, Joe Hollendoner has quietly made his presence known among the Center's nearly 800 employees.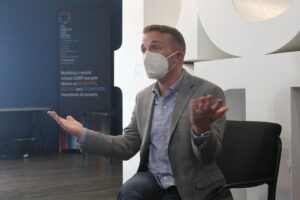 Hollendoner, who will succeed Lorri L. Jean as Chief Executive Officer upon her retirement in July 2022, has invested the last several months visiting the Center's various locations to familiarize himself with the multitude of vital programs and services that our organization provides to the community.
Hollendoner, formerly the CEO of San Francisco AIDS Foundation, took some time out of his onboarding process to answer a handful of questions.
What do you think makes the Center so special?
It's a source of hope. I first became aware of the Center while I was watching an episode of Ellen that aired shortly after she "came out." Her character attended a support group at the McDonald/Wright Building. As a teenager who was watching from my home in the suburbs of Chicago, I remember thinking, 'I can't believe that such a place exists' and, knowing that it did, gave me hope for my future. Since joining the team at the Center, I see the hope the Center continues to instill within so many LGBTQ+ people who are struggling.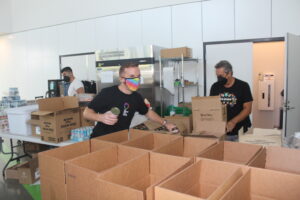 As you have embedded yourself in various programs, what are some of the more memorable moments?
One experience I'll remember for the rest of my life was spending an evening volunteering in our youth shelter. I spent time not only speaking with some of the residents as we hung out in the drop-in space, but I also met with staff who shared why they're so passionate about their work and what motivates them to show up for our community. I will forever remember that experience and will look back at it whenever I need to be inspired!  That night truly showed me how fortunate I am to be leading an organization that's so dynamic and impactful.
How would you describe your leadership style?
I'm a collaborative leader. I like to develop deep, authentic partnerships with the people with whom I work, whether internally or externally. I also think of myself as someone who is not only strategic and visionary but who also has the ability to execute on that vision. I seek to use my positional influence and privilege to advance justice for all. And, I try to incorporate joy and laughter into the work whenever possible.
You've been part of the LGBTQ movement since coming out as gay at the age of 16. What inspired you to become involved so young?
When I came out I was attending an all-boys Catholic high school in the suburbs of Chicago. Neither my school nor my community was very LGBT-friendly, which caused me to struggle. I remember one day in particular when I experienced a pretty significant physical attack at school. I ended up going to the principal's office and telling him how unsafe I felt at school, and I asked that he do something to protect me. He took a pause and said that all he could do was pray for me. That resulted in me seeking support from a local LGBT drop-in center and getting involved with my local chapter of GLSEN—a national organization that works to end discrimination, harassment and bullying based on sexual orientation and gender identity. Through that, I discovered my passion for community work and advocacy. I wanted to give back to the LGBT community the support I had been given and make sure other young people didn't have to experience the intolerance that I did.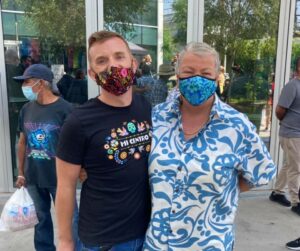 Lorri L. Jean is one of the longest-tenured leaders in the LGBTQ movement. How do you feel about following in her footsteps?
Lorri is an icon in our movement who I have long admired and who I am so delighted that I got to know through my previous role at the San Francisco AIDS Foundation when our organizations collaborated on AIDS/LifeCycle. While it's incredibly intimidating to follow in her footsteps, the support she and the Board have offered me throughout this transition makes me certain that I can continue the tremendous success the Center experienced under Lorri's leadership. I deeply respect Lorri and want to make her proud.