By Greg Hernandez
On a sunny Friday afternoon, the Los Angeles LGBT Center's Associate Director of Facilities Angela Echeverria is busy coordinating routes with drivers who volunteered to deliver food to the homes of the Center's most vulnerable clients.
"Good luck, everyone, and thank you!" Echeverria told the drivers as they departed with bags of fresh produce and boxes of pantry items.
It's a scenario that has taken place every week for the past year at Pride Hall, Pride Pantry's headquarters located inside the Center's Anita May Rosenstein Campus.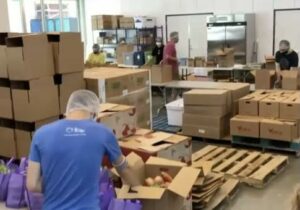 In the early months of the pandemic, Pride Hall was transformed from an event space into a temporary warehouse where, at times, pallets of boxed and canned food nearly reached the top of the 45-foot tall ceiling and fresh produce dominated several rows of tables.
Director of Culinary Training and Operations Nick Panepinto was among the Center employees from across various departments to collaborate and launch Pride Pantry in May 2020.
"As we reflect back on a year of Pride Pantry, it's really amazing that we continue to distribute about 695 bags and boxes of produce each week," he said. "By the end of June 2021, we're on track to distribute 24,120 boxes of food, including 44 tons of produce—that's equal to the weight of 30 compact cars!"
Soon after Pride Pantry was launched at the Campus, it was expanded to begin caring for the communities served by the Center's other facilities: Mi Centro in Boyle Heights and Center South in South L.A. near Leimert Park.
"It lets people know the Center cares about them and is here to help," observed Center South Program Supervisor Percival Pandy. "When the pandemic began, Center South just opened. Pride Pantry has brought so many people from the community into the Center who had never interacted with our organization—that's how vital it's been to building a place in the community."
Launched last July, Center South's Pride Pantry is offered every second and fourth Friday of the month and pro-vides for more than 200 people each month.
"Pride Pantry has kept us engaged with the people of South L.A.," continued Pandy. "When people were under quarantine and social distancing orders, we were one of the organizations which kept our doors open in order to meet the needs of the people here."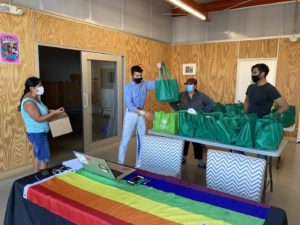 The connection with community also runs deep at Mi Centro.
"We've had folks coming to Mi Centro for the first time because of the pantry," says Eddie Martinez, executive director of the Latino Equality Alliance, which partnered with the Center to create Mi Centro more than five years ago. "Once we give them the food, you see the smiles. And to provide a smile to a family during the pandemic means so much to them and to Mi Centro staff."
Pride Pantry functions like a well-oiled machine. Every Thursday, volunteers and staff members spend the day fill-ing bags and boxes for Friday's distribution from the Campus and the pantry's satellite locations. On Fridays, clients drive up to the check-in area to have volunteers bring the food to their cars, or they pick it up themselves on foot. The pantry at the Campus is also available to senior clients, who are experiencing an emergency with food insecurity, on a walk-up basis Monday through Thursday.
"Pride Pantry has really helped to build community at a time when so many people need it, particularly at their most vulnerable point," noted Panepinto. "For all of the senior clients, whether they're receiving the home deliveries or arriving in person to the Campus to receive their boxes, this may be the only interaction they have with anyone for the week."