By Greg Hernandez
Exemplifying the joyous spirit of the occasion, Jazzmun Crayton insisted on some audience participation when she accepted the Bayard Rustin Award at the Los Angeles LGBT Center's annual The Future is Black event on February 22 in commemoration of Black History Month.
"Turn to someone next to you and say, 'You're gorgeous tonight,'" Crayton (pictured, above) requested to a packed audience at the Renberg Theatre which enthusiastically complied with her request.
Crayton, recognized for her prominence in advancing the social movement of black and LGBT rights, accepted her award on behalf "of so many beautiful trans people who have literally guided and supported me and taught me and teached me and loved me even when I didn't love myself."
A record crowd of more than 400 people braved drizzling skies to converge upon the Center's Village at Ed Gould Plaza and the Anita May Rosenstein Campus.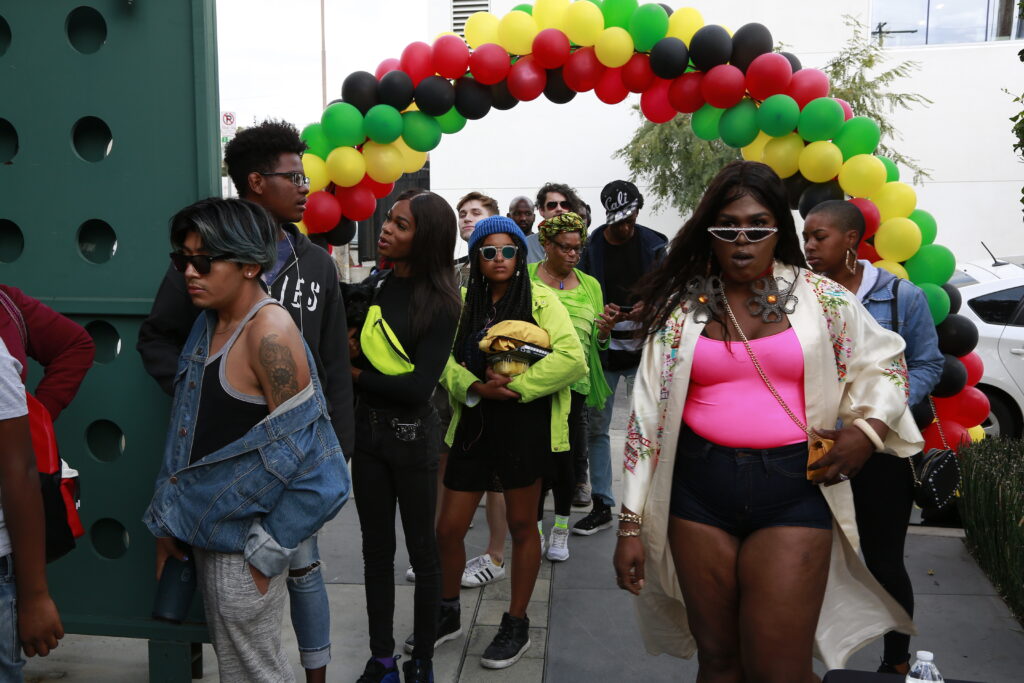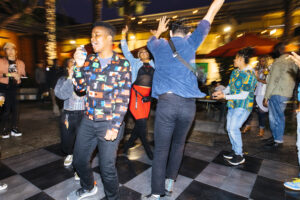 The event was comprised of award presentations, live performances, fashion show segment by Stuzo Clothing and Harley Patricio, art exhibit, resource fair, sit-down dinner of Southern food provided by local favorite Chef Marilyn's, and dancing under a light rain with music provided by DJ Asha.
"Embracing Our Roots" was this year's theme with several speakers and performers paying homage to those who came before them.
Crayton, a transgender actress and activist, said receiving the award took her breath away because of what its namesake, Rustin, stood for. He was the openly gay civil rights organizer and activist best known for his work as advisor to Martin Luther King, Jr. in the 1950s and '60s.
"He did not stand in the shadows because it was his desire, his will," Crayton explained. "He did the work from behind the scenes and didn't get very much credit in his time. I just want to say thank you very much for carrying that baton."
She also honored trans women of color who have been victims of violence.
"Every black trans woman who has died at the hands of someone who had no business putting their hands on them, I honor you, I hold sacred space for you," Crayton said. "Everything I do is for the healing of our own people because we are the greatest, most phenomenal, most amazing, magical people."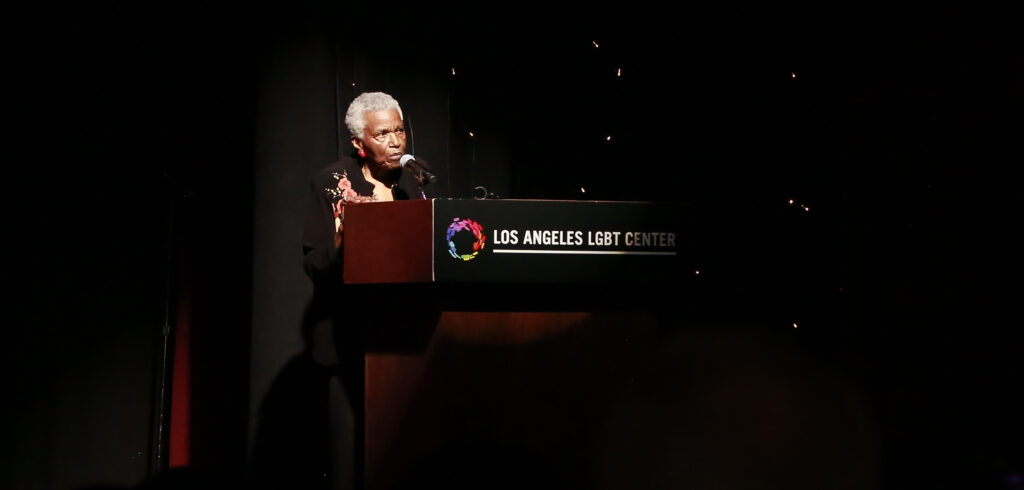 The Village Health Foundation and its founder and CEO Jewel Thais-Williams (pictured, above) received the Freedom Riders Award for providing outstanding and impactful work in the black community. The clinic assists low-income and marginalized residents with holistic health care services in tandem with Western medical providers.
"I stand here today on the shoulders of the ancestors," Thais-Williams said onstage. "One of my ancestral tribes descended from a medicine tribe in Nigeria—so there is something connected to my DNA. I am really, really happy always that the ancestors chose me to come through the birth canal of my parents and get me here and insist that I do the work that I was sent here for. So, it's with their honor and their blessing that I receive this award."
Thais-Williams was also the owner of Catch One, the longest black-owned disco in America which provided a safe haven for black LGBT people when racism was blatant in Los Angeles' LGBT community.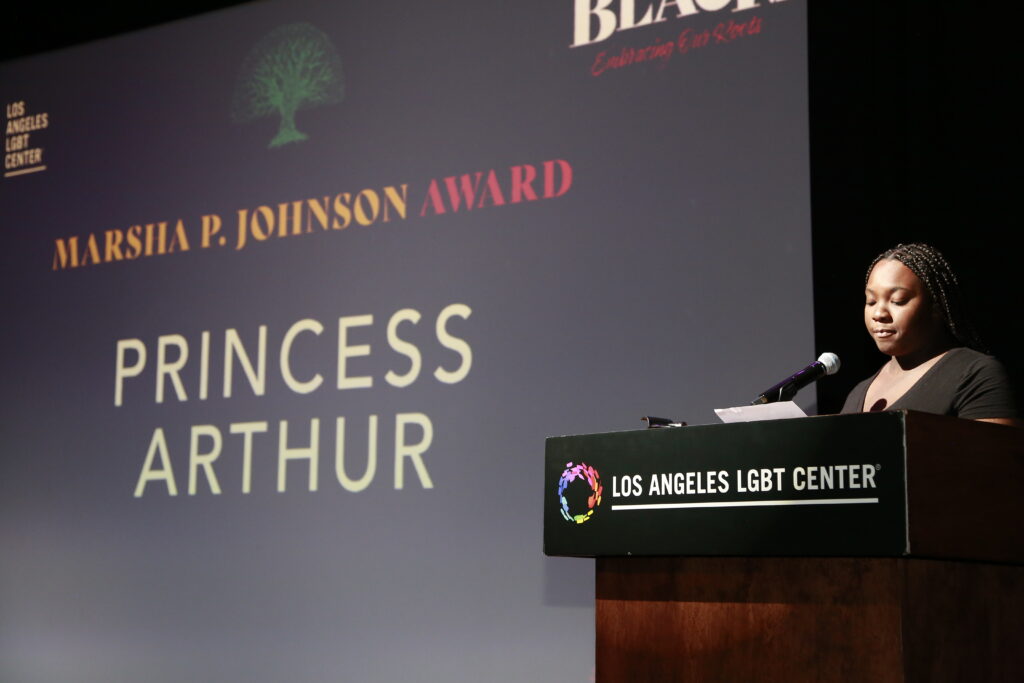 The third honoree was high school senior Princess Arthur who was presented with the Marsha P. Johnson Award given each year to a burgeoning youth community activist.
In middle school, Arthur experienced a lack of resources as an LGBT youth and vowed to help provide a safe, educational, and affirming space for other youth. She has been president of her school's GSA—a student-run organization uniting LGBTQ+ and allied youth— for three years. She is also a leader in GSA Network, the national unification of GSA clubs.
"This award means a lot to me because more often than not, the stories of a black person and of the LGBTQ community go unnoticed," Arthur said. "For me and future activists like me, recognizing us means you see us, you hear us, and what we do matters. Let's continue to do the work together in order to achieve liberation, empowerment, and unity for our queer and trans youth."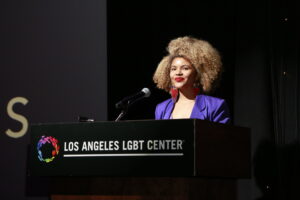 This year's keynote speaker was actress, comedian, poet, educator, and activist Yazmin Monet Watkins, best-known for being part of the all-black female comedy team Obama's Other Daughters on Comedy Central.
"I'm particularly proud to be here as an out bi woman," said Watkins (pictured, right). "Black feminist thought and theory helped shape my world view. I know I am the woman I am today because of prolific writers like Audre Lorde and Toni Morrison and Alice Walker … Their words have found me and reached me at times when I have felt so very alone."
As she is busy making her mark, Watkins is also thinking a lot about those who come after her.
"It's imperative that we think about the future and the legacy we want to leave the next generation," she said. "That we encourage them to learn and embrace themselves and learn about radical self-love and community building. To love themselves, to trust their voice in the process, to pass on the lessons we've learned thus far."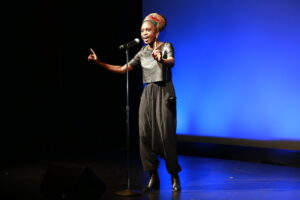 Powerful performances—from Hip Hop artist Luminous to a stepping dance number by Stroll Groove to a choir performance by The Singers of Soul—included spoken word artist Alyesha Wise (pictured, right) who proclaimed: "We are the uglied, the raped, the front cover, the front line. Our children, the cover story when dead, the back story when living. We are the living, the ancestor, the magic, the nanny with the magic milk, the protector, the unprotected, while they Cinderella our parts and we still show up to the ball looking all YAAAS. … Our armour in a world of take is to give."
There were also performances by Center youth members Carlton Ellis and Brayjonn in addition to a video featuring Center staff members who shared moments from history that inspire them. These included the Tulsa Race Massacre, the Civil Rights Movement, and Barack Obama being elected president of the U.S.
The host Melvin Robert, co-anchor of Your Morning on Spectrum News, wrapped up the program on an uplifting note: "Community can inspire you, and community can transform you. The beauty of community is you're with people who share your experience so you never have to walk alone."