By Dan Allen
After two years of going virtual during the pandemic, Trans Pride L.A. made its jubilant return to mostly in-person events this year at the Los Angeles LGBT Center from June 16 to 18. We spoke to organizer Gina Bigham, who's also the program manager of the Center's Trans* Lounge, about the importance of the event and its unwavering love bubble.
How many people attended Trans Pride L.A. this year?
We're estimating about 1,400 people—about 200 to 250 on Friday, then about 1,100 or maybe closer to 1,200 on Saturday. We did a virtual panel on intersex inclusion on Thursday night with our friends from Club Intersex, and that kicked us off as our only specifically virtual event. Then Friday was our Big Queer Convo [a Trans Pride L.A. staple, which this year featured actor and activist Vico Ortiz in an interview by actor Shaan Dasani], and we did a dance party afterwards in the courtyard which was really fun. It's great to see people out there dancing and just having a great time, putting all of the nonsense aside. It was just us celebrating, which made it really, really wonderful.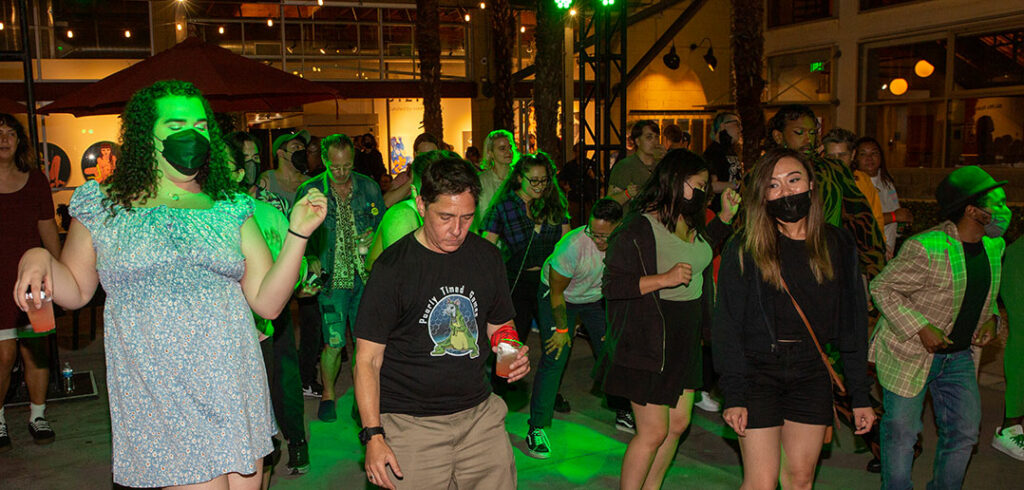 That's fantastic. Is that the highest attendance ever for Trans Pride L.A.?
Oh no, not even close. In 2019, we had 2,000 people just on Saturday. It was quite understandable though—it's the first year back after two years of virtual events, and obviously COVID is still at the forefront, so there's that. And you know honestly, I also had a lot of folks who said they had a moment of pause thinking about their safety because of the event that happened in Coeur d'Alene, Idaho [where members of a white nationalist group were arrested for planning to disrupt a Pride event], and there was another disruption of a drag time story hour up in Northern California. So we did hire extra security, but I did hear from folks that that crossed their mind.
All that aside, Trans Pride still had the same wonderful feel this year. We always call it our 'Trans Pride love bubble.' That came about a few years back—we would have volunteers who were doing this event for the first time, and this was really their first time being at a trans-specific event. When their shifts would end, we would tell them they could go, and they would say, 'Can I stay? I've never been at an event like this before. I've never seen so much happiness. Everybody is happy, everybody is connected.' So that's how it sort of formed into our little Trans Pride love bubble.
Honestly, that is a big part of how we approach our events. We try to do things like an old school, grassroots kind of Pride event, where we don't charge a dime for anything. Nobody pays to get in, and everybody gets a meal. We served about 1,200 plates of food to people on Saturday. And there's no fee to table [for exhibitors and vendors]. The only time anyone would spend money out of their own pocket is if they were going to buy something from one of the vendors at our resource fair, and that vendor gets the whole thing. We don't make a dime off of this event, and I think that shows. So it gives us a lot of joy and pride that we are inclusive of everybody, we are accessible to everybody. And I think that shows in the response from the crowd, the response from our attendees, all the way down to our volunteers, our staff—everybody catches that same Trans Pride fever, and it's really a beautiful thing.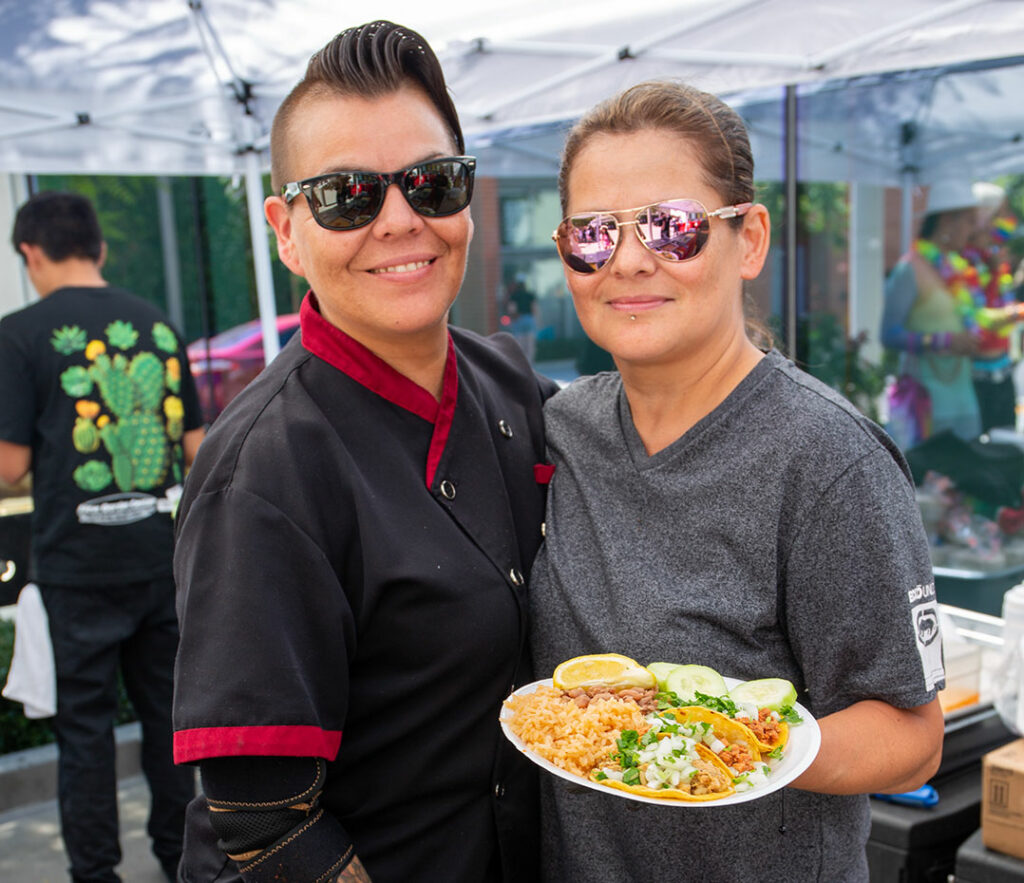 Were there were a lot of first timers this year?
Yes, I heard from at least seven or eight people who said, 'This is my first Trans Pride event ever, and I'm so glad it was with you all, because this is very wholesome.' I know for many of our folks, reacclimating to social spaces and being in public and being at large-scale events can cause some anxiety, so I think our event being a little bit smaller helps in that regard as well. We tried to keep things outdoors as much as possible, just to keep people safe. One of the highlights was these two amazing artists that we know, David and Noah, who have an organization called Classroom of Compassion that does art installations at Pride events. They're just two of the sweetest, most loving people you ever want to meet, and they've developed this workshop where they make flower crowns in honor of Marsha P. Johnson. So we had them up on the roof of the campus, and there were no less than 70 people up there at all times throughout the entire day making flower crowns. Folks actually made 293 flower crowns, so then everyone was walking around with their crowns on.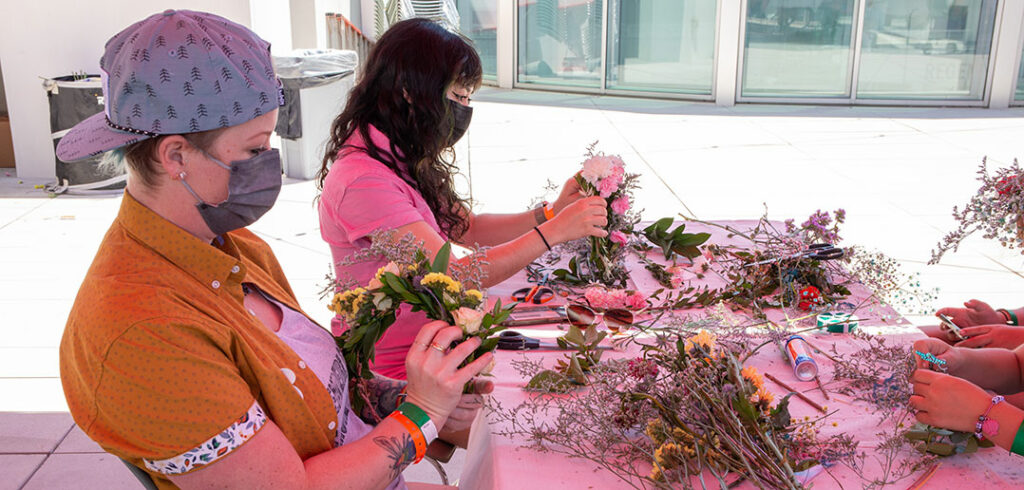 That sounds amazing!
It was! And then the finale of Trans Pride is always our VarieTy Show. I've been doing Trans Pride for 12 years, and we started the VarieTy Show eight years ago. This one was—I mean, it was flawless. We had an incredible juggler, we had an aerialist, we had the Trans Chorus of Los Angeles, we had singers, spoken word performers, comedians. It was amazing. And what made it even more special was Jon Imperato, who is retiring at the end of the month after 24 years of being the Artistic Director here at the Center—this was the last show that he would produce—we were able to honor him at the end of the event. The crowd gave him an amazing standing ovation, which was really, really beautiful. So we were very, very pleased with how that went.
Our guest of honor this year was Vico Ortiz of the show Our Flag Means Death, and they were amazing too. They not only did the Big Queer Convo, but they came back on Saturday and performed in the VarieTy Show as their alter ego Vico Suave, and that has blown up on Twitter and Instagram. Some of the comments were just so wholesome and funny. One person said, 'Taking 70 business days to recover from Vico Ortiz's performance at Trans Pride L.A. Never wanted to know how to dance tango until now. Good god.' Someone else said, 'I just watched Vico's performance at Trans Pride and I will not be the same person ever.'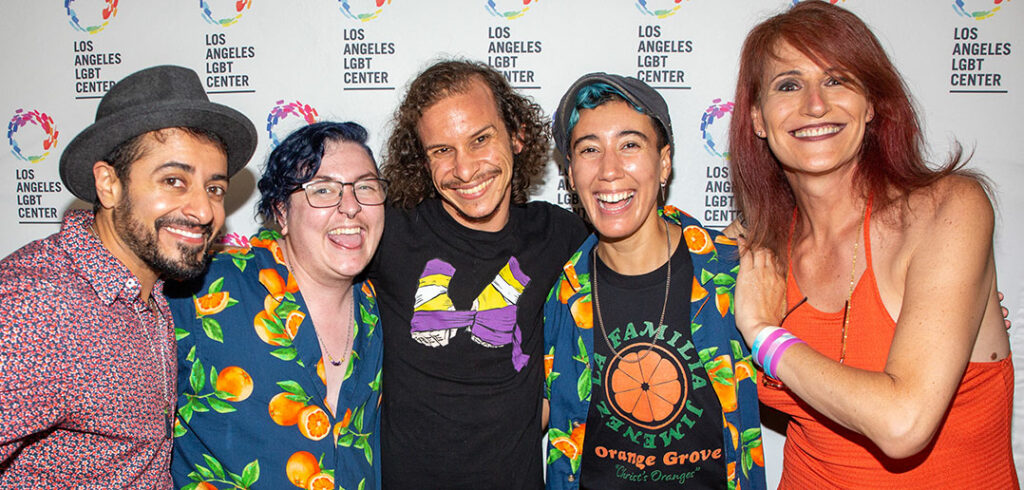 Why was Trans Pride L.A. especially important this year?
Well, obviously after two years of COVID and virtual events and being on Zoom, folks need community, they need that human interaction. So I think that is number one, and then number two, and I think just as important, is the fact that in California, we're sort of in a little protected bubble where our rights as trans and nonbinary individuals are not going anywhere anytime soon. But all over this country, trans and nonbinary folks are just being assaulted, their rights are being stripped away left and right. You can't play sports now, and they're taking away healthcare. So it's important to be able to be visible and to show our resilience. Oftentimes, it almost becomes cliche when people say to a trans or nonbinary person, 'You're so strong for coming out and for doing what you're doing.' It's like, we have no choice. It's not a matter of strength. It's will to survive, honestly. And so to be able to inspire others just by being together in community—you don't know who that's going to inspire to be more visible, to be more out there, to share their stories, to get involved, now more than ever. That's why we had a resource fair with about 40 different organizations. The goal is to inspire people, because the community is stronger when everyone is activated, and when everyone can be present and be together.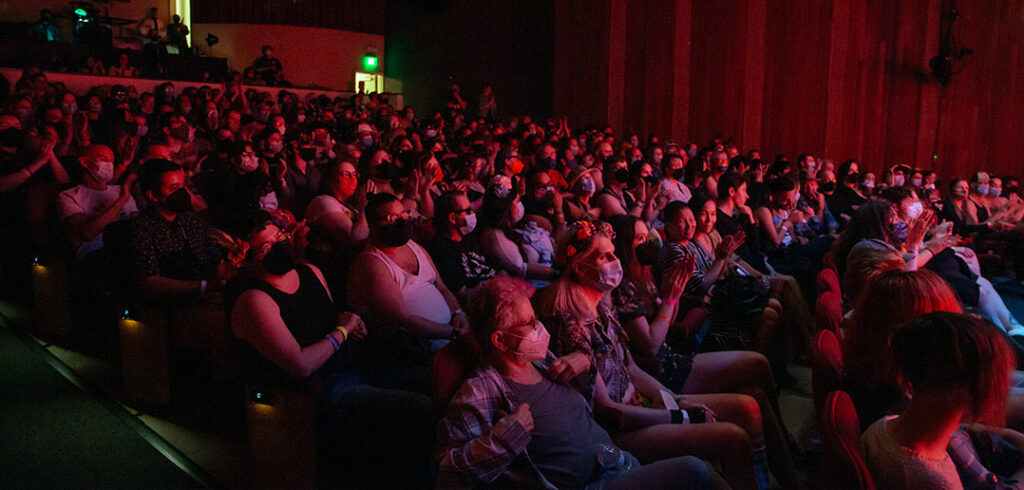 What were some of your favorite moments from this year's Trans Pride L.A.?
Oh boy, the whole thing was a favorite moment. But one of the things that always gets me is seeing people in person. Trans* Lounge has been on Zoom doing groups and workshops for over two years, so to see people in person, it's like, 'Oh my gosh, I've known you for two years, but this is the first time I'm seeing you in person!' That's something that's very special to me and sort of surreal. But really, the whole thing was just spectacular from the beginning. I've got to give shout-outs to our team, and especially Ash Nichols, who is my absolute right hand with all things Trans Pride and Trans* Lounge. Their work just cannot be ignored, they were amazing. Same goes for my colleague Matt Walker, who did some above and beyond work for this year's Trans Pride. Our Cultural Arts team and Development team were also spectacular.
I mean, this event has grown from nothing. When I started doing this 12 years ago, the entire event happened in the Center's courtyard—that was it, and they'd be lucky if they got 200 people. Now we're at a place where this is one of the signature events that the Center does. And year after year, we always have folks who are coming to us and saying they want to sponsor the event, they want to be a part of it.  I'm really proud of the work that the team did to put all this together, and bring something really, really special to our community.