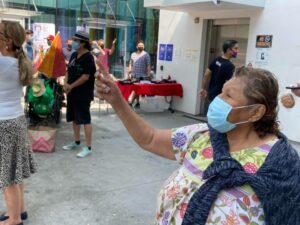 By Greg Hernandez
Nellie Sorretino raised her arm in the air and swayed to the live mariachi music that filled the outdoor plaza of the Los Angeles LGBT Center's Harry & Jeanette Weinberg Senior Center.
"Oh my God, this is so beautiful," said the 77-year-old. "This is my heritage. It's a fiesta!"
Mariachi Arcoiris de Los Angeles—the world's first mariachi band comprised entirely of LGBTQ musicians—entertained more than 50 Center clients and staff members with an exuberant noontime concert on Sept. 24 in celebration of National Hispanic Heritage Month.
Sorretino is among the many seniors who regularly drop by the plaza on weekdays to pick up a free lunch prepared by students of the Center's Culinary Arts program.
"My friend and I were coming up the elevator to get our lunch, and we walked out to this concert," said a pleasantly surprised Steven Abeyta, 59. "Something like this is just essential for the 50-plus community because we've been closed for so long. It's just wonderful—the energy is great!"
Abeyta's friend, Alejandro Ramirez, told LGBT News Now that, in addition to picking up lunch together, a group of "wonderful guys" who initially met through Senior Services activities nearly a decade ago have stayed in touch by phone throughout the Covid-19 pandemic. Ramirez looks forward to more in-person events like the mariachi concert.
"The Center is an amazing place," said Ramirez, 58. "This music is something special and brings us together as a senior group."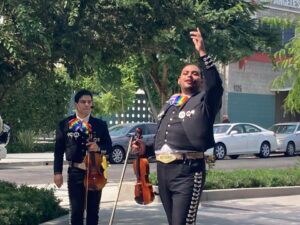 The band includes former Center staff member Natalia Marie Melendez who may be the first transgender female member of any mariachi band.
"It's pretty amazing for us too to be able to perform live in front of a crowd like this," said Melendez after the concert. "We have missed each other. To be with our community is a bonus. To share our music is a double bonus! We are proud to be here playing our music."
For some of those in the crowd, it was their first time back to the Senior Center in nearly 18 months.
"We really wanted to provide an opportunity for folks to come together again in a safe way," explained Senior Services Activities Coordinator Veronica Macias. "This was a chance for us to provide some fun and some food and for everybody to just reconnect and spend some time together."
Macias added that Mariachi Arcoiris "were the first ones whom we thought of to enliven the space when we discussed having an in-person event."
The festive afternoon also doubled as an opportunity to let guests know more about Mi Centro, the Center's location in Boyle Heights that serves the community of LGBTQ people and allies living on the eastside of Los Angeles.
"We want to spread some Latinx culture, some of our heritage, to some of our community members," said Caín Andrade, the Center's social networking groups coordinator. "Mi Centro is a big part of this community. We're thriving and have a lot of hope, and we want to make sure that all of our people—particularly the Latinx community—gets the full support of the Center."
For more information about the Center's Senior Services, visit lalgbtcenter.org/seniors