By Greg Hernandez
By the time June rolls around, Trans* Lounge Program Manager Gina Bigham hopes to be able to throw an ambitious block party to celebrate Trans Pride in person for the first time since 2019.
But Bigham (pictured, above), has learned during the two years of the COVID-19 pandemic to not take anything for granted and to always have a plan B when it comes to keeping the community connected.
Those plan Bs have been working out amazingly well for Trans* Lounge, the Los Angeles LGBT Center program that serves to empower and uplift the TGI/ENBY+ (Trans, Gender Non-Conforming, Intersex & Non-Binary) community in Los Angeles and beyond.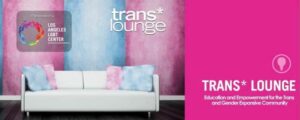 After years of holding in-person groups, classes, and events at the Center's Village at Ed Gould Plaza, Trans* Lounge migrated all of its activities to online early in the pandemic. The unexpected result has been a dramatic and unprecedented spike in members and in participation.
"Just being able to expand and open up our accessibility to an online platform has made all the difference," explains Bigham. "Even when we're able to do in-person things again, we cannot put the toothpaste back in the tube so to speak. We're reaching too many people and we could never say, 'Okay, all that's gone now and we're going back to our previous model.' This is our new model."
Nearly 800 new members joined Trans* Lounge in 2021 to bring total membership close to 3,400 people. The program presented a total of 291 online groups, classes and workshops last year and reached 4,807 people.
"We see how committed the community really is to caring for themselves and for each other and that's kind of amazing," observes vocal coach Ryland Shelton, who has been presenting True Voice vocal development workshops to members since February 2018.
His workshops give gender expansive people the tools to develop their voices in ways that represent them more authentically and expressively. Pre-pandemic workshops held at The Village had been limited to 15 people per session.
"Suddenly, as many people who wanted to come to the seminar could sign up," Shelton says. "There is something so attractive about the comfort and privacy of being online, especially for people in a nascent period of gender transition. I've witnessed that being in their own home has provided freedom for people."
Shelton's eight online sessions have proven to be immensely popular with one session drawing an astounding 92 participants.
Room For Lighter Fare 
Trans* Lounge discussion groups and activities include the popular Transgender Perceptions which meets every Friday, Surgery Suite where gender-affirming surgeries are discussed, Trans* Spectrum which is a space for neurodiverse members of the community, and The Exchangewhich is an intergenerational social space for the trans masculine community presented by Invisible Men.
Some lighter fare has been added to the schedule including TRANSforming Your Kitchen which is advertised as "a chosen family dinner."
"It's like hanging out in the kitchen with your good friends," Bigham explains. "It's an hour-and-a-half of cooking, sass, and conversation. No agenda. We have a recipe, everyone cooks together, and we spend the last half hour eating together, sharing a virtual table."
Members can also show off their pets virtually in the newly-created Pet Parade.
"Sometimes it's about the thriving part of the journey, not just the surviving," Bigham points out. "It's giving people platforms in which they can find things and move out in the world with them."
"It Helps Take Away the Sense of Loneliness"
Nethaniel Asher is among those who joined Trans* Lounge last year and only knows it as a virtual experience.
"As a trans person, I needed to find a place where I belonged and could feel a sense of community," Asher says. "I had gotten pretty good at avoiding social situations and in order to stop doing that, it was important for me to find community."
They found out about the Friday night Trans Perceptions group and immediately "felt a lot of love, a lot of caring. It just bounced around the room."
"I've been in peer-to-peer environments but this is the first time where I've been surrounded with people like me who have had similar life experiences," Asher adds. "It helps take away the sense of loneliness. I look forward to the meetings on Friday. The feeling of being alone in the world is lifted for those couple of hours."
Connections and Resources
Program Supervisor Ash Nichols works alongside Bigham on all Trans* Lounge programs and recently created an ambitious TGI/ENBY+ Resource Index which went live at the end of December.
The guide took seven months to create and lists crisis support services, legal resources, food and meal support resources, housing and living support resources, medical and mental health services, and more. It features resources across the Center and throughout the Los Angeles area.
"This is what I do in my spare time when I'm trying not to overachieve," jokes Nichols (pictured). "It's searchable, it's printable, it's downloadable. It was important to us that it be easy to access and easy to maintain so that it could be updated."
A team of volunteers stepped up to do fact-checking for the guide including calling up organizations and asking things like, "Is this information up to date?" "How do people contact you?" "What populations do you serve?"
"It was really important to us that this be publicly accessible to anybody who searches the web and types in words like 'Trans' and 'Los Angeles,'" Nichols explains. "The only way something like this is useful is if it's a living, breathing document and responds to the needs of the community."
Bigham and Nichols are particularly proud of the Trans* Lounge Discord Server launched during the pandemic. Engagement is high on the social message board which now has more than 300 members.
"It's a real valuable space where people can make friends, ask for advice, and share fun content," Nichols explains. "It's harder in an online group to make friends because you can't hang around and say, 'Let's go and get coffee' afterwards. One of the most common reasons people seek us out is that they want friends, they want to find other people in the community to connect with and feel close to. We wanted to create a space where people could connect with each other and be friends."
Trans* Lounge volunteer Sam Miller, a former Center employee, opened up and designed the server and several community members serve as paid moderators to keep the space safe and welcoming for everybody.
Among the topics discussed are pronouns, clothing, surgery, and name and gender change.
"We've had a couple of different folks who were going in for gender-affirming surgical procedures but did not have someone to look after them, to give them a ride, to pick up medications and groceries, afterward," Bigham shares. "They were able to get connected with other Trans* Lounge members, some of whom have gone through the surgery, and found after-care. It's bringing people together."
To find out more about our Trans* Lounge program and services and to sign up to become a member, go to translounge.org