By Reid Nakamura
Models of Pride returned to Los Angeles City College in full force this year, commemorating its 30th year with live music, world-famous drag queens, and 100 life-enriching workshops for LGBTQ+ youth and their allies.
"I can already tell you this is going to be one of my favorite events of the year," Los Angeles LGBT Center CEO Joe Hollendoner told the crowd of youth attendees in his opening remarks.
Hollendoner addressed the audience from a stage set up on LACC's elevated rainbow track. Installed in 2019, the painted track was conceived as a tribute to artist Gilbert Baker, creator of the rainbow Pride flag, and LGBTQ+ athletes in sports. LACC President Mary Gallagher said the location should serve as a reminder for youth attendees to "be your true self."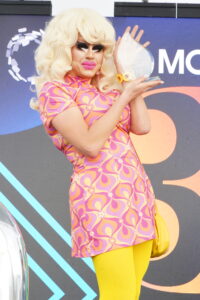 Established 30 years ago as a safe and positive environment for LGBTQ youth to network with each other and expose themselves to new ideas and information, Models of Pride has since grown into the world's largest free conference for LGBTQ+ youth and their allies. This year's event was presented by Glamazon L.A.—Amazon's LGBTQ+ Affinity Group.
Among those honored at the conference was Trixie Mattel, the RuPaul's Drag Race champ whose multi-faceted career spans music, cosmetics, and the renovation series Trixie Motel for Discovery+. Mattel took the stage at the opening session to accept the Models of Pride Leadership Award.
"Right now, we are witnessing drag becoming weaponized by bad actors on the far right. They are banning Drag Queen Story Hours and trying to paint drag queens as enemies of family values," Hollendoner said. "This is a disturbing trend happening across America. What we at the Los Angeles LGBT Center know, and what Trixie Mattel's prolific career embodies, is that drag is powerful."
Mattel picked up a similar theme in her acceptance speech, noting the long history of drag in entertainment, from "Mrs. Doubtfire" to Tyler Perry's Madea franchise. "Society loves drag as long as it's straight people behind the wheel," Mattel said. "But when it's a queer person using costume and makeup to talk about gender, suddenly it's dangerous and sexy and uncomfortable."
"Queer people are told to minimize everything. We're told to be the friend or the supporting character. But drag makes us think, what if I'm the main character?" Mattel said, before addressing the youth attendees directly: "I want you guys to know that you are all the main character."
The Rolf/Uribe Models of Pride Leadership Award, given annually to youth and adults who have been models of pride to the LGBTQ community, was awarded to youth activist Alex Flores and PFLAG Los Angeles Vice President Steve Krantz.
Both recipients used their time on stage to encourage youth to get involved in their community.
"No matter how young you are, you can always make a change," said Flores.
Krantz grew emotional recounting the day his then-17-year-old son came out as gay. "At that moment, I became a gay rights activist," he said. "I wanted to make the world safer for him and for you. So, I'm here not only to accept this award, but to encourage all of you to become gay rights activists too."
Following the opening session, the conference took over LACC's classrooms with 100 life-enriching workshops for youth, parents, and professionals. Workshop topics included conversations about gender and identity, an introduction to building a drag wardrobe, and lessons on career-building and financial planning. Social media influencer Brendan Jordan taught youth attendees about building confidence and creating authentic content, and the L.A.-based drag queen Pickle brought Drag Queen Story Hour to Models of Pride.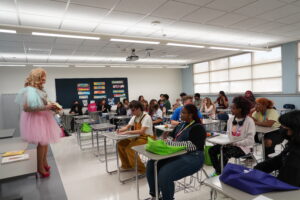 Youth participant Naima decided to attend Models of Pride for the first time this year with her mother Diana after seeing the event on Instagram. Both said they were drawn by the idea of an event curated specifically for LGBTQ youth.
"I really like how many workshops are being offered," Naima said, adding that she was most looking forward to the workshop teaching inclusive beauty secrets.
"I wasn't really sure what to expect, but I wanted to come in with an open mind," said Diana. "More than anything, I just wanted her to have the chance to be around other queer folks and see what we can learn from the workshops. I was just excited to be here."
This year's conference drew more middle schoolers and younger attendees than any previous Models of Pride, including a number of school groups. Isaac Orduna, an adviser with Pomona High School's Gay-Straight Alliance, said he wanted his students to have an opportunity to interact with other people their own age. "It's nice to give them the chance to be in an environment like this and attend some of the workshops," he said.
A catered backyard BBQ lunch was served on the LACC quad next to a resource, college, and job fair where attendees could learn about opportunities available to them.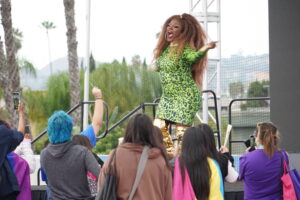 The afternoon's youth-only music festival (parents and chaperones had a neighboring reception to themselves) was hosted by RuPaul's Drag Race alum Mayhem Miller and featured performances by The Voice finalist Hailey Mia, DJ Brynn Taylor, and Mike Xavier.
LACC's rainbow track had been transformed after the opening session, with rows of chairs replaced by a dance floor and carnival games. Youth had the chance to take a shot at the mechanical unicorn ride, run an 85-foot boot camp obstacle course, or win prizes at skee ball, giant darts, ring toss, and more. But Jordan, who was attending Models of Pride for the second time, said she was most excited to see Miller take the stage.
"Mayhem was my favorite on Drag Race, so I can't wait to see her perform," she said. "She's so cool. I want to be like her."