The weekend before Christmas, a group of 16 LGBT seniors gathered at the Los Angeles LGBT Center to read in public the deeply personal writings they completed during the eight-week My Life is Poetry workshop.
The autobiographical poetry ran the gamut with such topics as nostalgic hook-ups, childhood jobs, a wicked stepmother, addiction to chocolate, the presidential impeachment, Karen Carpenter, and Christmas dinner at grandma's house.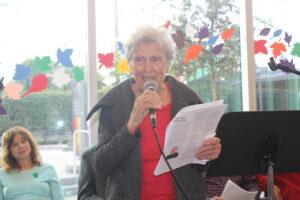 Cassandra Christenson (pictured, right) was taking the workshop for the fifteenth time, but the prospect of reading of her poem Seasons of Love in front of more than 40 people inside the Center's Harry & Jeanette Weinberg Senior Center still made her nervous.
"Right at the last minute I did not want to read that poem. I tried to get another poem off the flash drive, but I wasn't able to," she confessed after the reading. "But after I read it, I thought, 'Thank goodness I read that.' This is my sexuality. It's sexy. I'm 85 now, and at 83, I had an amazing sexual relationship and then wrote about it. I experienced such swooning."
Steven Reigns, the poet laureate of West Hollywood from 2014 to 2016, has been teaching the workshop for 15 years at the Center. The first of its kind in the country, the class is supported by a grant from the City of Los Angeles Department of Cultural Affairs.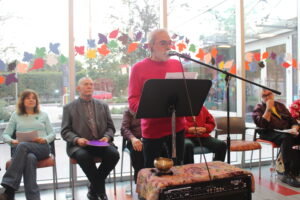 "The reading is the culmination of weeks of poetry writing in the workshop," he explained. "What you see is people's personalities, their interests, their passions, and their life experience."
The poems are developed in what Reigns describes as a supportive and safe environment, both creatively and emotionally. Students are taught how to excavate past experiences and turn them into poetry. By the end of the workshop, students emerged with at least two to three poems that they can share publicly at the reading.
"This is where I feel supported and I feel connected"
Erin O'Keeffe (pictured in top photo) said participating in the workshop during the past two years has done more than help her discover that she loves writing.
"This is where I feel supported, and I feel connected," she said. "I know these are the LGBTQ seniors who are my tribe. I love being here. I'm sorry that the class is over for the year."
While she loves the writing part, the public reading was another matter.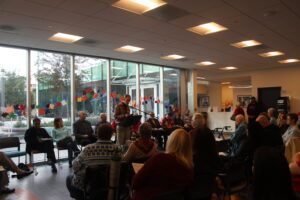 "It's not natural at all for me to do it," O'Keeffe shared. "I have a lot of anxiety about speaking in front of people so I just psych myself up. I read my poem in the mirror a lot, read it to my cat."
Nick Paul was participating in the workshop for the fifth time and described it as a great form of self-expression.
"I miss it when I can't write and share my poetry with everyone," Paul said. "I go to other workshops around town, but Steven Reigns is the best. The man is brilliant, and he brings out the best in us. I really appreciate it. I went through a cancer scare a couple of years ago, and Steven was so supportive and kept saying, 'Whatever you do, come back.' It's very inspiring, and I've made a lot of good friends here too."
Click here to read more poems from the workshop.