By Greg Hernandez
A non-binary intermediate school student, feeling frustrated and misunderstood by their parents, decided to run away from their South Los Angeles home last year.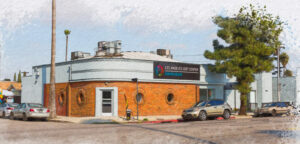 After doing some research online, the 13 year old got on a bus and headed to Center South, the Los Angeles LGBT Center's location on the northeast corner of W. Martin Luther King Jr. Boulevard and 2nd Avenue.
They came to the right place.
"We were able to do a family reconnection that same day," recalled Center South Senior Program Manager David Flores. "At the end of the day, the child just wanted to be heard and wanted their identity to be acknowledged. We helped to successfully facilitate a conversation with the parents who weren't understanding the pronouns. There was confusion on both ends."
The parents then knew that Center South, which opened its doors two years ago this month, is a space they can come to if they ever need to have more such conversations.
All of the programs and services at the facility near Leimert Park are provided for free or at low cost to everyone. They focus on serving the needs of young men of color ages 12 to 29 who have sex with men and identify as queer, bi or gay or don't identify under the LGBTQ umbrella. There is also a focus on services for trans women of color.
Center South opened at a critical juncture when statistics show that 1 in 4 gay and bisexual Latino men—and 1 in 2 gay and bi Black men—will test positive for HIV sometime in their lives if nothing is done to curb transmissions.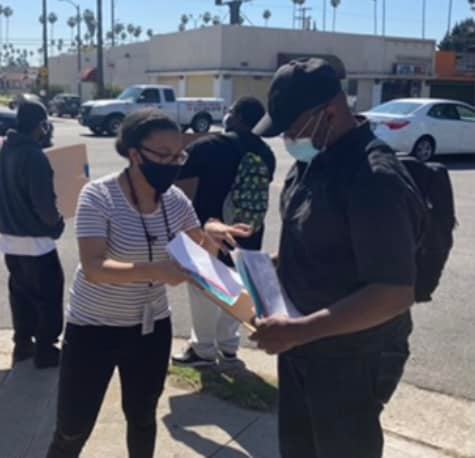 In addition to HIV and STI testings, services at Center South include PrEP (pre-exposure prophylaxis) and PEP (post-exposure prophylaxis) services; linkage and retention to HIV care; housing and employment navigation; mental health services; legal services; a drop-in space for community meetings and events; and a CyberCenter stocked with new desktop computers, made possible through the David Bohnett Foundation, for the community to use.
"We understand a lot of traumas Black and brown folks specifically have gone through so we can sympathize and meet the clients where they're at," explained Christopher Williams, who oversees all the medical services at Center South. "It's about knowing our community and knowing how we can meet them where they're at."
HIV Testing a Priority
In 2021, about 1,000 people were tested for HIV at Center South. One way to get people into the door and tested  is with the incentive of a $25 American Express gift card.  One of the men who recently took a test simply to get the gift card was stunned to find out he is HIV-positive. He then resisted initial attempts to get him into care.
"We were taken aback because this is not a typical reaction," recalled Williams. "We basically had to tell this guy, 'If you don't take this medicine, you're going to die.'"
But Williams soon learned that the man had his reasons. He was embarrassed that Williams, a Black man, would now know that the client, who does not identify as gay, is an HIV-positive Black man.
After being contacted several times by a persistent healthcare navigator, the man finally agreed to begin treatment for his HIV. He is now on medication and also accepted help in updating his resume to find a job.
"It's so important that this man went from being embarrassed to picking up the phone and saying, 'I'm ready,'" observed Williams. "When I did see him, I said 'I'm proud of you, I'm happy you're here.' Those are things our community needs to hear. They need to hear that they're not alone because a lot of them may feel that they are alone."
He added: "We try to wipe the stigma away, to break it down and let individuals know that it's not their fault and this is not a death sentence anymore. If they start their medication immediately, they'll live a long and thriving life."
Health care services were expanded at the 5,500-square-foot Center South a year ago with the addition of tele-health primary care visits. Then last November, a doctor began seeing people in person on Tuesdays for general medical reasons. Mental health appointments are available on Fridays.
Connecting During Pandemic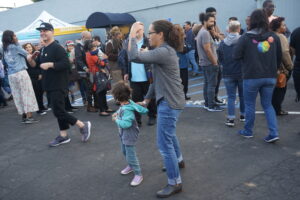 Center South is housed in a space once owned by actress Marla Gibbs (The Jeffersons, 227) who for nearly 20 years operated a jazz supper club called Marla's Memory Lane. More than 250 people attended an emotional community celebration in January 2020 marking the opening of the Center's first-ever expansion into South Los Angeles.
It was the latest step in the Center's long-term strategic plan focusing on how to best meet the needs of the LGBT community moving forward which includes expanding Center services to a much wider geographical area.
But the COVID-19 pandemic came less than two months after that epic celebration.
"We did the grand opening to let community know that we're here and the plan was to hit the ground running," Flores said.
The pandemic continues to make it difficult to carry out the full slate of activities that will eventually take place at Center South. But there have been outdoor movie nights in the parking lot and socially-distanced "Lit Nights" twice a month in the community room where video games are played and movies are shown own the TV.
One program that has gone a long way in building connection and trust with the community has been Pride Pantry which held in the parking lot every second and fourth Friday of the month. About 100 bags of fresh produce and 100 boxes of pantry items are handed out each time and programs such as HIV testing and primary medical care are advertised.
"This has drawn plenty of people who say, 'I have a loved one who could use your services," shared Flores. "Through food, you can connect with community always. Food is the way to the heart."
During a visit to the location last spring, then-California State Assemblymember Sydney K. Kamlager remarked how whenever she drives down Martin Luther King Jr. Boulevard, she lights up as she passes by Center South.
"It makes me smile every time I see the sign," Kamlager, now a State Senator, said after a tour of the building. "I love the location, I love that it says right out on the front it's an LGBT center in South LA. I am all for living outside of the shadows and having this organization here.
"There's so many Black and brown families who have LGBT folks in their families, and I wonder about them every single day," she added. "I wonder if they are being recognized, if they are being loved, if they're being supported. By being here, the Center is saying 'I am here for you.' And that really is important."
Center South is located at 2313 W. Martin Luther King Blvd., Los Angeles, CA., 90008. Hours are Monday through Friday 10am-2pm and 3-7 pm. Phone: 323-860-3799; email: [email protected]; Instagram: @centersouth_