With colorful balloons, DJ Shane Ivan Nash blasting tunes, and tables filled with goodie bags, the courtyard of the Los Angeles LGBT Center's Anita May Rosenstein Campus was transformed into the most festive walk-in COVID-19 vaccine clinic in town.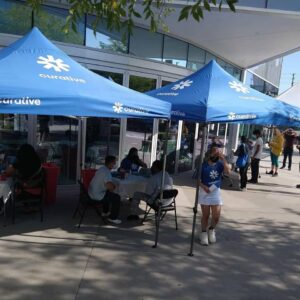 For two consecutive Saturday evenings, the Center served as a vaccine site of a community-led initiative known as Vax to the Max tailored to members of the transgender and non-binary community who are among the most vulnerable to access quality health care.
The free vaccines were administered on a first come, first-served basis. No appointment was necessary. The clinic was held in partnership with the Los Angeles County Department of Public Health and Invisible Men, an organization that provides resources and support specifically for transmasculine individuals.
"It's crucial that everybody gets vaccinated," said Invisible Men volunteer Eliot Hutchins while helping out at the June 5 clinic. "This event is colorful and friendly—a  good, safe place for people to do something that might be terrifying. As a trans person, I can tell you it's so hard for us just to find welcoming spaces to start with."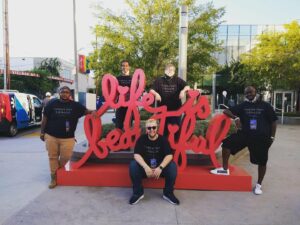 Invisible Men founder Luckie Fuller, who also is an Information and Engagement Coordinator for the Center's Senior Services, said Vax to the Max was launched because so many trans and non-binary people are not getting vaccinated.
 "It's necessary because, when you look at the health disparities among the LGBT community as a whole, it's even deeper for our trans community," Fuller explained. "We noticed they weren't showing up to other vaccine sites so we wanted to make sure to put our trans and non-binary folks in a place they recognized—a place they know is affirming and safe. The Center is one if those places."
The May 29 and June 5 clinics resulted in 107 people receiving a vaccine shot. They had a choice of receiving the Pfizer vaccine, which requires a second shot three weeks later, or the single-shot Johnson & Johnson vaccine.
Shannon, a 21-year-old trans woman, said she is relieved to have gotten vaccinated at the June 5 clinic.
"A lot of us in the community are on the streets and need a lot of extra help," she said. "This is a way of making sure we're safe."
Held from 5–7 p.m., the next Vax to the Max clinic will be held on June 12 at MacArthur Park at the southeast corner of Wilshire Boulevard and South Alvarado Street. It then returns to the Center's flagship Campus for three consecutive Saturdays: June 19 and 26, and July 3. Again, no pre-registration or appointment necessary to receive the vaccine. Guests who attend any of these clinic dates will receive self-care kits, boxes of food, and access to vital programs and services, including PrEP education, housing resources, substance abuse support, youth services, and more.
For more information, contact Sheri of Invisible Men at 702-551-4246.