The 2022 Midterm Elections are fast upon us and there is so much at stake this year. Make sure you have all the information you need to make the best choices for you and your loved ones. It's never been more important to stand together on issues that directly impact our well-being and safety…and our future. The Resistance Squad and Leadership LAB of the Los Angeles LGBT Center will be out in force this Fall mobilizing voters to use their voice to have a say in issues impacting us from the local to the federal levels of government. Join the fight today!
Resources
Ballot Proposition Voter Guide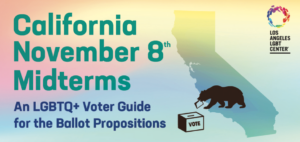 LGBTQ+ Voter Guide for the Ballot Propositions
Flex Voting Sites
Pride Hall
1118 N. McCadden Place Los Angeles, CA 90038
Tuesday, November 1
11 a.m.-4 p.m.
Center South
2313 W. Martin Luther King Jr. Blvd Los Angeles, CA 90008
Tuesday, November 1
11 a.m.-4 p.m.

Mi Centro


553 S. Clarence Street Los Angeles, CA 90033
Friday, November 4
11 a.m.-4 p.m.
Plan Your Vote!

Everything you need to know about the voting rules where you live, including registration, mail-in voting, changes since 2020, and more.