Standing on the rooftop of the Los Angeles LGBT Center's Anita May Rosenstein Campus, Rainbowthon host Frankie Grande told viewers on Thursday evening: "I'm so excited for the queerest Pride kickoff event that there has ever been!"
The Broadway dancer, actor, singer, producer, television host, and social media personality made it happen by calling on his famous friends—and his sister Ariana. JoJo Siwa, Tony Award winners Lena Hall and Marissa Jaret Winokur, Jewel, and DJ "Shangela" Pierce, among a bevy of incredible talent, helped to raise more than $47,000 for Center services and programs during the two-hour virtual concert.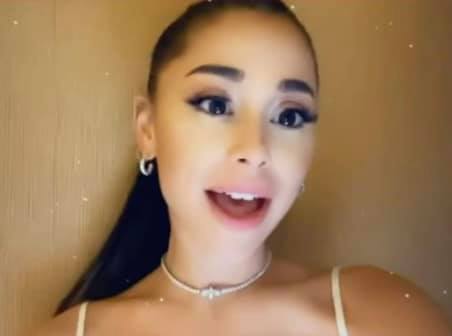 "I'm so proud of you! I love you so much, and I love this show," Ariana Grande said in a pre-recorded video message to her brother during the broadcast. "I want to say thank you so much to the LA LGBT Center for all your incredible work. Know that we're celebrating you always."
Teen sensation Siwa also appeared in a pre-recorded video message: "I am so happy to be here to support Frankie and his team. The Los Angeles LGBT Center has shown up for the community for everything—from the AIDS crisis to COVID-19. Happy Pride month—celebrate your Pride all year long! Always be who you are, and love who you want to love."
Host Frankie Grande kicked off Rainbowthon with his funny, original showtune We Need a Little Queerness sung to the melody of We Need a Little Christmas from the Broadway musical Mame.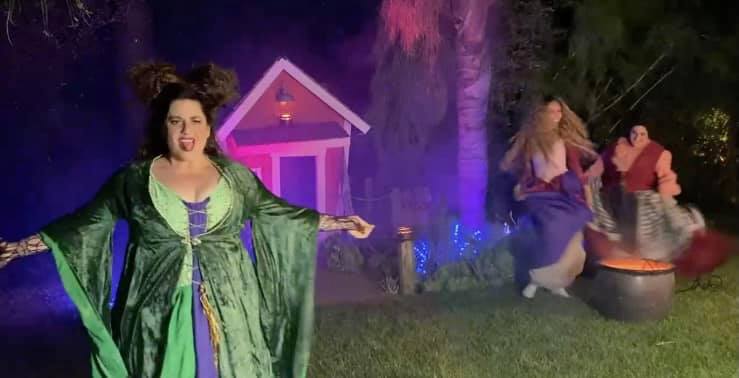 His performance was followed by a wild tour-de-force performance by Winokur, who played two of the three witches from the movie Hocus Pocus before morphing into the classic character of Mama Rose in Gypsyand then briefly morphing into her Tony Award-winning character, Tracy Turnblad, from the musical Hairspray.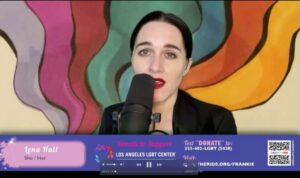 Hall, who won her Tony Award for her performance as Yitzhak in Hedwig and the Angry Inch, performed the show-stopping song The Origin of Love from the musical revival.
"It's really important that these LGBT centers exist for the community," Hall said. "This really is near and dear to my heart. They never stopped helping those in need during the pandemic so it's time we help them in return. This Center is really devoted to helping people in a really healthy and safe way."
Jewel, who performed a set of her greatest hits live during the inaugural Rainbowthon in 2020, sang No More Tears from the documentary Lost in America. Before singing, she took a moment to acknowledge "all my queer folk friends. My life would not be the same without them. The humor, the creativity, the brilliance, the resilience, has enriched my life."
DJ "Shangela" Pierce, RuPaul's Drag Race alum and co-host of the HBO Max reality series We're Here, did a surprise lip sync performance of the Dreamgirls title song after a hilarious live chat with Grande. At one point, Pierce lauded Grande "for the non-stop efforts that you make to make sure our community is taken care of."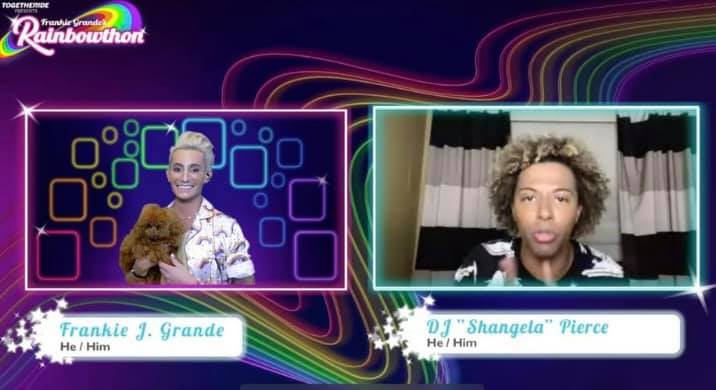 "It is so important for us to be involved in our communities and to show up for our communities, for us to give back," Pierce said. "It's amazing to be able to create moments of heart for people—and with people."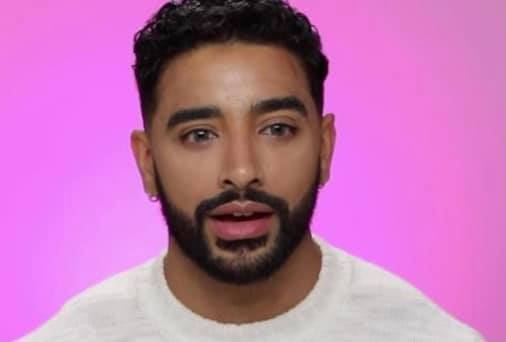 Transgender model, actor, activist, singer-songwriter Laith Ashley also chatted with Grande during the show and mentioned his personal connection to the Center.
"I was actually a client at the Center for awhile," Ashley shared.  "When I moved to Los Angeles, I had to find a doctor. I wanted to go somewhere where they are competent, and I didn't have to explain everything about who I am. They got it. They just know what you need, and they listen to you."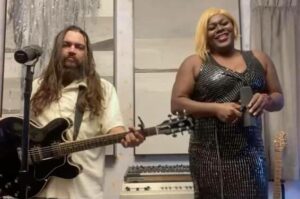 Other Rainbowthon performers included Ashley Argota, Shoshana Bean, Alexandra Billings, Kenton Chen, Travis Crown, Jasmine Davis, Shea Diamond (pictured, left), Salina Estitties, August Getty, Gizzle, Jimbo, MacDoesIt, Kimberly Nichole, R.K. Russell & Corey O'Brien, Rayvon Owen (pictured, below), Jan Sport, Alyson Stoner, Chaunte Wayans, and Gregory Zarian.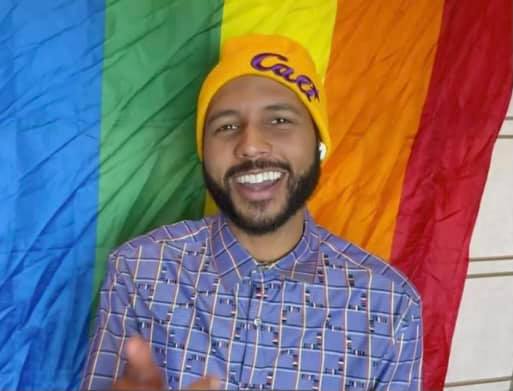 Grande also had a meaningful chat with Center CEO Lorri L. Jean whom he described as "this incredible energy where I know that you care about me as soon as you look at me, but I also know that you'll tell me when you're concerned."
Jean, who is retiring in July 2022, shared how challenging the COVID-19 pandemic has been for the Center.
"It has put the Center at risk, has put our services at risk, has put our community at risk," she explained. "This is when the nearly 30 years of experience at the Center has really come into play. It's been an incredibly challenging time. We've had to stop a lot of services that weren't essential, and then we had to develop new ones that our community needed."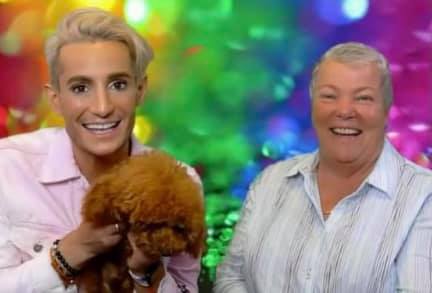 "I've been so proud of our Center staff and how they've risen to the occasion and our donors," she added. "We would have never made it without them."
Rainbowthon was born last year out of Grande's strong desire to do something after AIDS/LifeCycle, of which he has been a regular participant, was canceled. The seven-day, 545-mile bike journey from San Francisco to Los Angeles raises millions for San Francisco AIDS Foundation and the HIV/AIDS-related services of the Center.
This year's AIDS/LifeCycle was also canceled, but a new charity event TogetheRide was launched to give participants an opportunity to set their own riding pace and time commitment goals. TogetherRide has so far raised nearly $2 million and hopes to reach its $5 million goal by the end of June.
Watch the full broadcast—and donate to the Center—at  rainbowthon.org