By Greg Hernandez
When Gina Bigham arrived at the Los Angeles LGBT Center's Village at Ed Gould Plaza on June 19, her heart sunk a little. There was no one around for the first day of Trans Pride Los Angeles, typically one of the biggest weekends of the year for the transgender community.
Initially, Trans Pride Los Angeles had been set to be a block party but health and safety concerns over the COVID-19 (coronavirus) pandemic forced it to be transformed into a virtual event this year.
Bigham was on site with a small production crew to appear live virtually to viewers who would be online over two days for a series of workshops, panel discussions, virtual hangouts, a resource fair, art gallery and the two marquee events: Big Queer Convo featuring Isis King and Alexandra Billings, and the always popular VarieTy Show.
"This place should be jam-packed with all of these beautiful, wonderful faces sharing space together," Bigham said as she greeted viewers on that night. "That feeling, that energy, it's our giant love bubble. It's just one of the most miraculous times of the year. Let's celebrate us, let's celebrate who we are. Let's celebrate the fact that we're still here, that we are strong, and we are getting stronger every single day."
Bigham, manager of the Center's Trans* Lounge and Educational Empowerment Programs, challenged participants to channel their "transcestors" like Marsha P. Johnson and Sylvia Rivera and young trans leaders like Indya Moore and Isis King.
"Now is our time to be the heroes and sheroes of this movement," she said. "This is our time to be the movers, the shakers, the strong ones."
Workshops included trans history and the exploration of Non-binary, Genderqueer, and Gender-expansive identities and their place in the community. Some workshops were provided in English or Spanish for parents and relatives of Trans/GNC/ENBY children.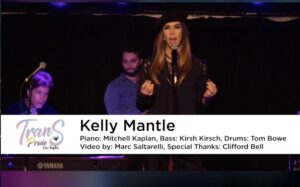 The VarieTy Show on June 20, the final day of Trans Pride, was hosted by drag star Kelly Mantle who explained to the audience that she had been in quarantine.
"That means four months of no gym, no spa, no Botox, and no glam team with me tonight. So please keep that in mind as you're perusing the insides of my pores this evening," she quipped.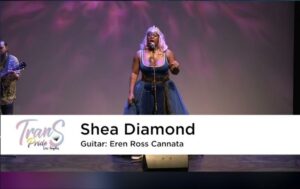 Introduced by Transparent's Alexandra Grey, Alex Newell (of Glee fame) kicked off the show with a performance of I Know Where I've Beenfrom the musical Hairspray. Trans Chorus of Los Angeles closed the show with Ain't Gonna Let Nobody Turn Me Around. In between were performances by Alexandra Billings, Gio Bravo, D'Lo, Shea Diamond, Flavia, Abdullah Hall, Ian Harvie, Our Lady J, Ezra Mitchell, Clear Mortifee, Shane Ivan Nash, and Delia Danae Rawdon.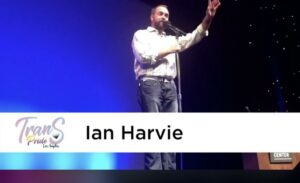 The show included five performances from previous years, a few videos submitted by other artists, and six performers who came, at separate times during the month of June, into The Village's Renberg Theatre to film their performances. The show was then edited together seamlessly.
Trans Pride also included a community Virtual Resource Fair with information and links to many local organizations offering services to the Trans/GNC/ENBY community. There was a virtual Wall of Hope where guests posted their messages of love, hope, and support. They also had access to an interactive "community courtyard" to socialize and connect with each other.
Over the two days of the virtual event, more than 7,000  members of the global Trans/GNC/ENBY community and their allies visited the Trans Pride website. Event organizers ended up raising more than $11,000 for trans-related services at the Center.
"The tried and true Trans Pride love and joy that we are known for just came flooding out," Bigham said after the event. "We were able to be connected. There was a lot of gratitude at being able to provide something for the community."
"There was no way we were just going to cancel it — that was out of the question," she added. "We had to find a way to bring people together and to uplift the community."