By Greg Hernandez
Actress-model-activist Isis King said the murders of trans women of color must be a part of the Black Lives Matter movement gaining unprecedented momentum in the U.S.
"People act like it doesn't exist," King said during the Los Angeles LGBT Center's Big Queer Convo event which kicked off Trans Pride L.A. on June 19.
"They say, 'One thing at a time.' Well, when the (expletive) is the time to talk about people killing Black trans women because it seems like it's never the time," King said during a powerful, wide-ranging conversation with actress Alexandra Billings.
"This is the perfect time to speak up about it. If we want to talk about unity and Pride, then we need to talk about what is going on," she added. "This is the first time I'm seeing any kind of traction in this topic. It's the first time people are listening. This is a part of it, like it or not. We're bringing this along, too, because we've got to deal with it."
King, who starred in the Netflix series When They See Us and competed as the first transgender woman in the reality competition show America's Next Top Model, pointed out that some Black men in particular need to be educated.
"It's time for allies to go into the barber shops and call these brothers out when they say certain things like we should be killed," she said. "It's time."
King said trans women must fight for the respect they deserve.
"We are fully developed, fully realized beautiful people with careers, with personalities, with backbone," she said. "We are beautiful, we are passable, we are not passable. We are all people who deserve to live and deserve to have a full life and full careers, and health care and love—just like everyone else."
King, 34, recalled spending her younger years focused on her relationships with men, but she has grown to be far more independent and to fully love her trans self.
"If you are not adding to my equation, you are subtracted from my life," she proclaimed. "I finally got to this place where I know my worth, and I know that I'm so good on my own. If you're going to come into my space, you have to be able to show me that you can add something to it."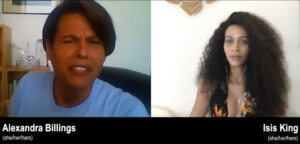 Moderator Billings, who recently portrayed Madame Morrible in Wicked on Broadway and was a cast member on Amazon Studios' Transparent, praised King "for this extraordinary path that you've carved out for yourself. You bring so much hope to other trans folk—anybody, really—who wants to be a performer whether they are trans or not."
But King attested, as a trans actress, it's been an uphill battle every step of the way despite landing a recurring role on the daytime soap The Bold and the Beautiful and guest spots on the TV drama Shameless and other shows.
"To be a woman, you are going to get less respect than a man," she explained. "To be a Black woman, you're going to get less respect than a white woman or a Black man or a white man. To be a Black trans woman, you're going to get less respect than anybody."
King has been told she is "too passable" for some trans roles and once lost out on one to a cisgender woman.
"In this politically correct era, they will say, 'Oh, we love her work but she's too pretty.' 'Too pretty' is the modern way of saying, 'You're too passable.' You don't look trans enough.' I love Ava DuVernay for giving me that part (in When They See Us) because it got to show the world I am okay playing pre- and post-transition. As a trans woman, I'm an actress. I want to go for it. I don't care about trying to look pretty. I just want to do my job, and I want you to give me a fair chance."
Billings said King's journey is about self-empowerment and called her a much-needed inspiration to younger trans people:
"If we don't instill in these trans youth a sense of hope and entitlement and self-awareness, we are going to end up right back where we started."