By Greg Hernandez
Robert had been experiencing homelessness since the age of 16 including stretches of time on Skid Row in Downtown Los Angeles.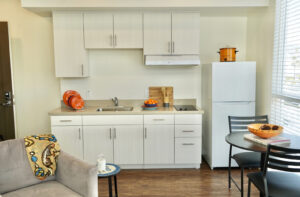 Now 21, he is beginning a new chapter as one of the first residents of the Los Angeles LGBT Center's just-opened Michaeljohn Horne & Thomas Eugene Jones Youth Housing.
Even before move-in day, Robert had been visualizing what everyday life there will be like.
"I had this dream I was in there, and I'm cooking, I'm studying, I'm watching my videos," he said. "You have a roof over your head, someplace that you can go home to, lie down, shower and relax. I am blessed."
The nearly 13,000-square-foot, four-story structure includes 25 supportive housing apartments for youth ages 24 and under. It is located directly across the street from the Center's flagship Anita May Rosenstein Campus and next door to the Center's Village at Ed Gould Plaza.
These are the first-ever micro units designed for LGBTQ youth experiencing homelessness in Los Angeles.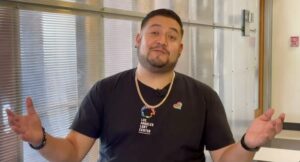 The building's indoor community space includes a case management office where Center Case Manager Abel Tovar (pictured, left) will help the residents gain access to Center's wraparound programs and services. He said this is an opportunity for them to start building the next steps of their lives' foundation.
"A lot of them have had many struggles in life. Some of them have been in the child welfare system for many years before becoming homeless. They were being discriminated against or kicked out of their home because they are part of the LGBT community," Tovar explained. "A lot of them have not felt like they've had a real home so this will be their first opportunity to say this is their actual home."
Kay, another one of the residents moving in, had been experiencing homelessness since aging out of foster care at the age of 18 and had spent a lot of time "dwelling on the worst possible things that could happen."
"I don't really have the best relationship with my family, and you're in a position where you're unsupported," Kay said. "I feel like I have had to be strong for myself. Just being able to have my own place, it's like a weight has been lifted off of my shoulders. Now, I'm looking forward to the best possible things that can happen."
A Virtual Grand Opening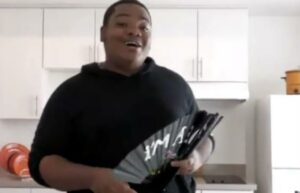 The ongoing COVID-19 pandemic prevented the Center from throwing a celebratory in-person party complete with rainbow balloons and a ribbon cutting ceremony. Instead, charismatic YouTube star and Center supporter Mac Kahey (a.k.a. MacDoesIt) hosted a 21-minute virtual opening which included a live tour of one of the units, a 600-square-foot indoor community space located on the first floor, and the outdoor space designed with landscaped areas and pathways.
"We usually would be having a big party.  People would be on the street having fun, the mayor would come out and say stuff," he explained. "But Miss Pandemic is still out there running live and running wild so we're doing this virtual. It has taken an entire community to build and make this building happen!"
Los Angeles Mayor Eric Garcetti did appear virtually and described the apartments' opening as "an inspiring chapter in the work of providing safe, clean, and secure permanent housing to our city's most vulnerable."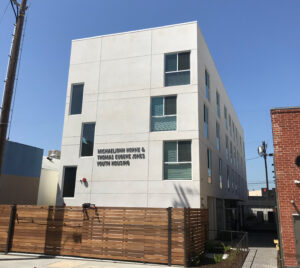 Center CEO Lorri L. Jean lauded the occasion as the day "we rightfully celebrate the vision, passion, and hard work it took to get to this auspicious opening day and the way these homes will literally change the lives of the residents."
"But at the same time," she added, "we know that this project is not enough. There are thousands more youth in our community who still face the burdens of homelessness and all of its challenges: employment, food insecurity, mental health issues. Today at least we are making a dent in those problems. This building is a model for how we can start to better meet all of their needs."
The housing units range from 279 to 329 square feet and combine rental assistance with individualized, flexible, and voluntary support services for youth. Residents have access to the Center's full range of wraparound services and support, including case management; education; employment training and placement; health and mental health care; food and clothing assistance; counseling and supports groups; and activities and events.
Two Men Who Stepped Up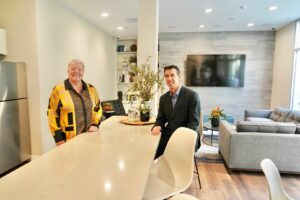 Jean praised all of those involved, including the Center's affordable housing development partner Thomas Safran & Associates, for completing the housing during a global pandemic.
"We feel this project is one of the most important and significant developments in our company's history," said Thomas Safran & Associates President Jordan Pynes (pictured with Jean, left). "This project is important to us because it provides housing and services and creates a one-of-a-kind campus for the LGBTQ community."
Jean paid special tribute to Michaeljohn Horne and Thomas Eugene Jones, for whom the building is named.
"Every day the young people in this building will see the names of two proud and successful gay men who generously gave back to their community," she said. "That is a powerful and important message not only for youth, but for all of us."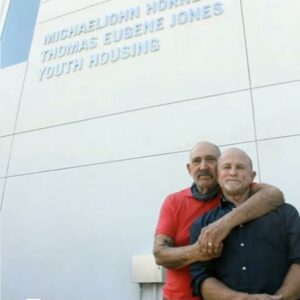 Jones said he imagines all of the new opportunities for the young people living inside as he looks at the building and sees how beautifully it's been done.
"That's all I can think about," he said in a pre-recorded message. "I'm filled with hope for them. To be part of it is special."
Horne added: "We watched the building go up—that was amazing! It really fills our hearts—to walk through the building and realize we are sort of the spark of hope for young people."
Missed the virtual celebration? Watch it now at bit.ly/youthhousingcelebration