By Reid Nakamura
Thanksgiving made a grand in-person return to the Los Angeles LGBT Center this year, with LGBTQ+ youth and seniors coming together to share a meal at the Anita May Rosenstein Campus for the first time since the pandemic. Guest ages ranged from 18 to 98 years old.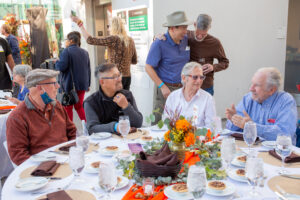 "I'm so proud of what we were able to do the last few years delivering meals to our seniors, but it wasn't the same as being together in person and getting to connect with our community. So, for me, this is really special," said Kiera Pollock, Director of Senior Services at the Center.
Over 300 meals were served at the Intergenerational Thanksgiving Celebration, with youth and older adults gathering at Pride Hall for a traditional holiday feast. The plentiful holiday buffet was prepared by the Center's Culinary Arts program, which itself is an all-ages community facilitator bringing patrons together from across our support programs.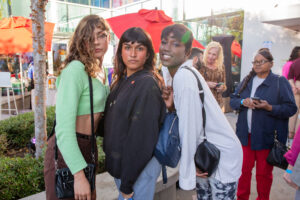 "We want to provide these opportunities for connection across generations and really embody the idea of a chosen family. A lot of these folks don't have families to be with during the holidays, so this is our family. Our super queer, amazing family," Pollack said.
Performers Charles Galin and RuPaul's Drag Race Season 15 contestant Salina EsTitties wowed guests with lively post-dinner performances, inspiring guests to dance along to music by Christmas queen Mariah Carey and synth crooner, The Weekend. Drag Race alums June Jambalaya and Kerri Colby also dropped by to make our photo activations a touch more fabulous than usual.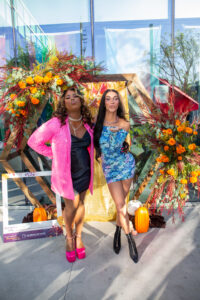 "I grew up a foster kid, so I didn't have anything like this. There wasn't a safe place to be around other gay people," said Jambalaya. "So being here today really opened my eyes to the idea that there's more that I could be doing in the community. It's so great to be in a space where there's no pretense, it's just people who love this community and love each other."
"This is such an amazing experience," said Colby. "And it is full circle for me, because when I first moved to LA there were times when I had to rely on the Center for help. So, to be here participating and seeing the impact, seeing people's faces light up, it means a lot. Especially right now, when so many of us are relying on our community."
The Thanksgiving menu featured the traditional roast turkey and gravy with an assortment of sides including buttermilk mashed potatoes, cornbread stuffing, thyme maple glazed carrots, and orange and ginger cranberry sauce. Even FOX 11 and Beverly Press covered the holiday extravaganza!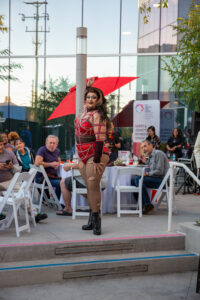 "I can't tell you how excited we were from the kitchen to see everyone in person," said Nick Panepinto, Director of Culinary Training and Operations. "While we loved preparing the 900 to-go meals over the last two years, it doesn't compare to seeing everyone actually smiling and enjoying the food."
Panepinto's students prepared more than 240 pounds of turkey for the event, along with gallons of gravy and individual handmade pumpkin pies for dessert. "In our culinary training kitchen, the two most important ingredients that our students put into their food are love and pride," Panepinto said.
"I was telling Kerri earlier, I want to sign up and learn how to cook like this," said Jambalayah. "The food was so good."
The Anita May Rosenstein Campus was conceived by Center leadership more than a decade ago as a haven for the two most vulnerable groups within the LGBTQ+ community. This year's Intergenerational Thanksgiving Celebration will not be the last time the Campus will bring together youth and seniors for an in-person event, said Pollock.