By Greg Hernandez
It took a few minutes for Senior Recruitment Coordinator Albert Ontiveras to get the more than 175 guests at Tuesday's AIDS/LifeCycle Holiday party to settle down and listen to remarks from the evening's speakers.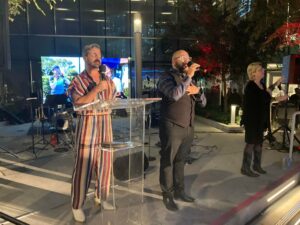 Then Ontiveras almost immediately got the crowd all revved up again.
"We have crossed the $3 million mark – make some noise!" he said. "As a community we have the opportunity to reach higher than we ever have! Surely we have a record-breaking year ahead of us."
The festive party for those participating in the 2022 edition of AIDS/LifeCycle included live jazz, cocktails and appetizers and was held in Pride Hall and the adjacent Bayard Rustin Courtyard at the Los Angeles LGBT Center's Anita May Rosenstein Campus.
AIDS/LifeCycle is a 545-mile bike ride from San Francisco to Los Angeles and returns as an in-person event on June 5–11, 2022. It benefits the HIV/AIDS-related services of the Center and of the San Francisco AIDS Foundation. The COVID-19 pandemic had forced the 2020 and 2021 rides to be cancelled.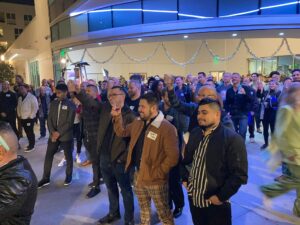 Past riders and new participants have been quick to sign up in recent months to be a part of the world's largest single event HIV/AIDS fundraiser.
"Thank you for choosing to be part of this community, for doing something most would never think of doing, for riding 545 miles, for raising money for people you've never met, and for letting so many folks know that you are there in the good times and the bad," Ride Director Tracy Evans said as she toasted the crowd.
"During the past two years, I've thought so much about how it feels to be part of this community," Evans added. "This evening, I would like to raise a glass to love, to energy, to respect, to family. I raise my glass to all of you."
Virtual fundraising events were held during the pandemic, including the first-ever AIDS/LifeCycle@HOME which raised a total of $8.1 million last year and this year's TogetheRide which raised $2.6 million. In 2019, ride participants had raised more than $16.7 million—the highest fundraising amount in the event's history.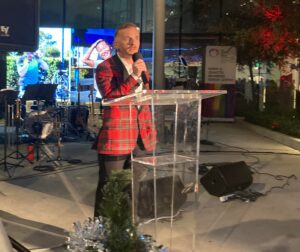 Center Executive Director Joe Hollendoner explained to the group that despite the fundraising hit suffered during the pandemic, no HIV-related programs or services had to be reduced.
"However, we're at a crisis point," he admitted. "If AIDS/LifeCycle 2022 does not happen or it is not a success, I cannot ensure that we will continue to be able to operate unharmed by this pandemic. That's why your fortitude, resiliency, and commitment to our community is important. I'm so appreciative of everything that you're doing."
Hollendoner will succeed Lorri L. Jean as the Center's Chief Executive Officer upon her retirement in July 2022 and is formerly the CEO of the San Francisco AIDS Foundation.
He noted that it has been 40 years since the Centers for Disease Control and Prevention first published a report identifying a mysterious disease amongst five young gay men in Los Angeles which marked the beginning of the AIDS pandemic.
"At that moment, we had no appreciation for the crisis that was about to hit our community," Hollendoner said. "But the Center, and thanks to volunteers like yourselves, has been able to respond and meet the ever-changing needs of those living with HIV and most impacted by the virus."
He shared that the Center provides over 3,300 patients living with HIV with free primary care services through its Jeffrey Goodman Special Care Clinic. It also provides 17,000 sexual health visits including HIV testing and counseling and STD treatment as well as making sure people have access to things like PrEP (Pre-exposure Prophylaxis) and PEP (Post-exposure Prophylaxis).
"It is ultimately this community that's going to bring us to the day when the HIV epidemic is over,' Hollendoner said. "And you're going to do that by bringing us 545 miles closer to that finish line this June."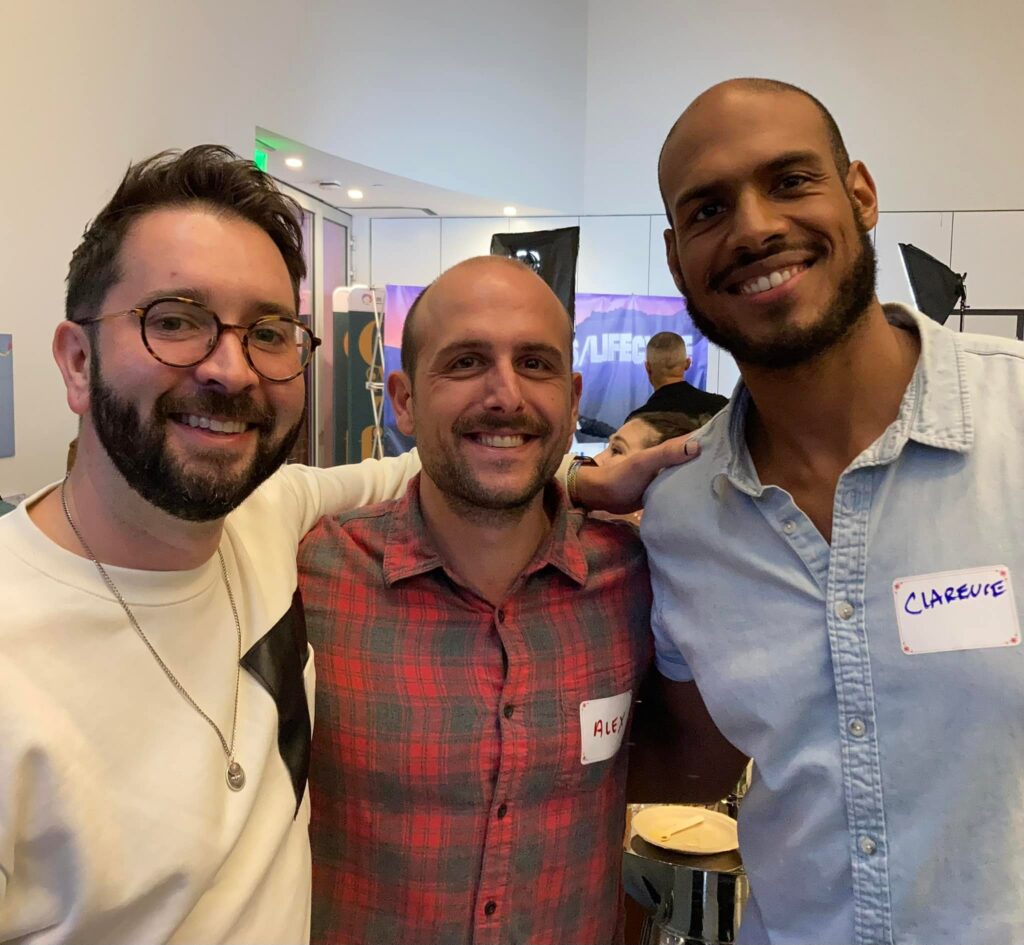 Among those who plan to cross that finish line is Clarence Lacy who rode in 2019.  He was happy to be getting back into the groove of seeing people at events like the holiday party and the massive AIDS/LifeCycle kickoff training ride that took place in October.
"At the kickoff ride, it was fun to see people I haven't seen in two years and this party is a nice way to come back and be together with everyone again," Lacy said. "I had always talked about how I'm part of the community and wanted to do things for the community but hadn't put my foot forward and actually done something until the ride. I decided it was time to dive in head-first and do something."
Lacy attended the party with friends Lane Wood and Alex Marchinski who will be riding in the event for the first time.
"When he came back from the ride in 2019, he was obviously inspired," Wood said of Lacy. "It was a massive life experience and his sharing that experience and telling the stories was really interesting."
So, Wood got himself a bike and began training.
"I'd never ridden a bike more than around the block," he admitted. "But I got really excited about riding and I've met so many amazing people through the training rides. It's an amazing opportunity to give to a cause that means a lot to me. I love what the Los Angeles LGBT Center is doing."
Marchinski had previously taken part in the Harbor to the Bay which is a 125-mile AIDS charity bike ride from Boston to Provincetown, Massachusetts.
"It's super inspiring and I'm happy to just be a part of AIDS/LifeCycle and to be able to contribute," he said.
Rick Ryan will be doing the ride for the fourth time and said he has never looked forward to it more.
"You get used to this experience where a week out of the year, you get to turn everything off and really be present," he said.  "It's a beautiful experience to get away from all the news, the insanity of life, and just bond in this common mission. That's been missing for two years and I'm really anxious to get that part of my life back."
Julie Viens, gearing up for her fifth AIDS/LifeCycle, is a training ride leader who has really missed coaching and working with other riders.
"It feels really good to be here with people in person again," Viens said. "I get to hug people and we don't have to wear spandex or be on a bike. I can just hang out with people.  You have to learn how to recognize people without all their bike gear on!"
Ashley Sanders walked into the party and said she immediately felt at home despite being a first-time rider.
"I had signed up without knowing a soul and after the kickoff ride, I found my teammates and I met some fabulous people," she said. "To be greeted with the warmest hugs, it touches my heart."
Sanders remembers the worst days of the pandemic in the 1980s and 90s and said she decided to take part in AIDS/LifeCycle after walking through the National AIDS Memorial Grove in San Francisco's Golden Gate Park.
"Just remembering the fear and all those years when we lost so many people," she said. "As soon as they announced they were doing the ride in 2022, I signed up the first day. I had it marked on my calendar. This is a cause near and dear to my heart."
Another first-time rider is John Matthews who moved from Canada to Orange County last year and began cycling on his own. When he found out about the ride and the work of the Center, he was eager "to meet people, and to have this life-changing experience."
"Everyone is so excited and passionate," he said. "The Center is beyond what I thought it would be and it's just great to hear about what the Center is doing and what this ride really means – the impact that each rider, roadie, and volunteer has and how far that can actually go."
Register now at www.aidslifecycle.org