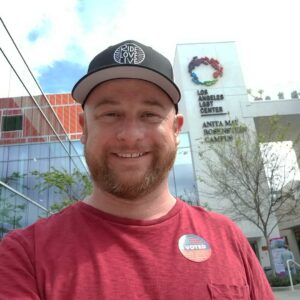 There was nowhere else Adam Bass (pictured,left) wanted to cast his ballot than inside Pride Hall at the Los Angeles LGBT Center's Anita May Rosenstein Campus.
He was among the Center employees, senior and youth clients, and community members who recently voted at the location designated as one of Los Angeles County's new flex vote centers leading up to the California Democratic Primary.
Flex voting was available at the Center for one day, Friday, Feb. 28. To find out where you can vote on Super Tuesday, visit lavote.net.
California is part of Super Tuesday on March 3, during which 14 states and one territory from across the country have primary elections.
The flex vote centers are part of the county's new Voting Solutions for All People (VSAP) program and focus on providing flexible and expanded voting options for people who may find it difficult to find a regular polling place. The county shifted from the thousands of traditional polling places to less than 1,000 new voting centers, of which hundreds of them opened for early voting on February 22.
"I normally vote by mail, but I was really proud to be able to vote at the Center and to vote for candidates who support the LGBT community," said Bass, a donor services and finance specialist for AIDS/LifeCycle.
Center history also motivated him to vote on the Campus.
"It's remarkable to me that 50 years ago the federal government told us we couldn't have a tax ID," he pointed out. "Now, not only are we building government-funded housing, but we are also voting here on site for our next round of elected officials."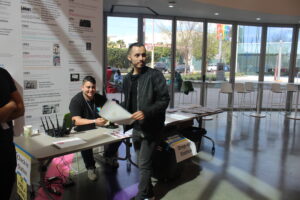 The flex center at Pride Hall and others like it throughout the county feature modernized touchpad balloting devices. The ballots are written in larger type and offered in 13 different languages. Voting selections are then printed on a paper ballot.
"The flex sites are something the county has instituted in pop-up places throughout the area to make voting more accessible to people typically disenfranchised by the election process," explained Center employee Daniel Perez, who is also a volunteer election clerk.
Throughout the day on Feb. 28, voters streamed into the flex space to cast their vote. Almost all immediately placed an "I Voted" sticker on themselves before leaving the building.
"The sticker is extremely important because we have to let people know we're involved and that we care," said senior client Ronald Astwood-Cocking.
Another senior program participant, Jo Sun, also believes it is her civic duty.
"I keep telling people who fuss about what's going on politically in our country, 'If you don't vote, I don't want to hear about it,'" she said. "We all have that ability and the right to cast a vote. That's the way we get heard. If we don't open our mouths and tell people what we want, no one knows, and they can't read our minds. If we don't do it collectively, shame on us for who we get in the office."
Need to know how and where to vote? Visit lavote.net.