By Greg Hernandez
It was time to make some sales.
Inside the Los Angeles LGBT Center's Advocate & Gochis Galleries on December 11, hand-painted T-shirts and sneakers, elaborate hats, paperweights, candles, cards, straws, buttons, and other items covered a series of tables. All of these wares were being sold by 13 entrepreneurs from the Center's Youth Services and Senior Services who recently graduated from a 12-week program known as Find Your Way (FYW).
FYW gives participants a roadmap for setting up their first small business and building the skills and confidence they need to succeed.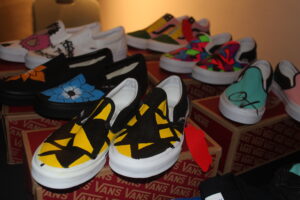 "Twelve weeks ago, I didn't think I'd be here," said Martian, a 21-year-old graduate who designed a line of eye-catching skater apparel. "Being a part of Find Your Way has actually brought me out of my comfort zone, taught me to be out in the world, and made me more confident and vocal. This is the business that I want to get into—the career that I am dedicated to."
The program is the brainchild of celebrity stylist Mark-Alan Harmon who became an entrepreneur at the age of 19. Over the past 24 years, he has worked as a personal shopper and wardrobe stylist in nearly every part of the country and is eager to share what he has learned.
"I wanted to do something to make a difference, and I wanted to do something at the Center," Harmon explained. "But I didn't want to just give money again, and I didn't want to just volunteer aimlessly. So I took what my talents are and created something in which I could give back."
Harmon led a weekly four-hour class that included guest speakers who all share his can-do attitude.
"We talk about the ability that we all have to create our own reality," he said. "I want participants to know that they can create whatever they want, that they are the same as other people. There's no reason why someone in their circumstance cannot create and why someone in a better circumstance can."
While FYW is primarily about setting up a small business, the program becomes so much more than that. Participants also build transferable skills which they can use in anything they choose.
"It's given me such confidence and faith"
Nathan, 21, made paperweights which feature his photography. He embarked on FYW after graduating from the Center's Culinary Arts program.
"I am grateful that the Center is here offering these opportunities and resources," he said. "This program has shown me that it's okay to be vulnerable and ask for help and support. It's given me such confidence and faith."
For Samus—who prefers the pronouns they/them/theirs—the program provided an opportunity to merge their human rights activism with commerce by producing trans-inclusive buttons and human rights-themed pins.
"I combated my social anxiety through here," the 25-year-old said. "It's now a lot easier for me to talk to people I don't know and to reach out and meet new groups of people. I've met some really nice people who I hope to hang out with after this."
Becoming Intergenerational
When FYW launched in 2018, it was exclusively for youth but the most recent session expanded to include the Center's senior clients.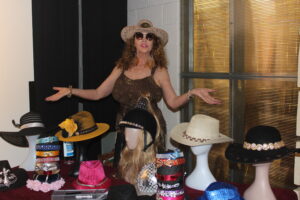 One senior Alana Moore is an image consultant and personal shopper who has been making stylish hats and accessories for herself. Through FYW, she launched Hats Galore by Alana Moore and has already opened two online stores on ETSY.com.
"At first I thought it was a terrible idea to mix the youth and the seniors," Moore admitted. "But, as I was taking the class, it was actually very entertaining and very interesting. It was a long class—four hours each session—but Mark-Alan made it so fun and interactive. I loved it."
The intergenerational combination resulted in a professional partnership between Clayo Hughes, 58, and 25-year-old Angelica. They are launching a dessert company called Lemon Supreme which is based on a family recipe Hughes learned from an aunt.
"Through the program, I partnered with someone who is acting as my operations manager, and I really needed it," Hughes said. "I needed an infusion of young, talented, and ambitious energy—and that's what Anjelica brings. We complement each other."
Hughes focuses on the product while Angelica takes care of emails, invoices, and the company's website.
"I first wanted to do coffee catering but didn't have the production part figured out," Angelica said. "The other things come more naturally: keeping track of the costs, the bookkeeping. It's a big learning experience for me.
"Mark-Alan goes the extra mile"
Harmon had long been involved in the Center's Young Professionals Council, a group of dedicated volunteers under the age of 40 who promote and support the Center's work.
He developed FYW with the input and support of Jennifer Dawson, the Center's former director of major gifts who continues to serve as a FYW coach and mentor.
The intensive program is designed for people who are intent on accomplishing their goals. A new 12-week session begins in the spring, and past graduates can sign up again to further advance their projects.
Center Youth Education Supervisor Mandy Litwin has seen firsthand the impact the program is having on its participants.
"Mark-Alan is someone who goes the extra mile, is willing to invest so much time and energy and money into all the youth if they're willing to invest their time and energy into their own dreams," Litwin said. "How often do you have an opportunity where someone is saying, 'I believe in you so much. You just need to believe just as much as I do, and we'll make this happen'?"