By Greg Hernandez
As Nicole Thibeau walked into a meeting with hundreds of Los Angeles LGBT Center employees during Pride month in 2018, she was asked at the door which Pride flag she wanted to carry into the Center's Renberg Theatre.
"I said, 'Oh, I want the pansexual flag,'" the Center's director of Pharmacy Services recalls answering.
It was a response that surprised even Thibeau herself.
"I felt really emotional about it and I could not shake that feeling," she shares. "I just kept coming back to it in the intervening months and I finally had to be like, 'There's a reason why.'"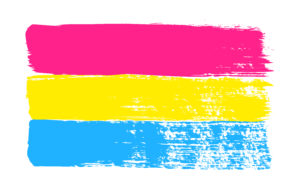 Grabbing that pink, yellow, and blue flag that day represented an important first step in Thibeau's journey to understanding that she identifies as pansexual, someone whose sexual or romantic attraction is not limited to people of a particular gender identity or sexual orientation.
"I'm a cisgender woman married to a cisgender man and often viewed as being straight," she explains. "But I knew since I was a teenager that I wasn't 100% straight. Still, there was never anything that I quite connected with until I became really familiar with pansexuality. That was what clicked for me. That made sense."
Thibeau has been with her husband for 15 years and after her realization, she knew they had to have a potentially very difficult conversation about her sexual orientation.
"This part of me was always there, it was always true and nothing had changed," she points out. "But it's a little bit scary to tell someone, 'Hey, you thought you knew me, but there's this piece you didn't.' Luckily, they were extremely understanding and it didn't change anything. That was my first hurdle."
Important Career Change
Thibeau had left the world of retail pharmacy in 2013 to begin working at the Center. She is a member of the American Academy of HIV Medicine and the move was motivated by the opportunity to work with clients who have HIV.
She eventually became head of the Center's pharmacy operation that has more than 40 employees filling prescriptions for approximately 4,200 people each month.
"I actually do wonder if I didn't work here if I would have been able to make the pansexual connection myself," she admits. "Working here helps you see the variability and the options and the pieces of it that are kind of non-binary and are very gray."
Coming out to her colleagues has been an ongoing process.
"I struggled for quite awhile with deciding to come out," Thibeau says. "It helped me that the Center has always felt like home, it has always felt safe, and I always said I didn't understand why. When this clicked, it was like that was why."
Although she felt safe in her work environment, Thibeau was "nervous" about coming out because she was mindful of how much so many in the LGBTQ community suffer because of their sexual orientation or gender identity.
"I've never had to suffer," she acknowledges. "I'll always be perceived as a heterosexual woman, I will always live under that privilege. At first, I was afraid that coming out was a disservice to what everybody else went through. Once I sat with it for awhile, I realized it's not a disservice. It's a continuation of the work that everyone else has done."
Wants to Create Awareness
Coming out publicly as pansexual is just the first step for Thibeau who was appointed to the California State Board of Pharmacy by Governor Gavin Newsom last July.
She plans to use to her position in her field to help create awareness and foster understanding.
"There does tend to be invisibility of people who are pansexual," she says. "Being pansexual, I can actually help other people—even in our own community—understand some of the more nuanced pieces of this."
Pansexual Pride Day is December 8 each year and is dedicated to celebrating pansexuality.