Sharon-Franklin Brown, the Los Angeles LGBT Center's chief human resources officer, was once fired from a job because she's transgender.
It's one of the reasons why passage of the Equality Act, which would add sex, sexual orientation, and gender identity to the Civil Rights Act of 1964, is deeply personal to her.
"Everyone deserves the right to live as their authentic self," Brown (pictured, above) said during the Center's Big Queer Convo about the Equality Act and its impacts on the Black LGBTQ community. "This particular act would actually send a clear message to everyone that our lives matter and that we should have the same rights and liberties that are afforded to everyone and equal protection under the law."
Brown was joined by Tyrone Hanley, senior policy counsel for the National Center for Lesbian Rights, for the February 24 virtual conversation moderated by the Center's Director of Advocacy and Mobilization Joey Hernández.
Some version of the Equality Act has been put forth in Congress every year since the 1970s. But this year is seen as its best chance yet at finally becoming law. It would provide national, consistent non-discrimination protections for LGBTQ people regarding employment, housing, credit, education, federally funded programs, public spaces, and jury service. Anti-LGBTQ discrimination is currently legal in 29 states.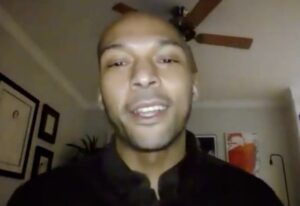 "It will provide some great relief for people across the country who don't have those protections under state and local law,"  explained Hanley (pictured, right). "People (currently) have to make these decisions of 'Do I want to be open about my sexuality or my gender identity and potentially expose myself to discrimination if it means I can't access basic things that I need to survive?' That is very scary, and people should not have to make those decisions about their lives."
The Equality Act will need the support of at least 10 Republicans to pass in the deeply-divided U.S. Senate which is evenly split between Democrats and Republicans. A total of 60 votes are needed for it to become law.
"We'll have to fight like hell to get those 60 votes, and we are committed to that," Hernández said.
Why It's Personal
Brown and Hanley shared how their life experiences have shaped their advocacy and made them keenly aware of the importance of LGBTQ protections on a federal level.
"I try not to get emotional when I talk about where we've come as Black folks," Brown said at one point. "But it's hard to not get emotional given I grew up poor in the cotton fields of the Deep South in Louisiana, and there were constant barriers put in place simply because I was Black. And then when you add gender identity on top of that—that intersectionality—it just adds more."
Hanley also grew up impoverished and was raised by a single lesbian mother.
"I know very intimately how much Black, low-income LGBTQ people are at the mercy of the powerful and the privileged that can make life and death decisions about their lives," he said. "Particularly when you are living in poverty, you constantly are put in these situations where people discriminate against you. You could potentially not get access to the things that you need in order to survive."
Sending a Message
If the Equality Act becomes law, Brown points out that it "doesn't necessarily remove the cloak of discrimination."
"That has to happen within the hearts and minds of each individual," she said. "But it sends a message that you have some recourse if you are discriminated against for some reason. The dream that I have is: one day, regardless of who you are, you have the opportunity to live your authentic lives free of harassment and discrimination—and there's equal protection under the law if you need it."
Watch the full episode of  Big Queer Convo at lalgbtcenter.org/watch