After working for two solid days at the Los Angeles LGBT Center transforming a community room for youth clients into a bright and welcoming space, John J. Arguelles was feeling more tired than anything else.
That changed when a youth said to him: "That looks great! Is it going to stay like that?"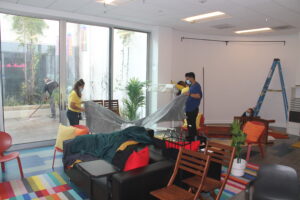 Argulles, Loyalty Manager for the IKEA store in Carson, was suddenly struck by a wave of emotion.
"I said 'Yeah, this is donated, this is for you,'" he recalled. "It hit me because they were so grateful that something was being done to make the space feel more comfortable, functional and fun. We were just doing something small but I felt a lot of pride."
Argulles recently led a team of 17 employees from IKEA stores in Carson, Burbank, Costa Mesa, and West Covina who descended upon the Center's Anita May Rosenstein Campus to assemble furniture, paint walls, bring in plants, hang curtains, lay down carpet, and more inside the youth space.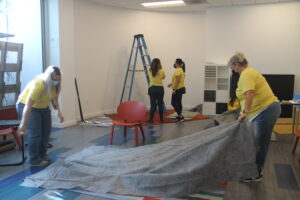 They also painted a quote on one of the walls which reads: "I am divinely protected by this universe. It is safe to live my truth."
"We felt proud to be doing something for an organization that has such great community outreach and is there to meet people's needs," Argulles said. "The Center makes such a huge impact every single day."
Each year, the Center serves about 2,000 youth with three-quarters of them experiencing homelessness. The community room and an outdoor patio space upgraded by the IKEA team is used by youth who utilize drop-in services and by youth residents of the Center's Transitional Living Program.

Youth Academy Supervisor Bernadette Ruby Lopez explained that the community room is used for such things as group therapy sessions, health education talks, organized group activities, and casual meetings.
"This is such an upgrade," she said of IKEA's efforts. "The space is really creative. We wanted this to be very welcoming and inviting to our youth and this makeover is helping us fulfill that intention."
Lopez added: "When we put youth in a better environment, they not only feel really cared for but also that they're worth it. They're really getting that message that we care. It helps and encourages them to take advantage of the well-rounded resources that we have here."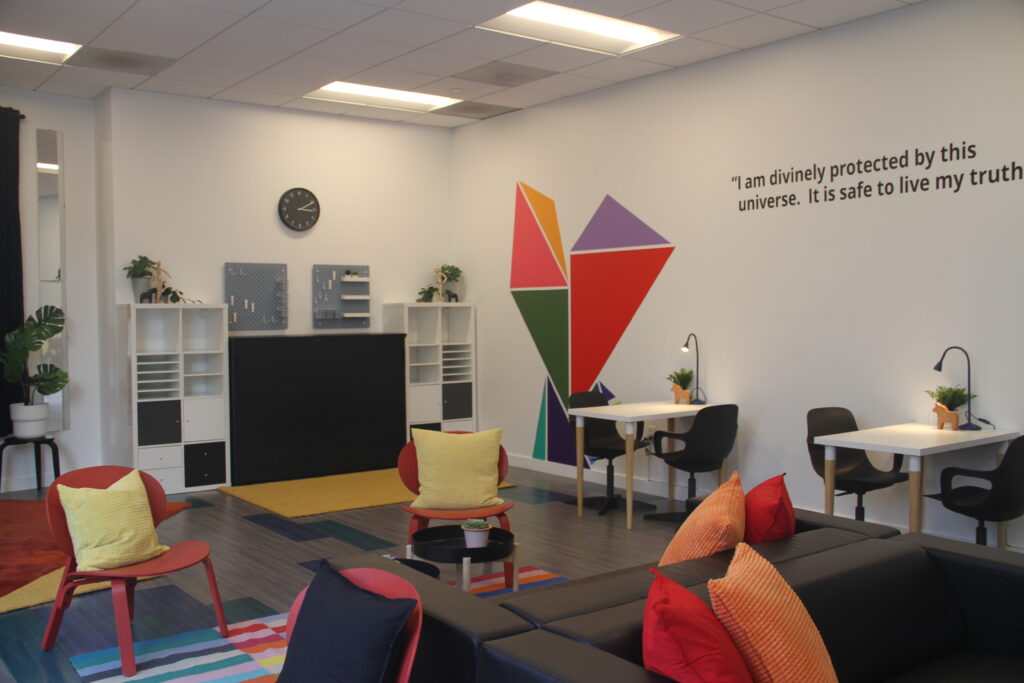 IKEA had sought to form a partnership with an organization dedicated to providing affordable housing solutions, shelter, and support to unhoused LGBTQ youth and seniors. The Center, which expanded its offerings in this area this year with the opening of the Michaeljohn Horne & Thomas Eugene Jones Youth Housing and The Ariadne Getty Foundation Senior Housing, fit the bill.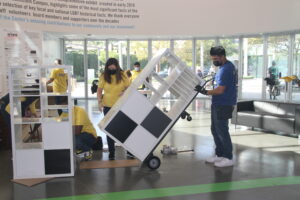 The retailer planned to contribute up to $50,000 to the Center in 2020 by donating 30% of the proceeds from the sales of a new, limited edition Pride-themed collection of durable rainbow-colored reusable bags.
The COVID-19 pandemic derailed that plan. But IKEA still stuck to its commitment of donating $50,000 and also donated nearly $6,300 in furniture for the youth room makeover in addition to the free labor. The company is planning a similar upgrade to a room inside the Harry & Jeanette Weinberg Senior Center sometime next year, according to Argulles.
"We are so grateful to have IKEA as a partner," said the Center's Corporate Relations Supervisor Diego Martinez. "Their philanthropic efforts uplift the Center's work providing life-saving services to LGBTQ+ young people. We couldn't have done this without the support of IKEA and their entire team."