By Greg Hernandez
Whenever senior client Clarence R. Williams visits the Los Angeles LGBT Center's Anita May Rosenstein Campus, he feels a swelling of pride while walking through the Bayard Rustin Courtyard.
"We never have enough same-gender loving Black American gay men featured or celebrated in any significant way," says Williams, co-founder of the Senior Services social group Ebony Sage Circle. "Bayard Rustin never, ever denied who he was. He was a very brilliant and intelligent man who had a lot to give."
The openly gay civil rights activist was a top advisor to Martin Luther King Jr. and was the organizing genius behind the 1963 March on Washington where King delivered his historic I Have a Dream speech. Rustin also served as an advisor to American labor unionist and civil rights activist A. Phillip Randolph, who was the head of the March on Washington.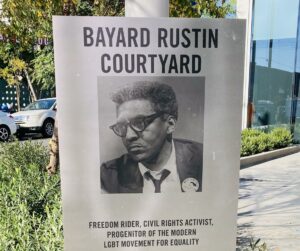 Rustin is honored by the Center with a large plaque erected in the courtyard which includes a quote that sums up how he lived his life: "It was an absolute necessity for me to declare homosexuality, because if I didn't I was a part of the prejudice. I was aiding and abetting the prejudice that was a part of the effort to destroy me."
The courtyard plaque describes Rustin as "brilliant, charismatic and outspoken" but as someone "forced to remain in the shadow of the movement's leaders because of his refusal to renounce his identity as a gay man."
Donor Barry McCabe's Meaningful Gift
When the Center's 180,000-square-foot intergenerational Campus opened in April 2019, there were a record-breaking 15 gifts of $1 million or more. Among the major gifts was $3 million from longtime Center donor Barry McCabe whose only request was that something be named after Rustin at the new Campus.
McCabe's generous gift and request enabled the Center to do its part in "removing (Rustin's) identity from the shadows and giving him a place of distinction in this beautiful courtyard where his spirit may eternally experience the warming light of the sun and the bracing winds of freedom."
Williams, who spent years working for Congressional Black Caucus, never met Rustin. But his aunt, Geraldine Pridgen Boykin, worked in the civil rights movement alongside Rustin and King.
"I've known about him all of my adult life. He was the architect of the whole movement," he says. "He owned all of his truth—that's what was so amazing about it. There were a lot of Black gay men who were unable to do that. I was very much gratified and amazed that the Center chose to honor him this way."
In addition to his role in the March on Washington, Rustin later organized Freedom Rides and helped organize the Southern Christian Leadership Conference to strengthen King's leadership and to teach about nonviolence.
A Reporter's Favorite Spot
While reporting a story previewing the All Black Lives Matter march in Los Angeles last June, Los Angeles Times columnist LZ Granderson used Bayard Rustin Courtyard as a backdrop for his interviews with organizers and described it as "one of my favorite spots in all of Los Angeles."
Grandson described Rustin as "one of my heroes."
"A lot of you may not know who he is but I can promise you, you know his work," he said in the video piece. "Bayard Rustin is so important to the civil rights movement that there quite possible wouldn't be Dr. King in terms of the way we know him without (Rustin's) influence. It was (he) who taught Dr. King about the principles of non-violent protesting."
Rustin died in 1987 at the age of 75. President Barack Obama posthumously awarded him the Presidential Medal of Freedom in 2013.
Last year, California Gov. Gavin Newsom posthumously pardoned Rustin, who was arrested on a discriminatory "morals charge" in 1953 for having sex in a parked car with another man. Rustin spent nearly two months in jail.
Calls from state legislators to pardon Rustin led to Newsom creating a new clemency program allowing pardons for others who were subjected to discriminatory arrests and prosecutions that unjustly targeted LGBTQ Californians.