By Greg Hernandez
Los Angeles LGBT Center CEO Lorri L. Jean fired up a crowd of more than 300,000 spectators at the fourth annual Women's March LA by focusing on the high stakes of the 2020 election.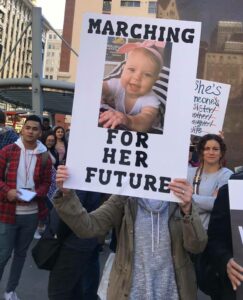 "We must harness the power of marches like these and take it to the polls," Jean said at Los Angeles City Hall on January 18. "This election must be the year of women rising! We must rise to power, persuade more women to run for office, and elect women in droves. We need equal numbers of women in elected office."
Jean reminded people that, in less than 10 months, voters will go to the polls to decide what kind of America they want, what kind of values they support, and what kind of leadership they "demand."
She slammed "the corrupt and callous Administration of Donald Trump and Mike Pence" which, Jean said, does not believe in treating women, immigrants, people of color, people with disabilities, LGBT people, or children with respect.
"He is a shameful embarrassment to our nation and our world," Jean said. "We must elect a president who will advance justice for everyone. A president who tells the truth. A president who will make us proud. A president who is not Donald Trump."
The march began at Pershing Square and ended at City Hall. Crowds, including a contingent from the Center, arrived carrying signs, banners, flags, and wearing costumes.
Several speakers in addition to Jean spoke out specifically for the rights of LBT women, especially transgender women of color who are disproportionately targeted with violence.
"I am here marching for racial justice. I am here marching for our trans sisters to live their lives out without the threat of death," Los Angeles Mayor Eric Garcetti said during his remarks.
Transgender reality TV star Caitlyn Jenner said bluntly: ""It's damned time we stop the slaughter of trans women of color."
Jenner, a former Olympian in the decathlon, has had a rocky relationship with the LGBT community due to her conservative political views. But she was politely received by the crowd and quickly noted that she had condemned the Trump administration for its handling of LGBT issues—"especially trans issues"—back in 2018.
"Together as women—trans women and cis women—we have the power to influence our communities, our families, our friends, and colleagues, and turn this country around," Jenner said.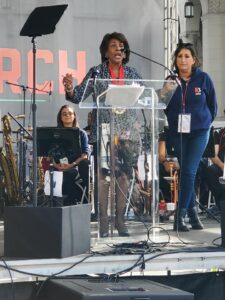 The lineup of speakers at the City Hall rally also included such political figures as U.S. Congresswoman Maxine Waters, Los Angeles County Supervisor Hilda Solis, California First Partner Jennifer Seibel Newsom, and Los Angeles City Council President Nury Martinez.
Waters, an outspoken critic of Trump, reminded marchers that so many brave women have emerged since the 2016 presidential election.
"It is a new day and a new way," she said. "These sheroes, patriots, and truth tellers have been unafraid to speak truth to power and place their careers and lives on the line to protect this democracy and save America from the most unqualified, untrustworthy, undignified, no good, lowdown president."
Waters added: "This country has been put on notice: Women are speaking up and speaking out. We're not taking it anymore. Women are going to save this democracy and get this country back on track."
The entertainment industry was well-represented at the march with speakers that included Oscar-winning actresses Marlee Matlin and Mira Sorvino as well as actresses Rosanna Arquette, Constance Wu, Amber heard, Bella Thorne, Yvette Nicole Brown, Joely Fisher, and Raven-Symoné.
Four-time Grammy winner Seal performed a three-song set, concluding it with his hit Kiss From a Rose. Other musical performers included Jenifer Lewis, Jordin Sparks, and Adrienne Bailon.