By Greg Hernandez
RuPaul's Drag Race alum Mayhem Miller looked out at the crowd during the Los Angeles LGBT Center's Models of Pride Festival for LGBTQ+ youth last Saturday and spoke from the heart.
"You are all being your authentic selves and that is something that is beautiful," Miller said from an outdoor stage at Los Angeles City College. "When I was young, we didn't have anything like this. You are going to change our future and I love every single one of you."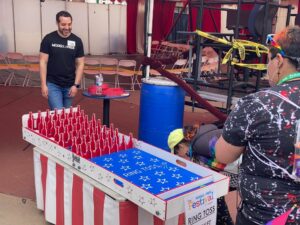 Miller hosted the live entertainment portion of the festival attended by nearly 400 LGBTQ+ youth, allies, and parents. The event presented by Toyota also featured workshops, food trucks, carnival games, raffles and community booths.
The Models of Pride event was held live and in-person for the first time since 2019. The COVID-19 pandemic had forced the Center to hold a virtual conference in 2020 and to cancel the 2021 event entirely.
"People have been asking for us for two years 'When is Models of Pride coming back?'" shared Kevin McCloskey, the Center's Director of Community-Based Programs. "I think the community really wanted to come back together and is ready to have events like this to be back together in person and to reconnect with one another."
This year's event came at a time when anti-LGBTQ+ rhetoric is being amplified nationwide. Lawmakers in various states have proposed more than 200 bills so far this year that would limit the rights of LGBTQ Americans.
The proposed legislation includes such measures as restricting LGBTQ issues in school curriculums, permitting religious exemptions to discriminate against LGBTQ people, and limiting the ability of trans people to play sports, use bathrooms that correspond with their gender identity, and to receive gender-affirming health care.
Parents Rachel and Dan were at the festival to support of their queer teen who is a middle school student.
"It's so positive and everyone's friendly," said Rachel. "It's such a nice way to bring people together. It's super scary everything that's going on with these (anti-LGBT) laws. It's a really important time for people to speak out and to be supportive."
Added Dan: "We need to be as vocal as the other side."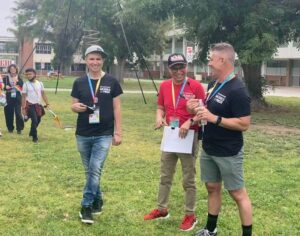 McCloskey said planning of Models of Pride began at a time when COVID-19 numbers were falling but there was still no certainty over whether the event could actually be held.
"Because of what is going on politically, it really kind of put a fire under us to make sure this event and events like this happen," he said. "I said, 'We don't have the green light but start planning it because this needs to happen. We have got to bring queer youth together, celebrate them and honor them, regardless of what they are hearing in the political sphere. We want them to know that they are valued, they are perfect, and we celebrate them."
Some of the workshop topics offered included taking charge of your Coming Out story (Living All Out); exploring the LGBTQ+ community's subcultures to find your chosen community (Where Do You Fit In?); and learning the history of drag and taking the first steps of becoming a fabulous drag performer (Drag Isn't a Race!).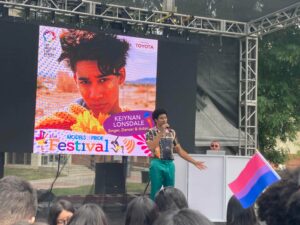 In addition to Mayhem, the event's entertainment line-up included singers Jim and Sasha Allen from The Voice Season 21; musician and content creator Sam Tsui and husband Casey Breves; actor, singer, and dancer Keiynan Lonsdale; recording artist and songwriter B.K. Habermehl; aerialist Amanda Ritchie from Grounded in Flight; and drag performer Dew Mi Moore.
"Believe in yourself every step of the way," Lonsdale said between songs. "I know it's not easy. We're all in this together. Let your colors shine!"
High school classmates Valeria and Sam enjoyed being on a college campus for Models of Pride which will mark its 30th anniversary with a full conference in November.
"It is so cool to be here," said Sam. "I feel so comfortable here and being around everyone. I was really nervous coming in. It feels comforting to know there's other people like me here and such a large crowd of them too."
Valeria was trying to process the fact that she didn't have to pay for anything including the Fix Burger meal she got from one of the food trucks.
"I brought money expecting only a few things to be free but even the food is free," she said. "It is amazing."