Actress and model Pamela Anderson was honored at the Los Angeles LGBT Center's annual Gala on Saturday for her resilience and unwavering commitment to LGBTQ+ activism throughout her career. Anderson, known for her iconic role in "Baywatch" and her recently released memoir Love, Pamela, used the platform to celebrate the LGBTQ+ community and call for continued progress in the fight for equality.
Anderson was presented with the Center's Vanguard Award by the Center's Phillip Picardi and Mariana Marroquin, who highlighted Anderson's impressive career and extensive philanthropic work, making it clear that her dedication to the LGBTQ+ community runs deep.
"When I saw Pamela for the first time as a young trans person, I saw a woman embodying her beauty and power, and I wanted to wield that power," Marroquin said. "In her story, I always see a piece of my own. Everyone thinks that they know who we are, but we are more than anything they could ever imagine."
In her acceptance speech, Anderson reflected on her personal connection to the LGBTQ+ community and how her experiences have shaped her activism. She recalled landing in Los Angeles for the first time and arriving just in time for Pride, where a pair of gay men called out her bad highlights.
"They go, 'Honey that is not one of God's colors,'" she said. "And I thought, this is how I think. This is how I speak. I arrived. I'm gonna be okay."
Over the years, Anderson has used her platform to bring attention to critical issues impacting the community, such as HIV/AIDS, discrimination, and sexual abuse. She is also a lifelong vegetarian and committed animal rights activist—a far cry from the objectified persona she has repeatedly been shoehorned into throughout her career.
She asked the crowd to picture their younger selves, at an age where they were still unsure of who they were—and who they would become.
"This is when we run up to our little selves and we give them a huge hug," she said. "Kiss them on the cheek. Look into their eyes and tell that little person, I love you so much. You're beautiful. You're talented. You are worthy. You have value. You're important. And you're gonna get through life with flying colors. Because I'm proof I'm here and I'll always be here for you and I love you."
Expressing gratitude for the big year she's had with her Netflix docuseries Pamela, a Love Story and her bestselling memoir Love, Pamela, Anderson emphasized the importance of self-love and self-respect in her speech.
"Life isn't easy. No one is perfect and we learn every day. I continue to stay on my path," she said. "Love relentlessly. The world is a safe place, and we are painting the picture of our lives every day. Every time we walk out the door, it's performance art. Might as well have a blast."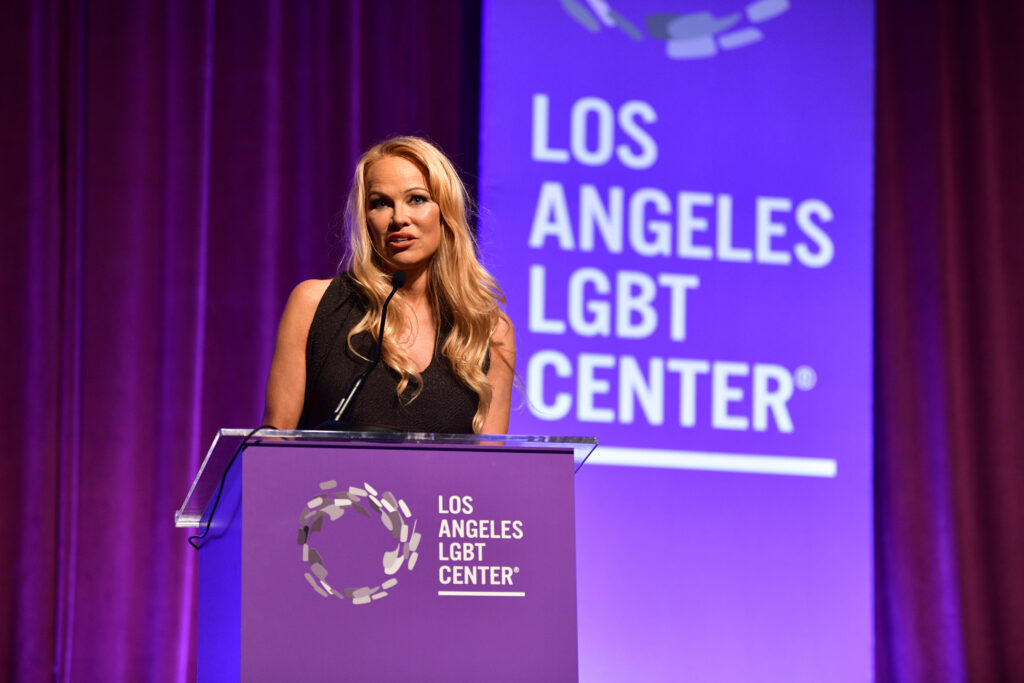 Anderson was honored at the event alongside Nope star Keke Palmer and the late comedy legend Leslie Jordan, who was honored with the Center's inaugural Leslie Jordan Award for Excellence in the Arts by his friends and collaborators Mayim Bialik and Del Shores. The evening was hosted by social media star TS Madison and featured performances by R&B-soul sensation Durand Bernarr.
"As someone who is fighting for our liberation every day, words cannot describe how sickened I am by the wave of anti-LGBTQ sentiment in our country. But as the political attacks worsen, the need for our work and the financial resources to support it increase," said Joe Hollendoner, the CEO of the Los Angeles LGBT Center, who addressed the audience at his first Gala. "No matter how hard they try to take us backwards, the only direction the Center will ever move is forward."
The Center Gala raised over $1 million for the Center's life-saving services dedicated to the LGBTQ+ community. If you'd like to support our mission, you can donate here.