The Los Angeles LGBT Center's Leadership LAB spent more than five months last year canvassing in Orange County's 48th Congressional District with one goal: turn out the vote.
Leadership LAB (Learn Act Build) volunteers focused on 10 precincts in the city of Costa Mesa. They knocked on doors and worked to connect face-to-face with people who usually don't vote in midterm elections.
"We don't go to a door to tell a voter anything about a candidate or anything specific about an issue," explains LAB Deputy Director Kathleen Campisano. "We talk about the personal side of voting."
The goal was to connect with people feel left behind during typical campaigns cycles and connect with hard-to-reach voters. This included Spanish speakers and people who move a lot (making it hard to find their address).
"We went into communities to really talk with people and voters who felt like they just don't have enough information to vote," Campisano says. "We're trying to help people see that it really is a personal gift to actually go out and vote."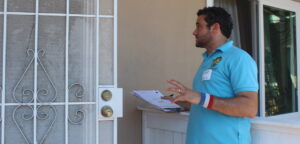 By election day on Nov. 6, 2018, Leadership LAB canvassers had made about 2,700 contacts with—1,100 of whom they believe actually got out to vote.
"This is my first time participating in a full-throttle get out the vote campaign like the one that we did," says Jordan Sun, a Leadership LAB field organizer. "It was an incredible feeling to know that we had been doing all of this work for months, recruiting people, talking to voters, building the capacity at our canvasses, to see it all culminate in the midterm elections and see how our work in Orange County was connected to work nationally that people were doing."
Since 2009, Leadership LAB staff and more than 1,500 volunteers have canvassed regularly in Los Angeles County and around the country in neighborhoods where most people remain unsupportive of LGBT rights.
For the Leadership LAB's 2018 midterm campaign in Orange County, many volunteers participated a dozen times or more, with one joining the canvassing 28 times from June through November.
Among them was Leo Feldman, who initially found the prospect of knocking on the doors of strangers "terrifying" because of his shyness. He felt so strongly about the midterms, he was able to face down his fears.
"Having the right training, knowing what to say, and knowing we are only here to help people and not bother them put my mind at ease and helped me articulate my point a lot more clearly," Feldman says. "It was great walking through things with them and convincing them of the importance to vote."
Robert Alvarado, who managed to canvas 12 times before election day, called the experience "very fulfilling."
"It makes you put yourself in uncomfortable spaces talking to strangers," he admits. "But I feel like I improved as a person from doing it. I had to go talk to people who weren't like me at all. I learned that it's not that hard to talk to someone who isn't like you."
Nancy Moricette participated in more than a dozen canvasses, but skipped the group's election night viewing party over lingering feels from the 2016 election.
"But when the numbers started coming in, I can't describe what I felt," Moricette recalls. "I cried. I literally just laid in bed and was like, 'Thank you!' We all had a part in that. I'm proud of us. It feels great. I'm a little pumped to go back out."