By Greg Hernandez
Their only assignment at this special event was to have a good time.
More than 150 of the Los Angeles LGBT Center's volunteers had the night off on December 13 when they were treated to an annual appreciation party that included dinner, drinks, and dancing inside Pride Hall at the Anita May Rosenstein Campus.
"I feel the love," said Leka Romao, one of 20 volunteers who received special recognition from various Center departments for their service . "To be a guest and an honoree at this party, it just feels nice. It's just beautiful."
Historically, the Center was founded and sustained by volunteers and, over the years, has registered more than 14,000 of them. During 2019 alone, nearly 1,300 volunteers invested more than 49,000 hours of their time which equals to a whopping 'in-kind' value of over $1.2 million to the Center if the volunteers had been paid.
Volunteers support the Center's programs, services, and events through such activities as data entry, monthly newsletter mailings, and assembling safe sex kits. They also assist with special events support: setup, guest registration, and breakdown.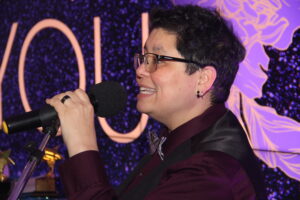 "Our volunteers have seen us through every step of the way, and we thank you for that," Volunteer Program Manager Camille Araullo (pictured, right) told the guests. "We thank you for giving of your time to those who need your help, your guidance, and your encouragement. You help us create a safe space for all people who come to the Center."
This year's event was bittersweet for Araullo, who helped to grow the volunteer program and is leaving after 22 years.
"It has always been an honor to work alongside all of you." she said, fighting back tears. "The Center is looking forward to many, many great days ahead, and you're going to make that happen."
Some of the evening's guests, such as honoree Sarah Adams, support specific Center programs with their specialized skills and experience.
"To volunteer in such a warm and welcoming environment has just been amazing," said Adams, who has volunteered for the past two years as a clinical navigator for Health Services at the Jeffrey Goodman Special Care Clinic. "This is the first volunteer appreciation event that I've been to. It's so great to have everyone come together, especially during the holidays, to celebrate our family here at the Center."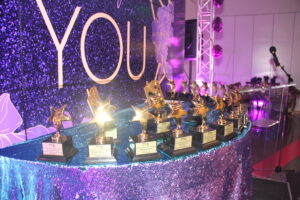 In addition to Adams (Health Services) and Romao (Marketing & Communications), volunteers honored with special awards by the departments which they have done work for include: Robert Alvarado (Policy & Community Building); Jim Armitage (Legal Services); Sam Baumer (Legal Services); Julia Callahan (Volunteer Resources); Steve Cannell (Development); Samer Fawaz (Children, Youth & Family Services); Lauren Flans (Cultural Arts); Dani Marzouca (Policy & Community Building); Kenny Navran (Human Resources; Lauren Peterson (Senior Services); Becki Pine (Development); Michael Pratt (Volunteer Resources – most dedicated Special Events Support); Gualy Ramirez (Volunteer Resources – Information Desk Specialist); John Sposito (Human Resources); Jenna Stelmar (Health Services – Trans Wellness Center); Dianne Taylor (Volunteer Resources – Special Events Support); Sylvia Weisenberg (Senior Services); and Conrad Woolfe (Children, Youth & Family Services).
"I've volunteered at a lot of organizations, and no one has made me feel as special as the Center has," Pine said after receiving her award. "I honestly did not expect anything like this when I started volunteering. I did it because I love the mission, I love the Center, I love the staff here. I started with one event and just kept going because everyone was so great and so welcoming."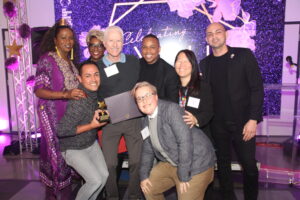 Navran (pictured, right, with HR staff) described himself as "very moved" after being recognized for his time volunteering for Human Resources.
"It's rare for me to be recognized for things I do. Usually I'm ignored," he said. "HR is very special to me. I'm just honored and delighted that they feel the same about me. This is one of the nicest events that I've attended at the Center—ever."
Staff member Daniel Perez was recognized for his many hours spent as a volunteer while staff members Alicia Billalobos and Daniel Garcia were recognized as "Outstanding Volunteer Engagement Leaders."
Honored as Outstanding Corporate Volunteer Teams were Capital One Café and Sabio.
For more information about the Center's Volunteer Services, visit lalgbtcenter.org/volunteer.