The night after he was elected to an eleventh term in the U.S. House of Representatives, Adam Schiff was feeling hopeful and relieved about an imminent victory for Joe Biden in the presidential election.
"The current president has a bigger bully pulpit and a stronger ability to set the tone of the nation than anyone else," said the Democratic congressman during the Los Angeles LGBT Center's post-election virtual conversation What Happens Now? "Having someone really decent in that job again, someone like Joe Biden, will make a big difference."
Schiff participated in the two-hour Facebook Live conversation, moderated by Center CEO Lorri L. Jean, alongside Black AIDS Institute Founder Phill Wilson, and Dan Maldonado, a Federal Relations Representative for the Center in Washington, D.C.
The virtual event took place four days before Biden and running mate Kamala Harris officially obtained enough electoral votes to secure a victory over incumbent President Donald Trump and Vice President Mike Pence—a victory which resulted in spontaneous celebrations on Saturday around Los Angeles and West Hollywood where rainbow Pride flags seemed ubiquitous as American flags.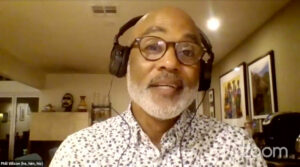 "We are like the Wizard of Oz where we walk out the door and there's the potential for everything to be in technicolor," said Wilson (pictured, right).
It was a far different story four years earlier when Schiff appeared at a somber gathering of a few hundred people at the Center's Village at Ed Gould Plaza the night after Trump's 2016 victory.
"As desperately as we were concerned then about where this new president would take us, I think we underestimated just how awful it would be—just how truly divisive and bitter and angry and, at times, racist his comments and actions would be," reflected Schiff who represents California's 28th district which includes the Center.
---
Watch the full conversation:
---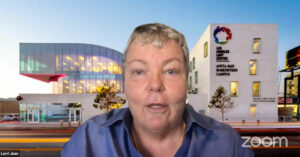 Jean (pictured, left) said of Trump's time in office: "Since I run the world's largest LGBT organization, it's my job to think about the impact of whatever happens in my community. No president in history has done as much to harm our people and reverse our gains."
When Biden and Harris take office in January, Schiff pointed out the "steep hill" still to be climbed if Republicans manage to retain control of the U.S. Senate (two seats in Georgia are still in play) and with a conservative majority on the U.S. Supreme Court.
Although Trump decisively lost the Electoral College and the popular vote, Schiff is mindful that the incumbent still managed to garner more than 70 million votes versus Biden's nearly 76 million votes—proof of how divided the country remains.
"After seeing what this president is, after seeing his racism, his divisiveness, his hate, his dishonesty, how could they continue to support him?" the congressman wondered. "That question is going to vex us for a long time. We're going to have to figure it out. It will lead to some very profound introspection about where we are as a country and what can be done about it."
Jean asked how the nation can begin to reclaim a sense of decency and a shared purpose that has been so lacking.
"We will have a good and decent man as president, a wonderful woman as vice president. And they can begin to immediately undo some of the damage that's been done," Schiff responded. "I'm confident the Biden administration … will champion LGBTQ rights around the world. They'll make it part of the agenda in the meetings with foreign leaders and conferences as we become, again, a member of the world community that Donald Trump has so alienated."
Jean remarked that even with a Biden-Harris win, the LGBTQ community still has its work cut out.
"We're going to have to push their administration every step of the way to work on the reversals that we need," she said. "And we're going to have to fight to build a Congress that is more likely to support our community and more progressive politics."
"Our community has lived through a lot of ups and downs," she added. "The worst of those downs was the height of the AIDS epidemic, and we hung in there in those darkest of times. We never let up, we never stopped fighting, we remained resilient. We kept our eyes on the prize of what we knew our community needed and deserved. That has to be our continued approach."
Wilson echoed those sentiments: "We need to challenge all of our elected officials all day, every day. We need to have specific plans and explicit plans."
Join the Resistance—take action with the Center's Resistance Squad! For more details, visit lalgbtcenter.org/resist.