By Greg Hernandez
Sitting at a table near the back of Pride Hall, K.A. Lalsingh tucked in to her second piece of peach cobblier with "perfect crust" during the Gospel Brunch event that brought joyful inspiration to the Los Angeles LGBT Center last Saturday.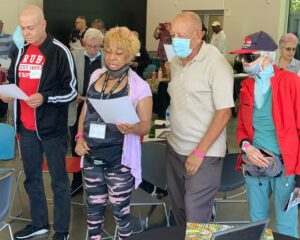 "It's billed as a Gospel Brunch but it is really a family reunion," Lalsingh said. "It feels so good to be here in person. All the wonderful acts, the camaraderie, the fellowship, the blending of cultures is wonderful."
More than 100 people attended the indoor-outdoor event that took over the Center's Pride Hall and the adjacent Bayard Rustin Courtyard at the Anita May Rosenstein Campus.
"There's a lot going on in the world but we are here today," Senior Services Activities Coordinator Spencer Robinson said as he welcomed the crowd.  "We have survived so many things."
The Senior Services event was produced in collaboration with the social groups MOCA 50+ and Ebony Sage Circle whose members kicked off the proceedings with a libation ceremony that involved the pouring of water and saying the names aloud of historical ancestors.
After such names as Bayard Rustin, Martin Luther King Jr., Audre Lorde, James Baldwin, Eartha Kitt, Ella Fitzgerald, Medgar Evers, Harriett Tubman, Archbishop Carl Bean, André Leon Talley, Lena Horne, and Hattie McDaniel were said, the attendees followed by saying in unison, "ashe," a Yoruban phrase of affirmation that translates as "so be it" or "so shall it be."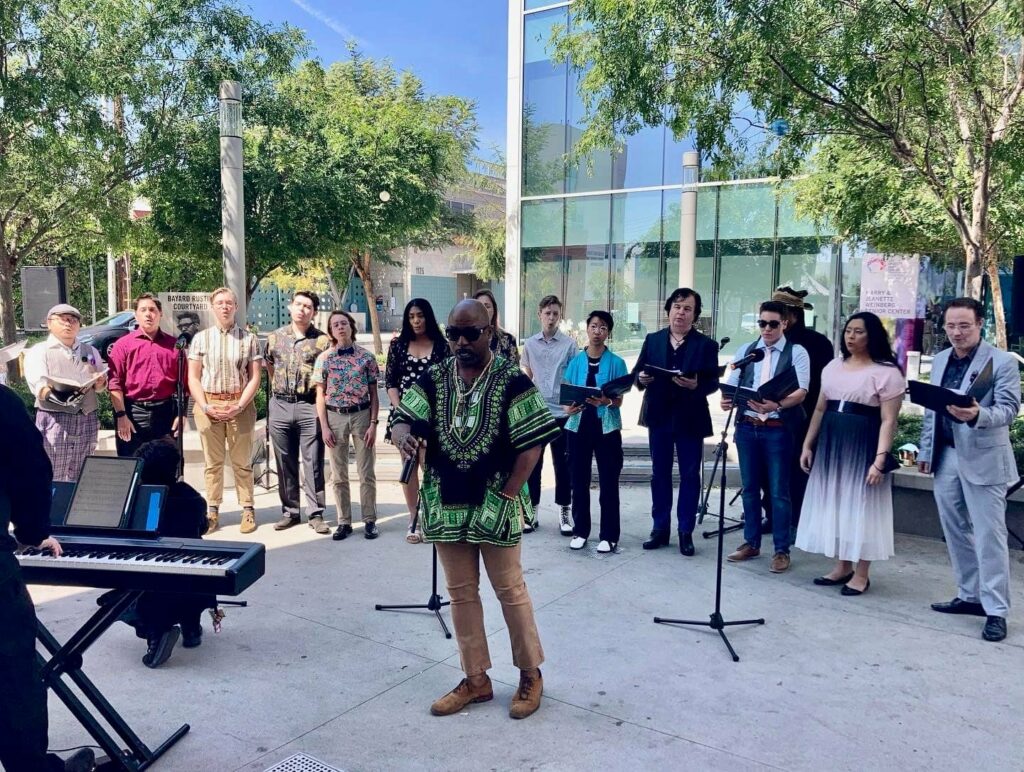 The afternoon featured the Black National Anthem Lift Every Voice and Sing performed by Abdullah Hall, five songs performed by the Trans Chorus of Los Angeles, two dance numbers by drag performer Sole Valentino, and a musical performance by Sire.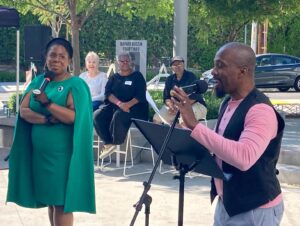 Other highlights included a keynote address by Reverend Alfreda Lanoix and the presentation of Clarence R. Williams' powerful spoken word piece Black Is … which was dramatically read by performers Jasmyne Cannick, Antonio Lyons, and Kareem Ferguson.
"I have not been around more than nine people in about two years so to me this is like homecoming," said Williams, one of the event's organizers. "This is a great, celebratory day for all of us. I know I'm not the only one who has not seen a whole lot of people."
Williams, Lanoix, and David Hunter were presented with Trailblazer Awards during the event which had originally been scheduled for February during Black History Month but was delayed due to the spike in COVID-19 cases during the holidays.
"Black History Month is every day because it is American history," Williams pointed out to the crowd.
Williams and Hunter had kept the MOCA 50+ and Ebony Sage Circle groups going throughout the pandemic as activities migrated online.
'We didn't have a choice during COVID to keep this going," Williams said. "We had to hold spaces for people because we knew how crucial it was. People need a space to meet in, to commiserate in, to encourage each other in."
Guests feasted on fried chicken, waffles, macaroni and cheese, collard greens, grits, and desserts of peach cobbler and sweet potato pie.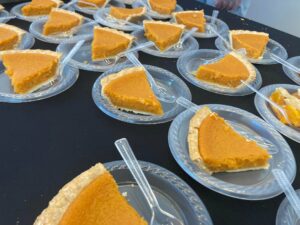 "It was absolutely awesome, wonderful and I enjoyed every moment of everything from the speakers to the singing to the collard greens!" said attendee Biniko Hopkins. The reverend just spoke to my whole soul, my whole being. It has been absolutely wonderful."
Fellow attendee Hermina Ban also weighed in: "It was just so moving. I'm so glad I came. I've been to these before in past years but this surpassed them all."
To learn more about the Center's Senior Services, including upcoming activities and workshops, visit lalgbtcenter.org/seniors.