By Greg Hernandez
Sitting out on the patio with a plateful of freshly-made tea sandwiches and cookies, a smiling Tuck Contreras was clearly enjoying the festivities at his new home: the Los Angeles LGBT Center's Ariadne Getty Foundation Senior Housing.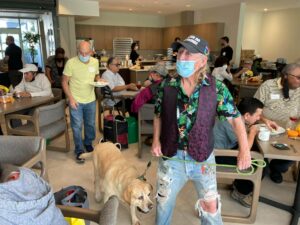 "There's something about the energy here that is just absolutely powerful — it spills out of this place," observed Contreras, who attended a welcome party for new residents last Friday with his English Labrador named Dancer.
"I'm trying to get out of myself, and this is the nicest, nicest group of people I've ever met," said the 78-year-old Navy veteran. "I was looking for LGBT people because I'm trans and, the last place I lived, it was dangerous for me. I figured sooner or later, someone was going to figure out that I am trans and that would be it for me. But I made it through."
Sitting nearby was Beatrice Brashear who was eating with two new neighbors she had met less than an hour earlier. Most of her belongings were still packed in boxes upstairs in her new apartment.
"I just came in last night," she explained. "This is a whole new environment for me. I just moved out of my house, downsized. This is something that's totally different – mingling with people my own age, people who might have similar interests. It's fantastic!"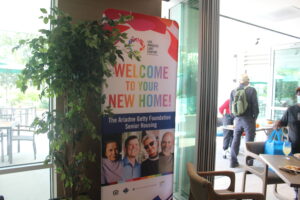 The new residents were eager to meet each other and socialize — especially after the isolation brought by the COVID-19 pandemic in the past few years.
Chuck Stewart, who was sitting with Brashear, was already floating the idea of what he calls a "cookie crawl" as a way of mingling and meeting people and showing off their new apartments during the holiday season.
"Everyone's tired because we've been moving—and moving is hell," he shared. "But this is our first get-together, and I'm glad they did this."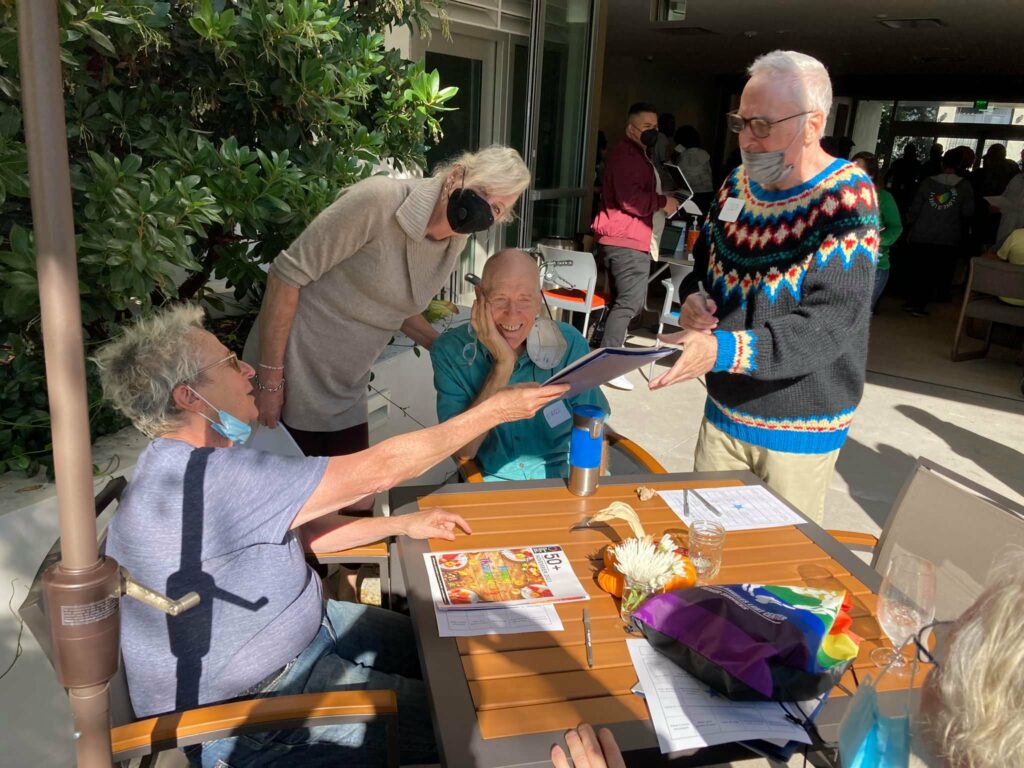 Located at 1127 North Las Palmas Avenue, the senior housing is the final cornerstone completing the Center's revolutionary Anita May Rosenstein Campus. The 70,000-square-foot building has 98 units; a community room with a communal kitchen and dining facilities; fitness center; coinless laundry facilities; and more. Residents have direct access to the Center's Harry and Jeanette Weinberg Senior Center.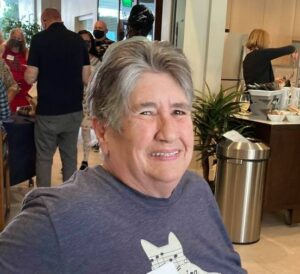 "Every day I wake up and say, 'Thank you, God, for my place and the people here,'" said resident Carol Lynn, one of the first residents to move in back in August. "This party feels like a homecoming, a welcome back. It was a hideous situation I was living in before, and now I'm so happy. This is a wonderful place!"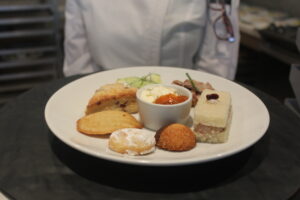 The guests were served a selection of afternoon tea sandwiches including chicken cranberry, roast beef with red pepper Aioli, and cucumber with herbed cream cheese, prepared by students enrolled in the Center's Culinary Arts program.
Also served were freshly-baked cranberry and chocolate chip scones with Devonshire cream and apricot preserves, brown butter madeleine cookies, lemon tea cakes, and chocolate chip macaroons all baked in-house by the culinary program.
"Everything is very tasty," said Brashear. "I hope to meet new people and make new friends and become a part of something new, something different. To have people who could be like a family to me later on after I get to know everybody, I think it will be great."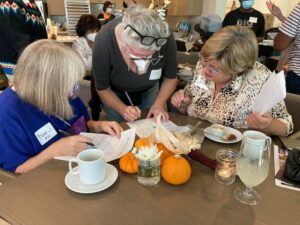 In addition to being served lunch, the residents played a lively ice-breaker game of Bingo that required them to table hop and ask questions of each other.
They were given a welcome packet with information about local grocery stores, banks, pharmacies, and instructions to operate a thermostat. They were also provided with an opportunity to fill out forms to get free lunches, other meals, and regularly-scheduled bags of pantry food and fresh produce.
"Welcome home!" said the Center's Associate Director of Housing and Training Tripp Mills to the crowd. "I know a lot of you have been waiting a long time to move into the building. We're all here today to celebrate you and welcome you to your new home."
To learn more about the Center's Senior Services, including upcoming activities and workshops, visit lalgbtcenter.org/seniors.