For 81-year-old Jim Wasson, landing a spot in one of the 98 affordable units in The Ariadne Getty Foundation Senior Housing complex would be a dream come true. He currently lives in an apartment which he can barely afford ever since his partner of more than 50 years passed away.
But, Wasson faces stiff competition. He is among the more than 1,200 applicants. 
"I had no idea there would be so many people signing up for it," Wasson said of the housing complex currently under construction at the Los Angeles LGBT Center's Anita May Rosenstein Campus. "I'm doing whatever is necessary to have a chance. My hopes are still high."
Built for residents 62 years and over, The Ariadne Getty Foundation Senior Housing will contain studio, one-bedroom, and two-bedroom apartments with rents up to $1,175 per month. The residents can easily access Center programs specializing in HIV+ wellness, gender identity, and LGBT social and cultural support. Other services include meals, case management, employment training, and more than 100 monthly free or low-cost activities.
"The lack of affordable housing in this country is at an all-time high and presents even greater hardships for the LGBTQ community given the many biases which continue to exist. It's an even greater problem amongst LGBTQ seniors," said Ariadne Getty, President and Executive Director. "In response, The Ariadne Getty Foundation (AGF) has recognized these challenges and, in an effort to also help LGBTQ elders facing social isolation, family rejection or discrimination in traditional senior housing, the AGF has donated $2.5 million to the Los Angeles LGBT Center to build The Ariadne Getty Foundation Senior Housing. The goal of the gift has a twofold purpose. The first, and most important, is that we provide housing for LGBTQ seniors. And, the second, is the AGF inspires others to donate to care for the elderly LGBTQ community who have faced so many obstacles and discrimination yet have gotten us to where we are today."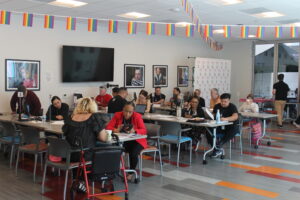 For eight consecutive days, the Center's Senior Services staff assisted prospective residents through the application process. Online applications closed on March 4. Paper applications are still being accepted, but they must be postmarked by March 11 to qualify for the housing lottery.
"This application process can be a very daunting and anxious experience for many seniors," says Tripp Mills, deputy director of Senior Services.  "Many of them don't like doing anything online so they need help with paper applications to make sure all the information was correct."
Center staff also provided envelopes with labeled addresses and pre-paid postage to ensure seniors' paper applications were mailed. The team also spent three days in the City of West Hollywood to provide face-to-face application assistance.
Luis Zapata, 67, appreciated the help.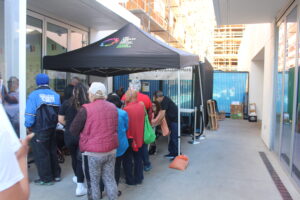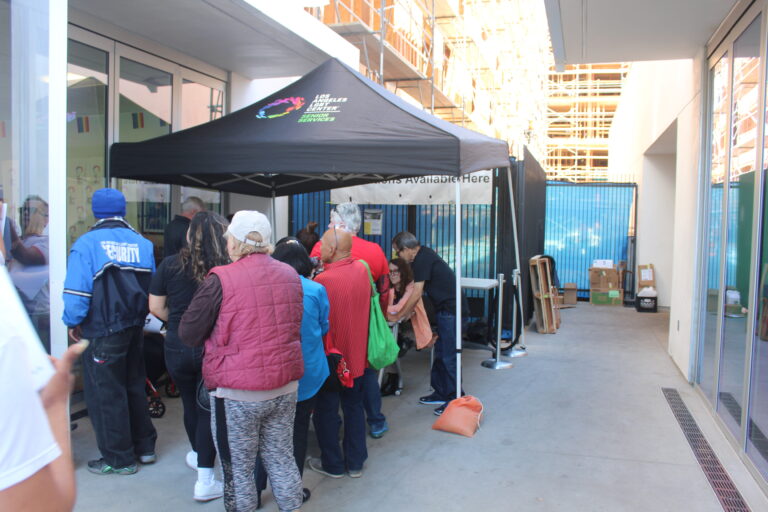 "I came in on the third day, and they assigned someone to me to help complete the application online because I'm not a computer guy," said Zapata, who recently migrated from living in an RV to bouncing among his friends' residences.
"I just want to go back to living in an apartment," he said.
Once all applications are mailed in, staff will begin to review each application to ensure all the information is accurate and the applicants meet the minimum age and income qualifications. Property management team Thomas Safran & Associates will input all of the eligible applicants into a database; a computer will then randomly pick approximately 300 applications as lottery winners. (It is a requirement to have three applicants per unit so those who do not get an apartment will be waitlisted.)
Winning names will be posted at the Senior Center around May 5. And, beginning early summer, the winners will be interviewed in person to submit proof of age, income, bank statements, and rental history.
Of the 98 units, only 72 will be leased through the lottery system; the remaining units will be set aside for individuals experiencing chronic homelessness whose rents will be paid for by county and city grants.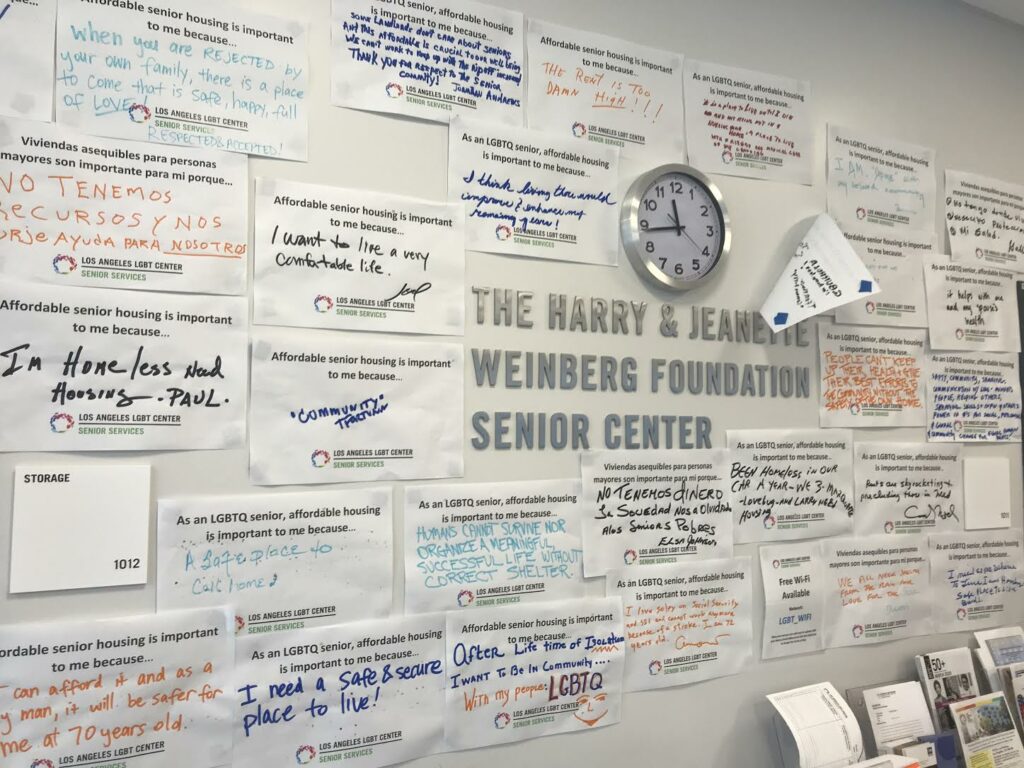 During the application days, potential residents were invited to participate in a creative project in which they wrote their responses to the following sentence: "As an LGBTQ senior, affordable housing is important to me because …"
Their responses, filling an entire wall of the main meeting room inside the Harry and Jeanette Weinberg Senior Center, were earnest and thought-provoking.
As a gay man, it will be safer for me at 70 years old, wrote one senior.
After a lifetime of isolation, I want to be in community with my LGBTQ people, wrote another.
Alas: I can live with dignity.
For more information about the Center's Senior Services, visit lalgbtcenter.org/seniors.
For more information about The Ariadne Getty Foundation, visit ariadnegettyfdn.org.