Being treated to a gourmet dinner and an exclusive screening on a new movie might seem impossible during the COVID-19 pandemic. But Amazon Studios made it happen on November 23 for more than 100 clients of the Los Angeles LGBT Center's Senior Services department including residents of Triangle Square housing complex, the nation's first and largest affordable housing complex for low-income LGBT seniors.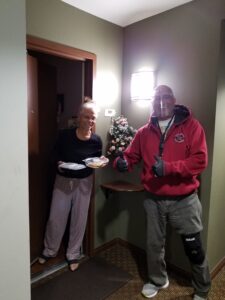 Dinners from Jon & Vinny's were available for pick-up at the Harry & Jeanette Weinberg Senior Center or were delivered to doors at Triangle Square in time to watch a preview screening of the Amazon Original Movie Uncle Frank online. Dinner consisted of sliced steak with green peppercorn sauce, potato gratin, Brussel sprouts, and a pear tart dessert with whipped cream. Vegans were served cauliflower steak with the same side dishes and vegan chocolate cake.
"All we had to was open our door, and there was the dinner," said Triangle Square resident David Parke Epstein (pictured above). "I didn't really know what to expect when I ordered the vegan option, but I give a big thumbs up to the cauliflower steak."
The film, written and directed by Alan Ball (American Beauty, Six Feet Under), is set in 1973 and stars Paul Bettany as a gay college professor who takes his 18-year-old niece (Sophia Lillis) on a road trip from Manhattan to South Carolina for the family patriarch's funeral. They are unexpectedly joined by the professor's partner (Peter Macdissi) who has been kept a secret from almost all of the family.
To access the film online, the seniors used a private screening platform. The film was made available to the public two days later on Amazon Prime Video.
"I held my breath and signed onto my computer. It must've been very easy because I did it!," Parke Epstein recalled. "The movie itself is perfect for our generation, and the whole evening added some excitement at a time when a little excitement is really needed."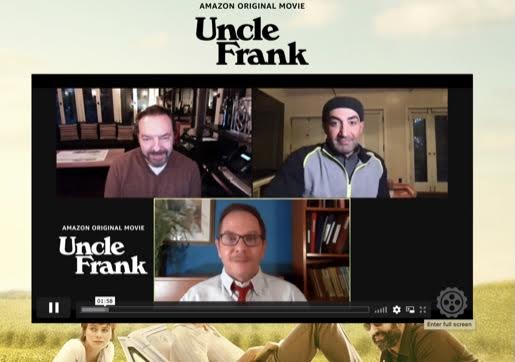 In an exclusive post-movie chat with Ball and Macdissi, moderator Steven Nash proclaimed the film as "exquisite, authentic, deeply moving, and visually beautiful."
"This film, it just touched me. It raised me up, and it's exactly right for this moment in time. It's a miracle of synchronicity," said Nash, himself a senior client at the Center. "I'm so happy that we had this chance to see this film—it's going to mean a lot to a great many people."
Ball shared that Bettany had a gay father who came out of the closet at age 69 and had been having a 20-year affair with another man whom Bettany thinks was the love of his father's life. When the lover died, Paul's father went back into the closet because he was a devout Catholic and afraid he wouldn't get into heaven.
"For Paul, his character Frank became an opportunity for him to have his version of 'what if,'" Ball said. "What if his father had been able to transcend his guilt and shame?"
Ball said it was a nearly 30-year process to write the script after coming out as a gay man to his mother during a visit to his hometown of Marietta, Georgia. She blamed Ball's father for his homosexuality because she thought he was "that way," too.
"I don't know if my father was gay or not. He was already dead when my mother told me that," Ball said. "But it opened a window in my brain of what if that was true. What would that story have been? It percolated for 25 years. Five years ago I sat down to write the script, and Uncle Frank is what came out.
Macdissi explained why he cried every time he read the script.
"The script was filled with compassion and with love," he said. "It was very heartwarming. It's about a man finding himself, embracing himself, being courageous … he's so emotionally naked by the end of the movie."
To learn more about the Center's Senior Services, including upcoming activities and workshops, visit lalgbtcenter.org/seniors.