By Greg Hernandez
Resident Jeff Golomb could not wait to show off his fifth-floor apartment to reporters during the official opening celebration of The Ariadne Getty Foundation Senior Housing on Tuesday.
"I'm a proud, gay, 69-year-old man and I'm thrilled to be living in my own brand-new apartment with a balcony and a breathtaking view of the Hollywood sign," Golomb said. "There's no place like home, and I'm proud of it."
The 70,000-square-foot complex for seniors ages 62 and above is the final piece of the Los Angeles LGBT Center's intergenerational Anita May Rosenstein Campus that brings LGBTQ youth, seniors, and housing together in a unified setting.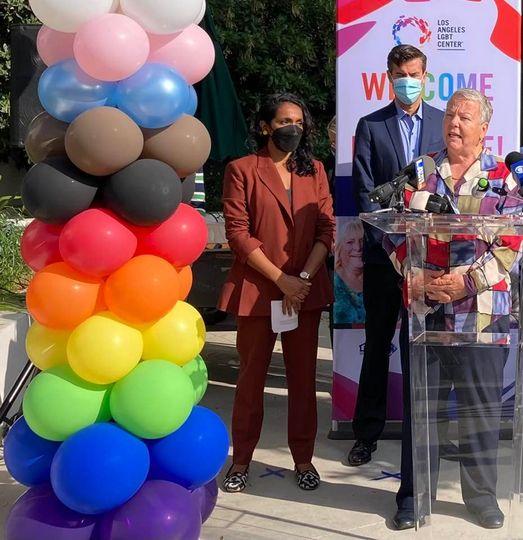 Golomb joined Center CEO Lorri L. Jean, Thomas Safran & Associates President Jordan Pynes, Los Angeles City Councilmember Nithya Raman, and West Hollywood Mayor Lauren Meister at a morning press conference in the expansive patio of the 98-unit complex.
"We thought we'd be open years ago, but COVID foiled our plans," Jean said. "Yet, as you can see, the wait was worth it."
Jean described the complex as "a powerful reflection of the Center's mission to build a world where LGBT people thrive as healthy people and complete members of society."
She pointed out that Los Angeles is home to an estimated 65,000 LGBTQ seniors and that, "many of them struggle to afford housing and other necessities. LGBT seniors are four times less likely than their straight counterparts to have kids or grandkids who can help care for them and they are twice as likely to live alone."
"Fortunately, the residents of this wonderful building are not alone," Jean said. "In addition to a roof over their head, they have each other for support, for companionship, and for creating new memories. And what really makes this facility unique is that just steps away. Our residents can access the Center's many programs and services designed just for them like counseling, support groups, exercise classes, medical care, HIV wellness activities, and so much more."
Jean credited the City of West Hollywood with stepping up and donating money when government funding was falling apart and there was concern over pulling the project completely together.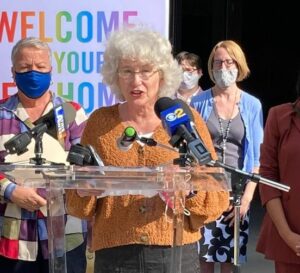 "The city was proud to allocate $2.1 million from its affordable housing trust fund to the Center to support the construction and financing," Meister said. "I'm happy to report that 13 older adults from West Hollywood have signed leases with the Center, some of whom have previously experienced homelessness."
Pynes pointed out that 25 of the units are permanent supportive housing specifically for the formerly homeless.
"Many of our residents come with literally nothing from the street," he said. "Today is a really wonderful day."
Raman praised the Center for creating "a space here that grants dignity and comfort, something that all Angelenos deserve."
The councilmember added: "This campus upends the traditional idea of how we can show up for our city's most vulnerable—seniors and youth—with gorgeous, spacious facilities, green spaces, and abundant amenities provided in tandem with services and resources to provide a sustainable exit from homelessness and a long-term space for residents to survive and thrive in this city."
More than 2,000 applications were submitted for the affordable housing units, and Golomb was among those selected through a lottery system. He moved in on September 1 with a bed, a television, and some 40 boxes of belongings.
He had previously been in a roommate situation in West Hollywood which he explained "began as a temporary arrangement that just happened to last for 29 years. It was impossible to find an affordable place of my own and with each passing year it got further from reach."
But now that he is finally on his own, he's enjoying a level of independence he had not felt in nearly three decades.
"I'd been cooking with my roommate's pots and pans, sitting on his sofa, and using his appliances," Golomb shared. "You have no idea how exciting it is to finally have your own colander after decades of draining linguini in a borrowed one."