By Gil Diaz and Greg Hernandez
Five months after opening the doors of the Michaeljohn Horne & Thomas Eugene Jones Youth Housing, the Los Angeles LGBT Center has reached another milestone: the highly anticipated opening of The Ariadne Getty Foundation Senior Housing.
Not only will the 98-unit affordable housing complex begin to transform the lives of many vulnerable seniors ages 62 and above, it also will represent the culmination of years of planning and hard work.
"The Ariadne Getty Foundation Senior Housing is the final cornerstone which completes the Center's decades-long dream to build the intergenerational and revolutionary Anita May Rosenstein Campus. We are immensely proud to provide a nurturing housing community for seniors who are on fixed incomes and for those previously experiencing homelessness," said Center CEO Lorri L. Jean. "We are deeply grateful for the generosity of Ariadne Getty and her foundation as they stepped up to work with us to improve the lives of many seniors while continuing their ongoing support for LGBTQ youth. This incredible senior housing project would not have been possible without the support of many people, including our developer partner Thomas Safran & Associates."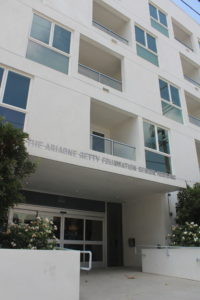 The cutting-edge 70,000-square-foot senior housing edifice is located in the heart of Hollywood, one block east of McCadden Place—where The Village at Ed Gould Plaza exists—and adjacent to the Center's Harry & Jeanette Weinberg Senior Center. With construction interrupted abruptly by the COVID-19 pandemic, the soaring five-story structure finally came to life when the first residents began to inhabit their new abodes this summer.
"They feel like they are finally coming to a place they can call home," said the Center's Senior Services Housing Navigator Jonathan Willett, who helped many residents during the move-in process. "It's a place free of judgment, free of any hate for who they are. Finally, they can have some peace and live their lives within a warm, safe environment."
Sprawled across nearly three-quarters of an acre, the senior housing includes 19 studios, 75 one-bedroom units, and four two-bedroom dwellings. One unit is reserved for an on-site property manager, and 25 of them are designated as permanent supportive housing units for seniors experiencing homelessness whose rents are funded by Los Angeles county and city grants.
"For many of our residents, this is the last place they plan to live for the rest of their lives," said Senior Services Director Kiera Pollock. "We know that we are the chosen family for most of our older adults who don't have immediate family or children to take care of them. Most of them live alone and don't have anyone to help support them—we're here for them."
The Need For Affordable Housing
The statistics are astounding: an estimated 65,000 LGBTQ seniors live in Los Angeles—68 percent of whom live alone. LGBTQ seniors generally struggle to afford housing and other necessities because they are four times less likely than their heterosexual counterparts to have children and grandchildren to support them and twice as likely to live alone.
"For decades, LGBTQ seniors have been on the frontlines advocating for equality. Without the progress they achieved and their personal sacrifices, the LGBTQ community would not have the same rights it does today," said Ariadne Getty. "COVID-19 has been incredibly challenging, but even before the pandemic, LGBTQ seniors faced disproportionate rates of homelessness. Unfortunately, the pandemic deepened disparities, making The Ariadne Getty Foundation Senior Housing an urgent need not only for the Los Angeles community, but as an example and inspiration for communities nationwide."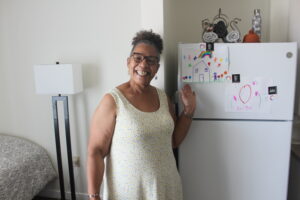 In addition to living their lives authentically and fearlessly, seniors will be able to enjoy the building's other perks. They have access to a full range of wraparound services and support provided by the Center's Harry & Jeanette Weinberg Senior Center, including case management; home-delivered meals; in-home care and benefits assistance; connection to health and mental health care; HIV support and wellness; and counseling and support groups. Other life-enhancing services include daily meals catered by students of the Center's unique Culinary Arts program; employment training; and more than 100 monthly activities provided for free or at low-cost.
Each unit is built with luxury vinyl flooring and includes premium finishes and beautiful new appliances.
"This project is a notable development in our company's history and an example of what other cities should be doing," said Thomas Safran & Associates (TSA) President Jordan Pynes. "We have seen the demand for affordable housing grow exponentially in Los Angeles. The increase in rental prices, in congruence with the COVID-19 pandemic, has caused many of our Los Angeles neighbors to suffer from extreme financial hardship. We receive thousands of applications for our affordable housing communities, yet the demand far exceeds the supply."
The Ariadne Getty Foundation Senior Housing initially was expected to be complete by the end of 2020, but the pandemic put a dent in the construction plans and subsequently crippled a nation. Despite COVID-19-related delays and barriers, TSA is proud of the senior housing's result.
"Thomas Safran & Associates holds a mission to enhance the world in which we live and enrich the lives of the people who reside in our buildings," said Pynes.
"We partnered with the Los Angeles LGBT Center because we truly admire the work that the Center has done. With the Center's support, we are excited to give back to our community and provide much needed housing and services."
In the senior housing's lobby, residents have access to a myriad of amenities, including a vast community room comprised of a communal kitchen, dining tables, desktop computer lab, television viewing area, billiard table, and upright piano.
Around the corner from the community room are the offices of the property management, maintenance crew, and case managers. Residents also may utilize a fitness center and a coinless laundry facility. (The washing machines and dryers are activated by residents' laundry debit cards.)
The community room's floor-to-ceiling windows overlook a lush outdoor courtyard enhanced with patio furniture, barbecue gas grill, gas fire pit, and a pathway leading directly to the Center's Harry & Jeanette Weinberg Senior Center.
Welcome to Your New Home
Some of the new residents arrived at 1127 North Las Palmas Avenue with professional movers in tow while others trickled through the senior housing's main entryway with little more than the clothes on their backs. Some of them gathered their belongings from storage units, some from their friends' garages.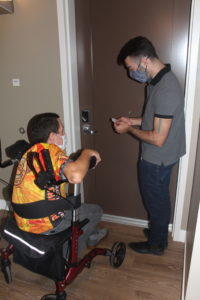 All of the new residents, however, agree on one thing: securing a roof over their heads was a nail-biting experience that took a very long time.
When the housing lottery opened in early 2020, more than 2,000 people applied online. In the midst of the lottery process, the pandemic emerged. Strongly advised by the Centers for Disease Control to self-isolate, many  seniors found themselves cut off from the rest of the world. The pandemic only heightened their vulnerability to experience homelessness. By the time they were able to move into the senior housing, some of them were either couch surfing, living in cramped rooms or garages, or sleeping in a park.
"Our residents have experienced everything: from folks who have been homeless for a great deal of time, or been recently homeless, to low-income individuals who have faced evictions or been priced out of their homes," explained Pollock. "Moving into our new senior housing is the first time they've been able to move into an affordable place and be supported as they age."
As an affirmation of the Center's dedication to help LGBTQ seniors thrive, Pollock says a new resident shyly asked the onsite manager if it was okay to hang a Pride flag in their window.
The resident quickly received an enthusiastic one-word response: "Absolutely!"