By Greg Hernandez
When Belita Edwards walked into the dining room of the Harry & Jeanette Weinberg Senior Center on Thursday for a dinner honoring LGBTQ+ veterans, she immediately started rearranging some tables.
"We all want to be together!" the U.S. Army veteran explained as she enlisted others to help with moving the colorfully decorated tables.
The festive evening of fellowship on Veterans Day was one of the first in-person events held by the Los Angeles LGBT Center in nearly two years. The group enjoyed a hearty meal of pasta, chicken piccata and salad followed by a lively post-dinner game of military trivia.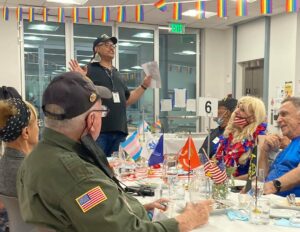 "Who was the first person to publicly come out as openly gay in the US military?" Senior Services staff member Jonathan Willett asked the group during the trivia game.
"Me!" U.S. Navy veteran Michael LaBorde jokingly answered as the room roared with laughter.
Willett then informed the group that the actual answer is Vietnam War veteran Leonard Phillip Matlovich. 
Before the meal, Center Executive Director Joe Hollendoner paid tribute to the group.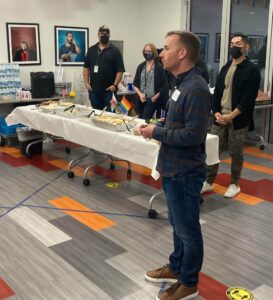 "Thank you for your service to our country, thank you for being here, and thank you for all you did to pioneer the LGBT movement," Hollendoner said. "You served during a time when you were protecting the rights of others, but you yourself did not necessarily have the rights that you should have been afforded as citizens of the United States. We the younger generation stand on your shoulders and are so proud to do so."
Many of the veterans have managed to stay connected during the COVID-19 pandemic through weekly Zoom chats.
But all were clearly happy to finally be able to share a meal and have in-person fellowship again."There's a glue here that obviously is not coming apart," said Bill Anderson, who served for 21 years in the National Guard. "That's golden. We are one of the first groups to have an in-house, in-person event. It's so warming when you think about it. I'm glad they chose us and that we continue going forward getting back together."
Marine Corps veteran Gina Lockwood said she was "happy and proud" to be at the dinner.
"I'm happy to see that everybody is in a good spirit and that everything is very lovely," she said. "I'm just happy to be alive and be here."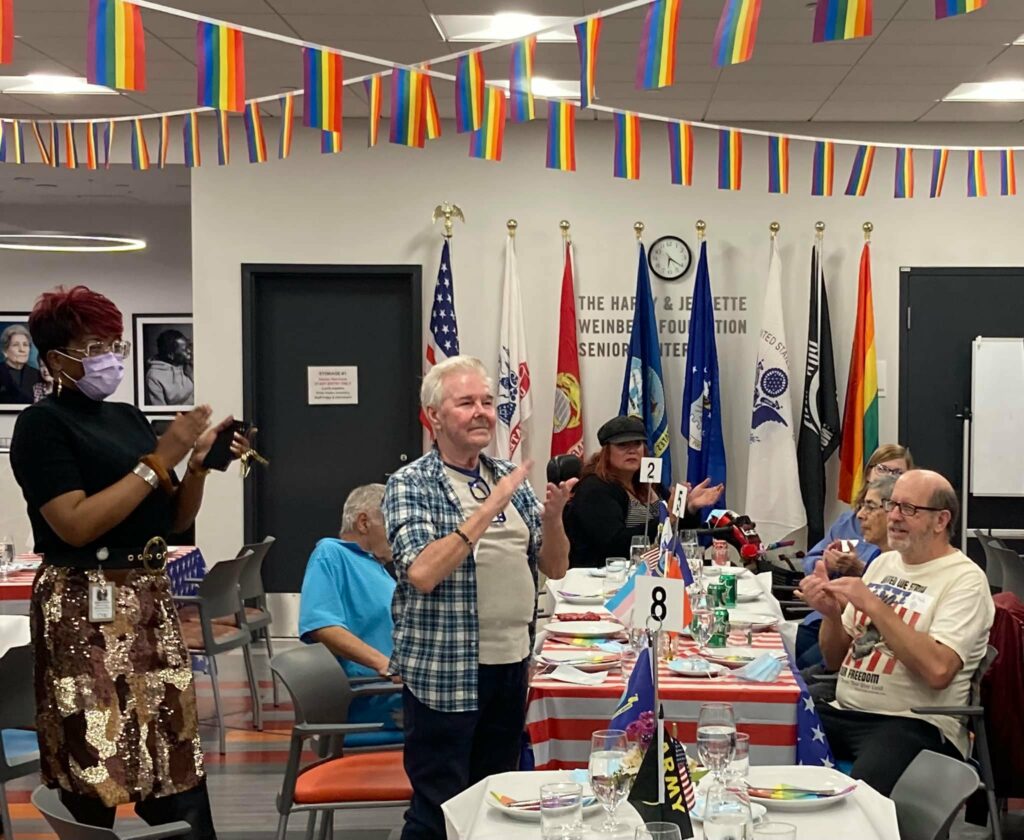 Tom Grant, who served in the Marine Corps from 1955-59, was able to walk to the dinner from his new home on the fifth floor of the Center's Ariadne Getty Foundation Senior Housing complex.
"This is absolutely fabulous," Grant said. "I see a lot of these people on our weekly Zoom chat and now they are real live persons. This is just another example of why living here is such a great experience. "
Also at the dinner were Alice and Michelle Hulac-Morentin who had met during their Army leadership training. They have been a couple for 39 years and Alice retired after 23 years in the military.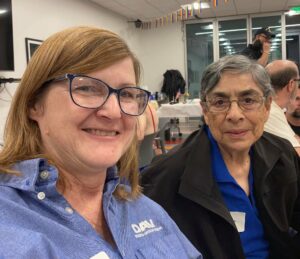 "They made us roommates so thank you Army," said Michelle. "I was in nine years but I had to get out because they were going to separate us."
LaBorde observed that being back together as a group is a hopeful sign of life starting to return to some kind of normal.
"I feel comfortable coming back," he said. "It's the starting of feeling better."
Edwards, the Triangle Square resident who led the table rearranging effort, was clearly touched by the evening.
"It was so heartwarming when we walked in," she said. "It was so nice that they made all of this effort for us."
To watch the 2019 documentary Our Service, Our Stories made by a group of Center veterans, go to https://lalgbtcenter.org/veterans