Classic songs of The Supremes, Stevie Wonder, and other Motown legends had people dancing in their living rooms during the Los Angeles LGBT Center's first-ever virtual Senior Prom on June 26.
From his studio in Las Vegas, DJ For Play kept the music spinning for seniors who have been self-isolating for more than three months due to health and safety concerns over the COVID-19 (coronavirus) pandemic.
In addition to the Motown section, other dance music during the Studio 50+ themed affair included hits from Madonna, Donna Summer, Lady Gaga, Taylor Dayne, Bonnie Pointer, and Earth, Wind & Fire.
Some attendees wore traditional prom attire—others, Pride-themed outfits—and all seemed to be wearing smiles on their faces.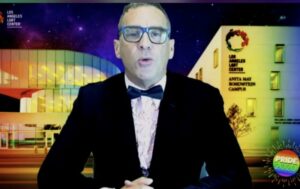 Tripp Mills, associate director of housing and training for the Center's Senior Services department, greeted the group wearing a black bowtie, pink shirt, and velvet jacket.
"Unfortunately, we couldn't gather in a traditional setting so we are coming to you via livestream," Mills explained. "Since we couldn't get together in a ballroom or under the stars, we are doing what our community has always done when faced with challenges: we organize, we adapt, we get creative. We put on a little glitter and glam and we celebrate — we celebrate prom."
The Center's very first prom for its senior clients was held in 1998 at The Village at Ed Gould Plaza. There were 86 people in attendance, music and dancing, and a small buffet. The first prom king and queen were crowned, and their thrones were made out of patio chairs.
The event has grown in size and scope over the years with attendees eager to have the kind of authentic Senior Prom that was not possible for them during high school.
"We have to remember that, for most of us, we never got to go to our senior prom as out LGBT men and women," Mills told attendees. "For many of us, going to prom as out LGBT men and women would have been illegal. You could have been arrested. This event is incredibly revolutionary — we continue it to this day and continue to celebrate the diversity of our community."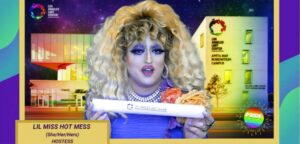 "We're here to celebrate you and all the work that you've done — the path you've forged for the community," he added. "Tonight is all about you."
To host the proceedings, the Center enlisted the talents of  popular drag personality Little Miss Hot Mess who introduced the dance sets, guest performers, and channeled Bette Milder with her rendition of The Divine Miss M's classic song Friends.
"Talk about queer history!" Little Miss Hot Mess said at one point. "The Center has been around for more than 50 years and is still doing the work."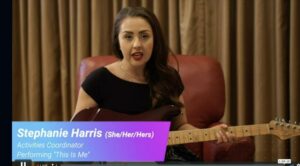 Center Senior Services staff member Stephanie Harris performed two songs for the event: the power ballad This is Me from the movie The Greatest Showman and the show-topper Don't Rain on My Parade from Funny Girl.
Members of the musical group The Satin Dollz, who specialize in 1940s Big Band music, did a trio of classic songs: P.S. I Love You, Accentuate the Positive, and La Vie en Rose.
Comedy magician Phil Van Tee performed a series of magic tricks and provided a comedic ending when he said to the audience: "If you had a good time, tell your friends. If you didn't, keep your mouth shut!"
For more information about the Center's Senior Services, visit lalgbtcenter.org/seniors.