By Greg Hernandez
Live music filled the courtyard of the Los Angeles LGBT Center's Anita May Rosenstein Campus on Thursday as pleasantly surprised senior clients lined up to pick up a free hot lunch.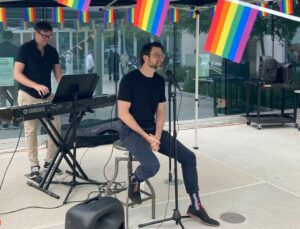 The musical duo Chris & Drew performed for a full hour, including such classic songs as Somewhere Over the Rainbow, Happy Days Are Here Again, and Bewitched, Bothered and Bewildered.
"I think it's great," said Stewart Prosise, 73. "All kinds of musical numbers that bring back a lot of memories from many shows over the years. I've really been missing live theater."
The special Lunch Box Serenade was part of an early celebration of National Honor Our LGBT Elders Day (May 16) and Older Americans Month. The outdoor lunchtime concert was an especially welcome surprise since the COVID-19 pandemic forced the Center's Senior Services department to host all of its classes and programs online for more than a year.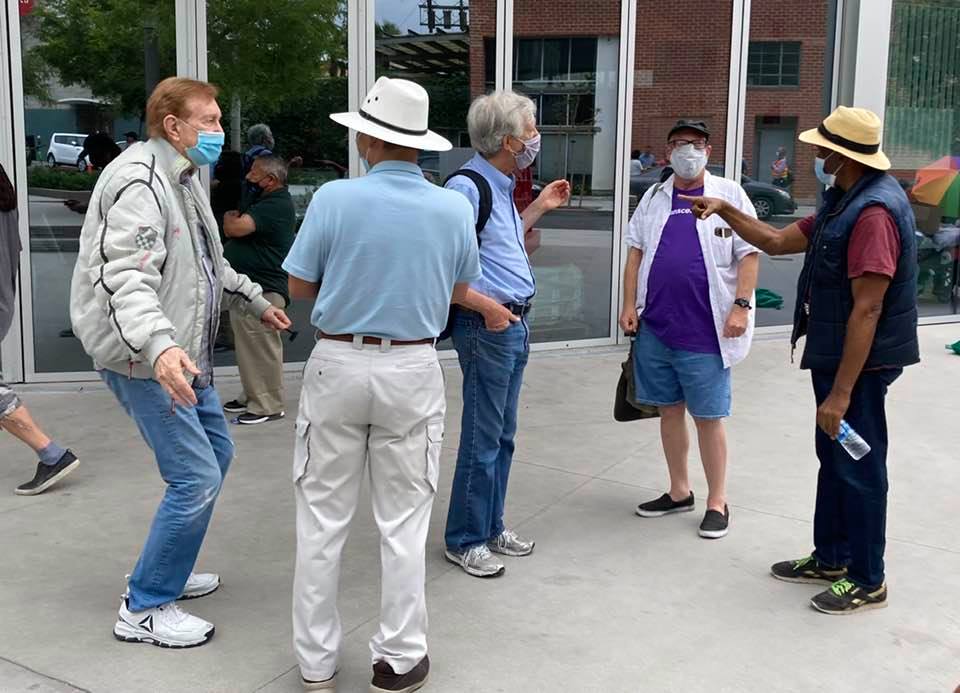 The lunches, prepared by students of the Center's Culinary Arts program in the Campus' commercial kitchen, are distributed each weekday to seniors.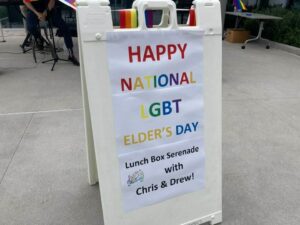 "I just got off the elevator. People were singing so it's nice," said 82-year-old Jim Wasson. "I've gotten a little more relaxed mentally since I got vaccinated, and I'm not quite as fearful about going out. I come here as often as I can but not just to pick up food. I come here so I can be with people, and there are so many whom I like. I'm looking forward to the [Harry & Jeanette Weinberg] Senior Center reopening so that we can come back and see each other face-to-face and reestablish all of that connection."
Singer Drew Schufman and accompanist Chris Wade, who had previously done a holiday performance in the Campus' Bayard Rustin Courtyard, said it was their honor to return.
"There were times in the set where I was getting choked up," Wade said. "Sometimes it's the music but a lot of times it was just seeing people really watching, paying attention, and clapping because they recognized some of the songs. It feels so amazing. I could have done this all afternoon."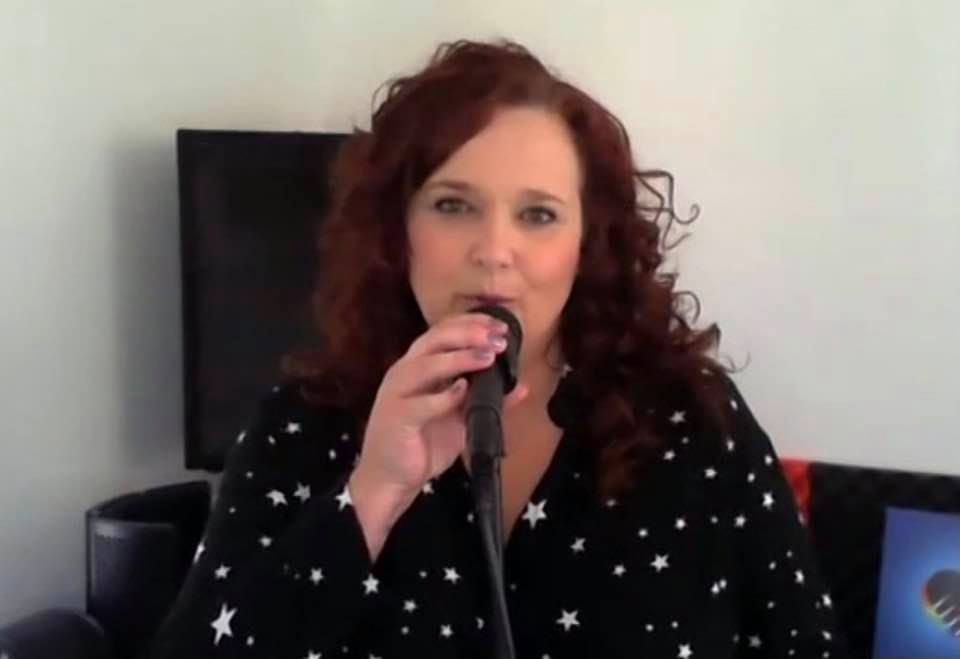 Senior clients were also invited to an afternoon virtual event highlighted by three live musical performances from Tanya Tassi, a professional singer who once worked as Senior Services activities coordinator.
Tassi performed the powerful anthems Stand By Me, This is Me, and Born This Way. "LGBT elders are three times as likely to experience discrimination compared to their heterosexual counterparts," she shared. "But the flip side to that is they are also extremely resilient."
Current Senior Services activities coordinator Veronica Macias co-hosted the festivities and recited the poems The Messenger and Wild Geese by Mary Oliver, a lesbian American poet who won the National Book Award and the Pulitzer Prize. Oliver died in 2019 at age 83.
The online concert included three pre-recorded musical performances by Harvard-Westlake School students who are members of OutReach, a student-run platform providing personalized entertainment to Center seniors.
"Center clients submit performance requests which are then fulfilled by talented student volunteers," Macias explained. "The platform values creativity and uses these students' talent to spread joy."
Jewish Family Services LA and the Los Angeles County Commission for Older Adults also participated in the online event to pay tribute to LGBT seniors.
"Because you were able to live your truth,  fight for truth, and fight for love and community, we're able to be here today and celebrate you," said Jewish Family Services LA  Activities Coordinator Alex Pagen-Mejia. "We know it hasn't been easy. Stay connected, continue to build your community, and know that you are loved."
Dylan Richardson, senior care specialist for Senior Services, spontaneously expressed his gratitude to his elders.
"I want to give a shout out to all of our seniors for all the work they've done professionally and personally to make my growing up much easier and safer than it could have been," he said. "You have helped made me feel safe enough and comfortable enough in myself and in my environment and in my community to be who I am."
 To learn more about the Center's Senior Services, including upcoming activities and workshops, visit lalgbtcenter.org/seniors.