By Greg Hernandez
When Michael Arrigo celebrates his 65th birthday this week, he will mark the milestone with a roof over his head in a home he now calls his own.
Arrigo, who has Parkinson's Disease and is nearly blind, had spent much of the past two years either splitting the cost of a motel room with a friend—only when he could afford to do so—or spending the night in a park.
In September he became one of the first residents to move into the Los Angeles LGBT Center's Ariadne Getty Foundation Senior Housing building.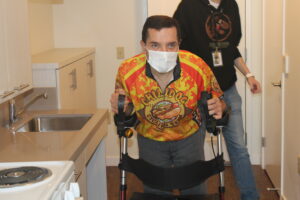 "This is so clean—I love it!" Arrigo exclaimed as he entered his second-floor studio apartment for the first time. "I'm very excited to move in here. I never thought I'd be able to live in this brand new, beautiful building."
Located at 1127 N. Las Palmas Avenue, the senior housing is the final cornerstone completing the Center's revolutionary Anita May Rosenstein Campus. The nearly 30,000-square-foot building has 98 units, a community room with a communal kitchen and dining facilities, and a fitness center. Residents have direct access to the Center's Harry and Jeanette Weinberg Senior Center.
Since losing much of his eyesight at age 20, Arrigo manages to remain remarkably positive and resilient.
"When I found out that I tested positive for HIV in 1987, all my friends were dropping dead from AIDS so I wanted to educate myself—and that's what I'm doing with Parkinson's," shared Arrigo, who served as vice chair of the City of West Hollywood's Disabilities Advisory Board for 16 years . "I have my good days and bad days but, basically, I'm a strong person."
When the COVID-19 pandemic began, he hit hard times financially and was evicted from his longtime West Hollywood apartment. He put his belongings into storage.
"My wallet was stolen soon after I lost my apartment, and I didn't have an I.D. or a credit card to rent a hotel room," he recalls. "At one point the storage company auctioned my stuff because I couldn't pay them. Now all I've got are the clothes on my back."
Through it all, Arrigo remained connected to the Center and received free lunches during the week. He used his smartphone to participate in community chats and classes offered by Senior Services via Zoom.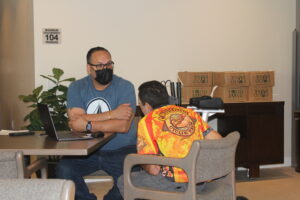 "It broke my heart knowing he didn't have a safe roof over his head," says Arrigo's case manager Jonathan Willett of Senior Services. "He has such a heart of gold and has been through a lot. With his disabilities, it's heartbreaking to think of him sleeping on the ground at a park."
Willett, who now works as a Senior Services Housing Navigator, says it was difficult to find housing for Arrigo because he had too much income to qualify for some services but not enough money to pay for things on his own.
"He was in limbo, and I wanted to do whatever I could for him," said Willett.
After Arrigo successfully applied for the housing lottery and completed a financial literacy course to resolve his credit issues, he was able to move into the new five-story senior housing.
"I believe Jonathan went beyond his call of duty for me," said Arrigo.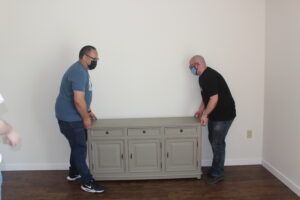 On Arrigo's moving day, Willett and other Senior Services staff members helped him to move his furniture including a futon, coffee table, bookshelves, lamps, and a television. Arrigo received new pots and pans, dishes, and towels.
"It's all yours. No more hotels, no more sleeping in the park," an emotional Willett said to Arrigo.
As he continued to help Arrigo unpack, Willet added: "This is why I do what I do."
 To learn more about the Center's Senior Services, including upcoming activities and workshops, visit lalgbtcenter.org/seniors.