National Coming Out Day is an annual celebration of the power of coming out as LGBTQ to yourself and others. At the recent Los Angeles LGBT Center Hearts of Gold 50th Anniversary concert and multi-media extravaganza, some celebrity LGBT guests and allies shared their thoughts about the deeply personal process of coming out.
"I think once you hear how other people did it and went through it, it kind of gives you a little peace and a little confidence," says CNBC television personality Yawar Charlie. "Look to people and organizations who support you, get some advice, hear other people's stories. The Center is a great place for that because it has the resources."
Actor Jake Borelli plays a gay character on ABC's Grey's Anatomy and came out publicly himself in 2018. He considers coming out to yourself as the most important step of all.
"A lot of people get hung up on the trials and tribulations of coming out to other people," Borelli says. "The thing to remember is that you've already done the hardest part: you've come out to yourself. You should be applauded for that. And sometimes that's enough for right now. And then you find a group of people who you know will support you."
Queer Eye star Karamo Brown, a former Center employee, says when it comes to embarking on this deeply personal journey, give yourself permission to take your time.
"I think sometimes LGBTQ people feel this sort of pressure that they have to let people into their lives immediately," he points out. "You do it when you're ready. If that takes you one year, 10 years, it doesn't matter. It's about you being safe and feeing good about who you are."
RuPaul's Drag Race contestant Valentina advises careful planning when opening up to others about your sexual orientation or gender identity.
"Feel safe, feel secure and 100 percent," says the gay and non-binary performer. "Sometimes people try to rush it in a moment that's not safe or well thought through. Everybody's situation is different. You have to know that no matter how hard it is, at the end of the day, you can go out and find your chosen family that is going to love and accept you even if your actual family doesn't."
"It's Fun Over Here"
Finding your chosen family was also a popular National Coming Out Day topic on our anniversary red carpet:
Frankie Grande (actor/dancer/singer): "The sooner you come out, the sooner you can find your chosen family. When you come out and when you honor your true, authentic self, you will live a better, happier life and you're going to find your chosen family. You're going to find the people who are there and love you unconditionally. When you find that unconditional love, it is worth so much more than the people that you are bred by to be family with. It's a beautiful, wonderful community waiting to have your back. We got you, I promise."
Michael Nardelli: (actor, Dark/Web): "Everything gets better once you come out. It takes a little bit of courage and strength to be your authentic self and to change people's opinions of you after they know you a different way. But it's a really important step to take and you feel so much better after you do it. So I highly recommend it."
Dario (singer): "You should do it when you are ready to do it but I think you should absolutely do it because when you live your most authentic life is when you live the best life."
Bobby Berk (Queer Eye): "Find a support team. Find a place like the Los Angeles LGBT Center—people who can support you. Unfortunately, not everyone has a supportive family. Find your tribe, people who can be there to support you and love you."
Kimmy Shields (actress, Insatiable): "Trust that the more you love yourself, the more people are going to be receptive and supportive. For anyone who might not be supportive, you will still have such a large, large, tribe ready to catch you and love you and lift you up."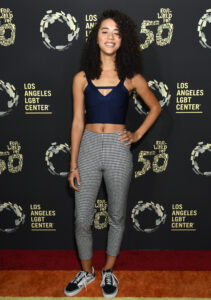 Jasmin Savoy Brown (actress, The Leftovers): "Surround yourself with people who love you. And know that just like with any other venture, when it comes to finding yourself, it will be hard at first. But you'll discover a community that you didn't even know existed and it will get better."
Rufus Wainwright (singer): You're going to have a lot of fun and there's also going to be a lot of tears. Being gay is really the best of everything and the worst of everything. It's a dramatic, fabulous life and not for the faint of heart. That's why I love it."
Mollee Gray (actress, Teen Beach): "My husband just came out as trans. Take your time, do it in your own time. Never feel pressured by someone just because they say, 'It's 2019, come out of you want to!' That is your own personal decision and make sure you're ready for it.  You're the one experiencing it. It's your life, make sure you're comfortable in your own skin and you're able to take that journey with yourself."
Arisce Wanzer (model) "For me, it was the decision between being miserable for everyone else or being happy for myself. So it's an easy decision. Join us, it's fun over here."
National Coming Out Day launched on October 11, 1988, to commemorate the Second National March on Washington for Lesbian and Gay Rights, which took place exactly one year earlier in Washington D.C.