By Greg Hernandez
One of the most powerful things about being a part of the Los Angeles LGBT Center's Still We Rise women's poetry group is being together physically in one room to share each other's work.
But, health and safety concerns over the COVID-19 (coronavirus) pandemic made such meetings impossible for this Senior Services program that began in 2017 and is funded with a grant from the National Endowment for the Arts.
Still, this group of dedicated women poets and their teacher stuck together over the spring months — virtually and emotionally — to create memorable poems that reflect these difficult times.
"They are not just lesbian writers; they are senior lesbian writers," pointed out instructor Dorothy Randall Gray (pictured, above). "During COVID times in particular, the older people are the ones regarded as non-essential and not valuable. It was important to have these older lesbians together in this time to celebrate themselves and their lives, to celebrate the fact that they've got a lot to say, and lives that need to be valued, in order to say it."
The group had been able to meet a few times in person with Gray before forced to transition to online meetings in March as Southern Californians began to shelter in place.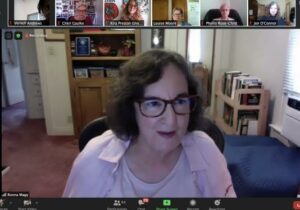 "We knew we couldn't do everything that we did when we were meeting face-to-face," explained student Ronna Magy (pictured, left), who had a role in creating the class three years ago. "We adjusted. Thank goodness, we weren't just starting a new group. We brought the understanding of meeting over the years to the online classes."
Even in pre-COVID times, the purpose of the class is to create the safest and most supportive environment possible for participants to share their work without judgement.
"The need for a community of lesbian writers has long been there," Magy said. "Many women don't want to be in a mixed-gender class, we want our own safe space to write in. The purpose is to tell stories about lesbian identity, coming out and being older lesbians in these times, political issues, health issues, and family trauma. Many of the women in Still We Rise have been through the feminist movement and the lesbian movement and have developed their writing craft over the years."
Fellow student Bonnilee Kaufman (pictured, right) believes "there's something different that happens when it's just the women. We start to trust each other on a different level."
She describes Still We Rise as "a real treat."
"I'm a New Yorker, and there's the YMCA on 92nd street that has wonderful offerings for the neighborhood. This feels like a wonderful offering for the lesbians," Kaufman said. "We get to write and do this thing we like. They don't ask for any money or anything."
At the Still We Rise online reading for friends and significant others held in late June, another participant Jennifer Avid said: "I'm enjoying the magic and pleasure that comes from writing, reading, sharing poetry, and women's friendships that are spanning generations."
It was clear the pandemic had influenced much of the students' work in recent months including Magy's poem Spoken Silence:
What is this life we live behind masks?

Faces concealed.

What else is obscured?

Ordinary encounters taken away.

Unspoken the silences infecting these times.
Avid wrote A Covid-19 Romance (Maybe):
Her face begins to feel like a new home in my phone with its own untimely pauses.

Irritating, comical, a relief, or nothing's left to say.

To get tea, take a pee, have a cry.

Maybe we're more than friends. What? What did she say? Did I hear her right?

Facetime, not ideal for such a shift but then again maybe perfect for taking it slow.

She takes me for a sunset walk. Fiery ball, streaming orange, flows down dark hills thick with trees. She frames her garden delights: hanging lemons, dripping violet wisteria, bird of paradise plumes.

While we talk I pedal my indoor bike, catch the sunset perform across the street above the shuttered school, the empty sidewalks where few people meet.

At days end, I slide into the anxious comfort of my bed, reach for my book then the sound of a text. Then mischief begins instead.
Sherry Gulke's piece, Hill of Bones, was from a series of writings she's doing called Chronicles of Quarantine:
Who is killing us now?

Who is caring for us now?

The poor living in tents under bridges. Meat plant employees ordered to work by a McDonalds eating president. The old women whose fragile lungs cannot stave off this virus. Bodies stacked in refrigerator trucks behind funeral homes unable to be claimed by loved ones. 

Who dies next?

Who buries their bones?

Who creates the rituals?

Who? 
Instructor Gray said of the group's work: "I'm so proud of the readings that they have offered us. It's just been wonderful."
Learn more about the Center's Seniors Services, including upcoming activities and workshops, at lalgbtcenter.org/seniors.