By Greg Hernandez
In their 45 years together, Gilbert Esquival and Manual Barerra have had all different kinds of Valentine's Day celebrations together.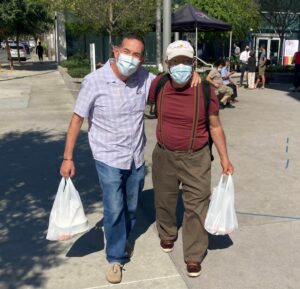 This year, they spent part of their day in the courtyard of the Los Angeles LGBT Center's Anita May Rosenstein Campus listening to live music and reflecting on a life together that began when they met at Circus Disco one memorable night in 1976.
"I approached him and asked him to dance," recalled Esquival, 72. "I thought, 'This seems like a nice person.' We had things in common. I had a good feeling and that was the rest of that."
The longtime couple (pictured, above) were among the seniors who gathered to pick up a free lunch of Pork Bun Cha with rice noodles and brown rice, pickled vegetables, cabbage slaw, and fruit. The lunches are prepared by students of the Center's Culinary Arts program in the Campus' commercial kitchen and distributed each weekday to seniors.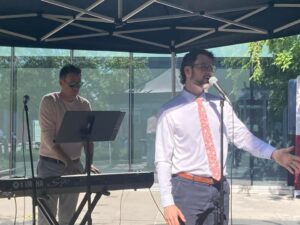 The musical duo Chris & Drew were also on hand to perform a full hour of standards and pop songs including You've Got a Friend, Just the Way You Are, Bewitched, Bothered & Bewildered, Happy Days Are Here Again, A Sleepin' Bee, and Can You Feel the Love Tonight?
"The singing is so nice," said Esquival. "I think it's very nice to have a special day like this. I have always been the one who's a little more romantic."
Barerra, 79, laughed and confirmed Esquival's assessment when he described Valentine's Day as "just another day for me." He then added: "Time is very short in general, but we have the memories of the past."
Senior Services staff members handed out candy and homemade Valentine cards during the lunchtime event held at the Bayard Rustin Courtyard, a space named for the openly gay civil rights activist who was a top advisor to Martin Luther King, Jr. and the organizing genius behind the 1963 March on Washington.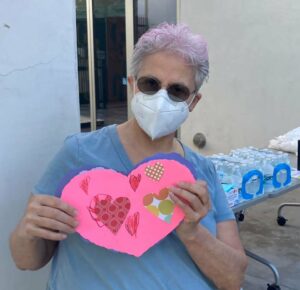 It was the third concert in the courtyard for singer Drew Schufman and accompanist Chris Wade, who had previously done a holiday performance in 2020 and another in May 2021.
"To be outside in the warm sun and to be seeing people out here enjoying themselves is absolute heaven," Wade said after the concert. "We love being here. It just fills our hearts with love."
For those seniors unable to make it to the campus, a virtual Valentine's event was presented later in the day by the Center's Senior Services in partnership with Jewish Family Service LA. Both events had the theme of "What Does Love Mean to You?"
Chris & Drew previously recorded four songs for the online event including the Beatles' classic All You Need is Love. Viewers were treated to a stunning series of images of queer love through the decades and were shown the charming animated film In a Heartbeat about a crush between two schoolboys.
Various seniors also weighed in on what love means to them, including Triangle Square resident Andrea Segal who said: "I absolutely love this day because it's about sharing love with friends and family and our animals. I'm just so happy to be at Triangle Square and be part of our family that we have here and part of a gay and lesbian village."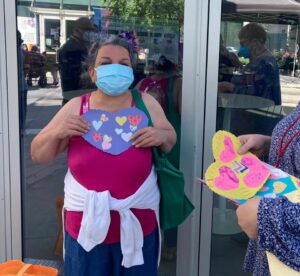 Michael Arrigo and Jacqueline Ashouroof spoke about the love they share as friends.
"Since we first met, we became great friends," Ashouroof said. "It was like love at first sight." 
Arrigo said the two got to know each other after enrolling in a lot of the same programs offered by Senior Services. It has shown him that "friendship is love and love is friendship."
The Center's incoming Chief Executive Officer Joe Hollendoner shared some thoughts about love and the importance of self-acceptance.
"I know that as LGBT people we have all struggled on that journey, but it's really important that we embrace who we are and we give each other as much grace as possible around our identity and around who we are and who we wish to be," Hollendoner said. "When I think about love I also think about the importance of community. I know it's been really difficult these past two years not being able to be together in person and build the community that we're all accustomed to and deserving of. But I'm certain that if we continue to practice social distancing, get vaccinated, and do everything that we need to do, that we will soon be able to be together again and celebrate the beauty which is the LGBTQ+ community."
To learn more about the Center's Senior Services, including upcoming activities and workshops, visit lalgbtcenter.org/seniors.